The apartment is located in the heard of Paris, it mesure 20 square meters with a bed on mezzanine (I don't now this word exist in english). There is a small garden and a kitchen with view on the sky.
Appartement de 20m2 avec un lit en mezzanine et une petite cours en plein coeur de Paris.
Vous pouvez accéder a l'appartement via les stations de métro Grands Boulevards (Ligne 8 & 9), Sentier (Ligne 3).
This place was wonderful! It looks just like the pictures. It's in a great location for restaurants and not a far walking distance to some major sites. Laura was a wonderful host, she made sure that we were comfortable in the place before she left and was always available if we needed anything. It's a pretty quiet area at night the only thing we really heard during our stay was the metro under the building but it wasn't bad and it only runs during the day/evening. I would definitely return and stay at her place!
Brianna
2016-11-17T00:00:00Z
Our host Laura was brilliant, clear communication throughout, helped us find local places on a map, and was so kind. The flat was beautiful - just like the photos - and even though it was a very hot week as its on the ground floor was surprisingly cool! Am thinking of coming back with my best friend next summer and will definitely try book lauras place again!
Anne-Marie
2016-08-25T00:00:00Z
wow, what a place!.. it has everything you need for a perfect Paris experience. feels like a home away from home and I highly recommend this place as Laura was a great host and the location is just what we were looking for.
jonathan
2016-08-21T00:00:00Z
Laura's place was great! Awesome location as it was 3 minutes walk from Sentier metro stop, and just a few minutes walk from Rue Montorgueil, which has awesome bakeries and restaurants. We even walked all the way to the River Seine from the apartment. The apartment is quite accurate to the pictures provided, very quaint and perfect for a couple. However an issue was that the apartment was in a building that was being renovated, so there was scaffolding on the building and we weren't even sure if we were at the right place. There were also some issues with opening the door to the apartment though, so please listen carefully to the instructions on how to open it when checking in. Would be best if you actually try it a few times while Laura is there. Overall it was a great stay in Paris! Thank you Laura!
Nurul
2016-12-07T00:00:00Z
Laura was very helpful in accommodating our late arrival. Great place to stay for a weekend in Paris thanks.
jane
2016-12-05T00:00:00Z
Laura was a remarkable host. She was very helpful prior to our arrival and throughout our stay. The apartment was imaculate- great design and had everything that I required and more. It was clean and tidy and in a great location. We didn't need to take a train or bus during our stay as most areas of interest are in walking distance from the apartment. . Great selection of cafes, bars and restaurants a few meters away. Would definitely recommend/ return for a second stay in the future. Thanks again Laura!
Sarah
2016-05-09T00:00:00Z
Laura's apartment is in a great position, is lovely and light filled and we felt instantly at home. Laura was lovely and very helpful. I would recommend Laura's apartment to anyone staying in Paris.
Toni
2016-07-16T00:00:00Z
We met Laura on arrival and she was lovely and welcoming. The flat is exactly as it looks in the photo, down to the positioning of the cushions! The flat is well equipped and exceptionally clean, and the bed was very comfortable. The neighbourhood is perfect as it is within walking distance of many major sights, and very close to a Metro station to access sights further afield.
Josephine
2016-05-13T00:00:00Z
Room Type
Entire home/apt
---
Property Type
Apartment
---
Accommodates
2
---
Bedrooms
Paris, Île-de-France, France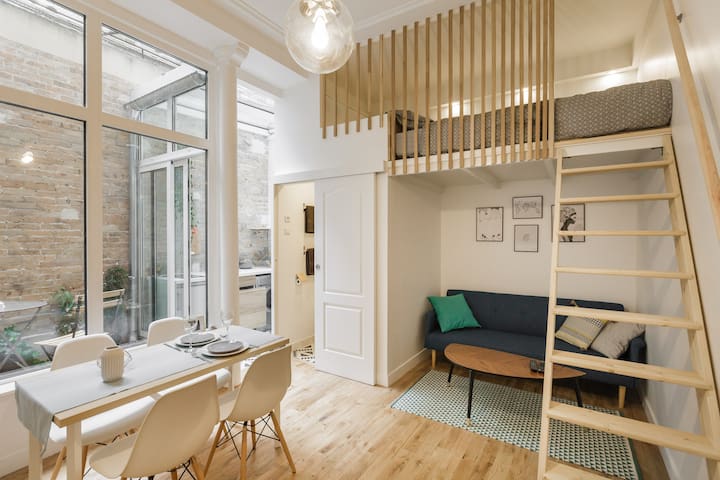 Located rue st sauveur very near rue Montorgueil, this charming studio apartment is a few minutes away from Les Halles, in the Heart of the famous Montorgueil area. Located rue st sauveur very close to rue Montorgueil, this charming studio is just minutes from Les Halles, in the heart of the famous Montorgueil district with its wide choice of quality food, restaurants and pubs. It is also within walking distance of major points of interest such as: The Louvre, Notre Dame, Ile de la Cité .
Located rue st sauveur very near rue Montorgueil, this charming studio apartment is a few minutes away from Les Halles, in the Heart of the famous Montorgueil area with its large choice of quality food products, restaurants and pubs. It's also within a short walking distance from main points of interest like : Le Louvre, Notre Dame, Ile de la Cité or Ile Saint Louis. You will have the whole apartment to your selves this is not not a share All the streets nearby host lots of nice galleries, shops, stylists ateliers, cafés, restaurants, brasseries, wold level museums and lesser known places, just there for you to discover. The area is full of restaurants, cafes, bars and clubs, yet the apartment is completely noise free which is quite surprising in the heart of a city. You can walk all day long as well as evenings as the district is quite safe. You may meet casually movie actors, politicians, philosophs and opinions leaders. The Studio is in a 17th century building. The entrance gate is protected by a security system. this apartment has 17 m2 .The studio is fully furnished with a a double bed. , a shower, sink, 2 electronical plates, a microware,a washing machine, iron, a fridge, a hairdryer, and high speed internet with WI FI You will find everything you need right at hand. A 10 -minute walk from the Marais , a 10-minute walk from the Louvre Museum , and 15 minutes from Notre-Dame Cathedral… There are 3 metro stations "sentier", "reaumur sebastopol" and "les halles" within 5min walk including Chatelet-Les Halles for direct travel to CDG and Orly airports as well as Eurodisney. The main double bed is on mezzanine.I will provide you towels and bed linen. The minimum stay is 2 days but I prefer longest stay. Other commodities include TV, DVD, Stereo and free internet, WI FI, and unlimited phone calls to all europe and United States (fixed line phone). All Linens included. There will be fresh bed linen and towels for you to use I have made for the guests a special guide book with my favorite addresses (shops, restaurants and bars) and many information on Paris monuments. If you have any queries do not hesitate to ask me. I hope to welcome you soon!
Montorgueil is just the BEST neigboorghood in Paris: lively and traditional with all the grocery stores and market smart and stylish with all hip cafes and terraces, restaurants and bars full of people all year round. On the upscale shops and galleries and everything else within walking distance! The Louvre, the Beaubourg, the Opera and the Galeries Lafayette, the grand boulevards with its theaters, La Bourse, Le Marais, St Michel and the Latin Quarter are a few minutes walk away. Crossing the Seine ..) Transportation You are right in the center of Paris, just 3 minutes from the Châtelet Les Halles, the main transport hub with 3 RER lines, 7 subway lines, the largest shopping center in Paris
Had a fab time staying at Eric's place! The apartment is cosy but fun and really well located near a street of restaurants and cafes, recommend the cafe on the end of the street, Le pain quotidien montorgueil for breakfast, really nice pastries/bread/hot choc! Would definitely come here again, thanks Eric!
Jenny
2017-01-15T00:00:00Z
A good location, central and within walking distance of so many great places. It's a lively area but the apartment itself is quiet as it is located as the back of a secluded courtyard. The apartment is small but feels spacious as it is a high room. The high bed is extremely comfortable. All in all an excellent place to stay to visit Paris for a few days.
Bella
2017-04-01T00:00:00Z
Excellent apartment. Eric met us at the apartment and was very nice. The area is really wonderful. I highly recommend.
david
2017-01-10T00:00:00Z
Very very very central, this location made our trip. Very small bathroom, like when you sit on the toilet you have to turn to the side to fit without your knees hitting the wall but it's not really a big deal. :)
Aimee
2017-01-13T00:00:00Z
This apartment is in an adorable building in an adorable neighborhood. The pictures are accurate, and it's a great deal for the price. We only stayed 1 night, but could have stayed longer. Very good communication with the host.
A
2017-02-20T00:00:00Z
Eric was a fantastic host! The apartment was clean, well equipped, and located in a great area. Eric was very easy to communicate with and was always quick at replying to messages. He also gave us great directions and even left us a bottle of wine to enjoy during our stay. We would love to stay again next time we visit Paris!
Melissa
2017-01-27T00:00:00Z
Eric's apartment was a good base for a classic short stay trip to Paris. Eric was good at communicating and replied within the hour, on arrival we were greeted by a friendly concierge who only speaks French, but is polite and understands what you mean. Eric had left a bottle of wine for us in the apartment which was a lovely extra touch to our stay. The bed is comfy, even with the slightly wobbly steps up to it! The apartment is located close to lots of lovely cafes and restaurants as well as small supermarkets located to the right of the apartment doors. The whole apartment is delightfully old and quirky, would definitely recommend! Merci beaucoup Erick!
Abigail
2017-02-16T00:00:00Z
Cozy is the word other reviewers use, which is a euphemism for small. But the place has all the amenities and is an interesting, historic building. It's in the trendiest area of Paris - a bit too hipster for me but the Metro is 400m away.
MIKE
2017-01-07T00:00:00Z
Room Type
Entire home/apt
---
Property Type
Apartment
---
Accommodates
2
---
Bedrooms
Paris, Île-de-France, France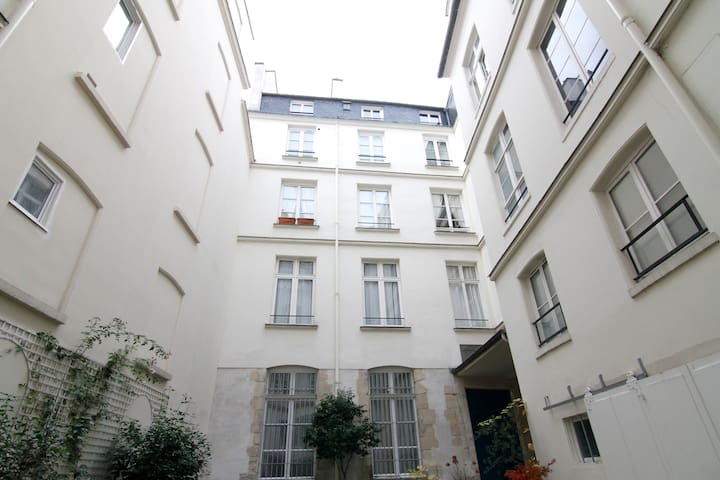 Modern studio in a quiet local area of Paris, with a large balcony to admire the sunset on Montmartre & Sacrée cœur after a long day or having a breakfast and a french coffee paisibly before exploring Paris,close to metro, ideally located to explore Paris without staying in a crowded touristic area. Many foodstores around, do not hesitate to contact me and certainly do not hesitate to book a long time in advance ! See you soon
Located metro Jourdain, Studio of 34 m2, last floor with a panoramic view at 180° of Paris (except Eiffel Tower). Fully equiped (modern Kitchen, bathroom with airdryer, sofa, King size bed, flat screen, balcony) 10 minutes door to door to Republic station and 15 min to metro Chatelet (center of Paris) via direct metro line and Hotel de ville (close to Notre Dame) Jourdain Area is a great distric like a small village with his Church, and their top quality food shop (cheese, wine, the presidential bakery is also there and a few good small restaurants..), also 3 open air market/week. 10 min by foot to "parc des buttes chaumont" The flat is located at 7 min by foot from the metro ; 3 bus station close to the flat and convenient (one direct to Nation, another direct to "quais de Loire") Parking available with no supplement, please specify if needed when booking Pick up an drop off possible at the airport or Railway station with supplement ; please email for availability Extra bed can be dressed , comfortable mattress but on the floor.
My area is safe, mixity and multicultural, this is where "Parisians" people live with full acces to small coffee, Bakery, Wine & Chees Shop, supermarket ... etc .. etc you will be in a peacefull area with a view on Paris, 2 parks nearby !
We had a fantastic time staying at Pascals apartment, it was clean and very well equiped and looked amazing especially with the amazing view, although we did not meet pascal he arranged for Vanessa to meet us who was extremelly friendly and helpful 10/10 would be great to stay again
Liam
2016-04-01T00:00:00Z
The studio is very clean and near to underground. Pascal is very very nice and our holiday in Paris has been great thanks Pascal too.
Elisa
2015-12-30T00:00:00Z
Pascal was absolutely wonderful to deal with. He is quite accommodating, always reachable via text, and very, very helpful. I would recommend Pascal's flat to anyone who is planning a trip to Paris.
Beth
2016-09-07T00:00:00Z
Pascal's house was absolutely incredible, the view was amazing rhe pics really dont do it justice! Not only was the house amazing but pascal himself was more than helpful during rhe whole process, and made getting there as well as finding things around the city a breeze. I totally think anyone who stays here will be more than pleased, next time im in paris i'll deff tey to stay again!
joshua
2015-09-26T00:00:00Z
Pascal met us at the apartment. He was very friendly, and showed us around the apartment and gave us information about Paris. The apartment was clean and well equipped, with the view being one of the highlights of our break. Pascal was very accommodating and we would recommend both host and apartment. Thank you Pascal.
Gavin
2016-04-27T00:00:00Z
Great place with great views.
Nick
2016-01-24T00:00:00Z
We had a great stay at Pascal's place for our trip to paris!!!! Very nice modern up to date place and an incredible view from the balcony. We would definately go back to his place! He alo is very good with staying in contact and answering qyestions, Recommend him!!
Brittany
2015-09-16T00:00:00Z
Prior to arriving he gave us lots of useful information like the easiest way to get to the studio. Our hosf met us when we arrived, made us feel very welcome and provided plenty of very useful information about Paris, what to see and where to go. The apartment was exceptionally clean and modern, providing a welcoming place to stay. Bed is very comfy and shower is great and spacious. The room is one the ninth floor and is accessed by a lift. The balcony area featured a dazzling display of the city inclufing a spectacular sunset over the city. There are lots of shops, takeaways and restaurants in the nearby streets offering plenty of opportunities for a good meal without having to travel far. The local metro station is 10 minutes walk away and provides a quick direct access route to the centre for visiting attractions.
CHANTAL
2016-03-15T00:00:00Z
Room Type
Entire home/apt
---
Property Type
Apartment
---
Accommodates
3
---
Bedrooms
Paris, Île-de-France, France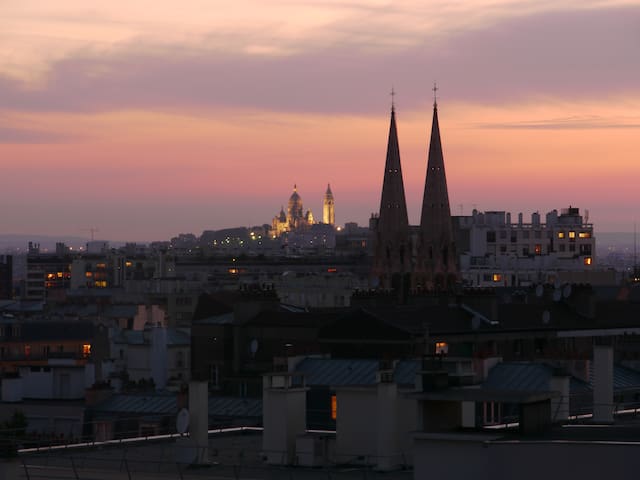 Our places is a few blocks away from The Eiffel tower and next to the "Rue du Commerce". It is an ideal place for combining and visits and shopping in the exciting city of Paris. An feel like being a real Parisian in the family like 15th district.
The flats is one bedroom, an independant kitchen and a bathroom (24m2). Watching the Eiffel Tower sparkling in the night from your bed is a unique experience. Ideally located for visitors who want to feel like being Parisian. The building is typically Parisian style from 1930 and was built by my grand grand father. We simply love this place and the shopping around.
Le quinzième arrondissement est un quartier très vivant, très familial où se côtoient toutes les génération de parisiens. A deux pas de la tour Eiffel et du champ de Mars, il est desservi par trois lignes de métro qui convergent à la station de la Motte Piquet Grenelle, où se tient un marché les mercredi et dimanche de 7h à 15h. La rue du commerce est un lieu idéal de shopping pour tous les goûts : grandes enseignes et commerçants typiques s'y succèdent. Le nouveau centre commercial de Beaugrenelle est également à deux pas en allant vers la Seine.
This apartment is typically Parisian with a small balcony and the wonderful view of the Eiffel Tower - especially when it sparkles at night. It is exactly as it appears on the website and is immaculate. It is in a great location - there is a nice street and square nearby. It is also very close to a few Metro stations and only a few minutes walk from the Eiffel Tower. We had a wonderful stay.
Louise
2016-01-28T00:00:00Z
This was our first time visiting Paris and this condo was the perfect home base for our vacation. Oanh and Antony were absolutely fantastic hosts who made sure that we had everything we needed, while also providing a clean and safe place to call home. They were also quick to answer any questions that we had. The condo's centrally located to public transportation, which makes it easy to get anywhere in Paris. The neighborhood lets you become a Paris local during your stay. It's safe and there are plenty of excellent shops and restaurants to make your stay comfortable. This condo was just as described (if not better) and the views are even better in-person - the Eiffel Tower sparkling at night is beautiful! We have every intention of staying in this condo the next time we're in Paris.
Jason
2016-02-21T00:00:00Z
All was good and convenient facilities in the house. The house is very neat. Same as the picture posted here on Airbnb. Cosy room atmosphere. In our room we can see the Eiffel Tower. Metro is also very easy access to main Paris. Walk to Eiffel Tower Park in 10mins. We are from the Philippines this time we got to experience to be Parisian locally. Above all Oahn the owner of the condo is very kind to us. If we have chance to visit Paris, we would like to stay again. Good memories with my family. Thank you Oahn!
Fermin
2015-10-07T00:00:00Z
I absolutely loved my stay at Oanh's place!! She made me feel so welcome and was flexible with my arrival time. The view of the Eiffel Tower was amazing! The neighborhood is nice and quiet even though we were in the heart of Paris. I cannot wait to come back. Definitely recommend staying here!!!!!!
Brooke
2016-06-13T00:00:00Z
The condo was clean and comfortable. The kitchen had all the bits needed to cook and the shower was hot. A great view to the Eiffel Tower, of course. And a lovely neighbourhood with an organic bakery and organic supermarket on the same road. Very good communication from the hosts. A lovely stay.
Tim
2015-12-13T00:00:00Z
great location and apartmnet. close to all you need!
Caleb
2016-02-04T00:00:00Z
Absolutely perfect. Cozy and warm place. Clean and inviting and picture cannot capture just how romantic and powerful the view is. Close to excellent bakeries and cafes and a super cute quiet neighborhood. Oanh et Antony were very accommodating and supportive hosts. If you want to party this isn't for you. If you want a quiet, romantic trip to Paris, this may be the best deal in the city.
Chad
2015-09-21T00:00:00Z
This apartment was the perfect place to stay in Paris. It was very close (10 minute walk) to the Eiffel Tower and Metro. Oanh was very responsive, communicative and helpful throughout the entire check-in/check-out process, and with details of Paris. Everything in the flat was clean when we arrived and looked exactly like the posted pictures. Wifi worked great.
Ashley
2015-09-03T00:00:00Z
Room Type
Entire home/apt
---
Property Type
Apartment
---
Accommodates
2
---
Bedrooms
Paris, Île-de-France, France
This studio facing a garden terrace , cozy, quiet and romantic , is a refuge in the city. It can comfortably accommodate two to three people . Enjoy the nearby state of transportation in full "Campagne à Paris" .
Cozy studio for 2 to 3 people with seating area comprises a comfortable sofa, a kitchen area , a bathroom. This studio has a wonderful view of a beautiful garden terrace. The nearest metro line crosses Paris from east to west through the city center in 15 minutes.
"La Campagne à Paris" is a subdivision of the 20th arrondissement of Paris. It was founded in 1907 by Pastor Sully Lombard as a cooperative to enable suburban access to low-income people. The location of the current block is located on the lands of the former commune of Charonne. During the annexation of Charonne in Paris in 1860, the place was occupied by the gypsum quarry father Roussel. Career was filled with rubble from the Haussmann work avenues of the Republic and Gambetta, on which was formed later a small wood. The land was acquired in 1908 by La Campagne à Paris who built it between 1907 and 1928, 92 pavilions to a working population, officer or employee of a low income. Today these houses have become exceptional properties. Located near the Porte de Bagnolet, between the Boulevard Mortier, the rue du Capitaine Ferber-and Geo Chavez Street, the island of la Campagne à Paris consists of hundreds of small townhouses with one or two floors. This island is made (internal streets) by Paul Strauss street, the rue Irénée Blanc and rue Jules Siegfried plus four "streets" each with a staircase and having received a name in 1994 Mondonville the street, the Georges Perec street, the rue du Père-Prosper-Childish and Camille-Bombois street. The street formerly Montiboeufs "Montiboeufs Trail" was named the 1st of February 1877.
Absolutely fabulous stay. What a host. A great example of what Airbnb is all about. Great communicator, very flexible and great little touches in the room. Would stay again.
Adam
2016-06-08T00:00:00Z
译文 Thank you very much for Anthony to give our help. The town traffic convenience stores, restaurants, medicine makeup. Night is quiet. The landlord is very good, gave us a lot of help. We recommend his home.
丽敏
2017-02-03T00:00:00Z
I have never felt so safe staying anywhere. Anthony must be a tech wizard because you need a remote and a key just to get to the unit. It's spacious, close to the metro and surrounded by patisseries and restaurants! Not to mention the unit is gorgeous. Oh my goodness the bathroom! Anthony and his wife were great hosts. We absolutely loved our stay!
Jeni
2016-04-15T00:00:00Z
Nice location and clean apartment. Small but near and everything we expected, with a nice outdoor rest area - a pity it was raining but no fault of the apartment. Only downside for us was the photo gave the appearance of two bedrooms - but that was our mistake and we enjoyed staying.
Graham
2016-04-07T00:00:00Z
My boyfriend and I arrived earlier than expected, and Anthony was so helpful. Giving us directions to the flat (which is very easy to get to and very well connected by all transport links) and letting is deck in early, even though he was in hospital at the time. The flat was clean and exactly as described. We requested a knife and a chopping board, and both were waiting for us by the time we got back from site-seeing. I would really recommend this apartment as the perfect place to stay for a weekend get away. It's easy to get to all the main attractions in Paris, is well equipped and ideal for two people, and Anthony is a brilliant host
Amelia
2016-03-22T00:00:00Z
Fantastic host and the apartment is lovely and comfortable, and impeccably clean! I have already recommended his place to friends and plan on going back. Two thumbs up!
Ada
2013-11-25T00:00:00Z
It's a lovely and clean space , we stayed just for a couple is hours. But he was really kind and helpful
Diego
2016-04-16T00:00:00Z
Anthony's place is definitely for recommendation!! Clean, comfortable, good location, and a very friendly host. The lil 'origin surprise's upon arrival is a nice touch too!!
Randolph
2016-06-04T00:00:00Z
Room Type
Entire home/apt
---
Property Type
Apartment
---
Accommodates
3
---
Bedrooms
Paris, IDF, France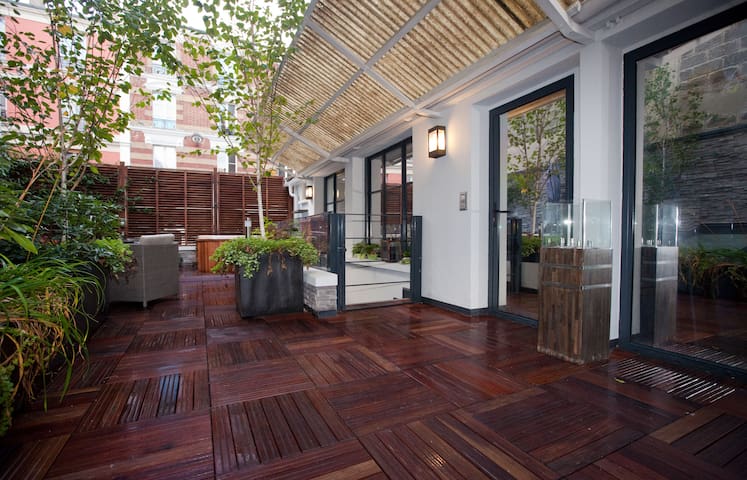 Ideal for a family of 4, this place offers a fantastic view on top of the Sacré Coeur.
The appartement is being totally renovated. Available for rental from July 8th. Discount prices for the roll out! This is a private 2 bedrooms appartement, on the 5th floor (with elevator), with a balcony. All rooms are really bright and you will enjoy a great family or romantic stay in the heart of the beloved and authentic area of Montmartre. The appartement is a truly traditional parisien style, with wooden flooring, molding walls, and designer's equipment. It is located between the Sacré Coeur and the square 'Place des Abbesses'. It is 54 square meters, and it consists in a living room with sofa (can be used as a bed for 2 people), flat TV screen, wifi, diner table. Aside is a fully furnished kitchen (hoven, microwave, nesspresso...) which makes it really easy to cook at home if you decide to rest at home for a minute. 2 bedrooms: one with queen size bed (160cm) and a balcony where you will have the chance to enjoy a coffee admiring the stunning view on Sacré Coeur. The other one with twin beds, ideal for 2 children or a couple, with a view on Parisien romantic roofs. Sofa in the living room can also be transformed as a double bed. Restrooms and Bathroom (with italien style shower) are both separated. Hair dryer, towels, etc...are obviously provided. Sightseeing Sacré Coeur, Place du tertre, Moulin Rouge, place des Abbesses, Dali Museum, Musée de la vie romantiques, Montmartre cemetery...are just round the corner. Environment Plenty of great restaurants, grocery stores, but also a famous parisien place for design and clothes shopping...everything staying opened on Sundays too. Of course, you will benefit from our best advises on where to go depending on your mood. Theatre, movie theatre, concert venues are also just nearby. You can reach easily all places by walking. Other places in Paris You get two really convenient subway station less than 5 minutes walk from the appartement: Abbesses (l. 12) and Anvers (l. 2) and also a station of public bicycles (vélib) just down the building to ride everywhere.
We had an amazing time in Raphaele's gorgeous apartment. It is beautifully decorated and in a wonderful location.
Jenna
2016-07-20T00:00:00Z
We loved Raphaele's apartment! Great location - just down the street from Montmartre, two blocks from the Anvers metro station, lots of great restaurants, bakeries and shops just steps away. The apartment itself is wonderful; clean linens and towels, the kitchen adequately stocked. We enjoyed having a kitchen so much that we were able to cook a three course meal using produce found at the Sunday market. Raphaele is a very kind host. She responded promptly to all my emails and is helping us retrieve and pick-up an item that was left in the apartment after our stay. Highly recommend!
Elizabeth
2015-10-20T00:00:00Z
As advertised. Thanks for welcoming us to your charming neighborhood.
Jeffrey
2016-01-22T00:00:00Z
We had a real Parisian experience staying at Raphaele's! The apartment was very comfortable, clean and spacious. Very close to the metro with good food choices all around. Especially close to Sacre-Coeur, Montmartre and Moulin Rouge. Would definitely stay again. Thankyou Raphaele
Sheryl
2016-11-20T00:00:00Z
We stayed for 5 days at Raphaele's place and it was great. The location in Montmatre is amazing and the ideal spot to discover Paris and the neighborhood. The two metro stations are only a short walk away. Grocery stores as well as many good restaurants are also very close by. Raphaele gave us a list which came in very handy. The apartment is furnished really nice and functional. We felt right at home there. It was quite during the night so we could get our rest after a full day of exploring. The kitchen is equipped with everything needed to make a dinner, if you just want to escape the busy streets of Paris. But the little balcony was the one thing we enjoyed the most. It is a great place to enjoy a morning coffee or a wine in the evening, just looking down on the people in the street. I can only recommend the apartment.
Kirsten
2015-05-13T00:00:00Z
the flat is as nice as other reviews are saying, great location and easy going contact.
Arne
2013-10-26T00:00:00Z
It was a wonderful location and apartment. The only issue we ran into was showering- the water tank is very tiny so only the first person gets a hot shower, even if they're very quick and you wait 45 mins in between each person. So having 4 people there meant that 3 of us each day had a freezing shower. Other than that, the views were wonderful and the space was more than adequate.
Lauren
2016-08-10T00:00:00Z
Raphaele was a perfect host and her instructions were clear and concise. The apartment was exactly as described and in the best area of Paris. We were steps away from so many good bistros and shops. The metro station was one block away. Raphaele also helped us by calling for a taxi on our day of departure . I would highly recommend this apartment for an authentic Parisian experience.
Karen
2016-05-22T00:00:00Z
Room Type
Entire home/apt
---
Property Type
Apartment
---
Accommodates
5
---
Bedrooms
Paris, Île-de-France, France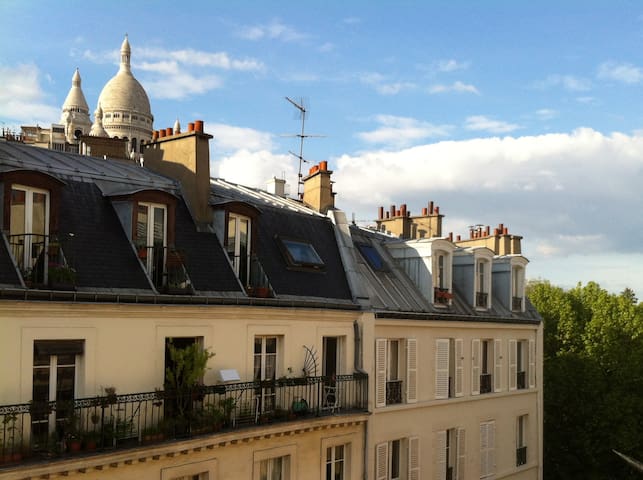 Beautiful 85m2 Haussmannian flat, located in the heart of Paris, halfway between the charms of Pigalle/Montmartre and Opera Garnier. The area is lively, full of bars/restaurants/cinemas, close to several subway lines (2,3,12,13,14) and buses. The flat is shared with two adorable young people (a 22 y-o english teacher, a 25 y-o french guy) and a cat :) You will feel at home in our cosy atmosphere and enjoy Paris in optimal conditions.
Catalina is super sweet and friendly. The room itself was actually very nice and spacious. There was little in terms of amenities like fresh towels, but I made due. Definitely more of a minimalist shared dorm vibe as opposed to a full bed and breakfast. Good value for young people.
Amelia
2017-01-29T00:00:00Z
I loved staying at Catalina and Alex apartement. They are really friendly and it is easy to feel at home with them being around. Merci
Luisa
2017-02-14T00:00:00Z
Catalina was an amazing host. She went out of her way to make me feel welcome and give me a Parisian experience that I will always remember. She is a very warm, kind, accommodating and most importantly - a hospitable host. I would definitely recommend her place to anyone who is looking to work as well as have some fun while in Paris. She shares her flat with two others - and her (SENSITIVE CONTENTS HIDDEN) were really warm and friendly people as well. The location is perfect - walking distance from the central Saint Lazare station, lots of restaurants and coffee shops around!
Hiteshi
2017-01-26T00:00:00Z
The host canceled this reservation 31 days before arrival. This is an automated posting.
yaeseul
2017-01-18T00:00:00Z
Room Type
Private room
---
Property Type
Apartment
---
Accommodates
1
---
Bedrooms
Paris, Île-de-France, France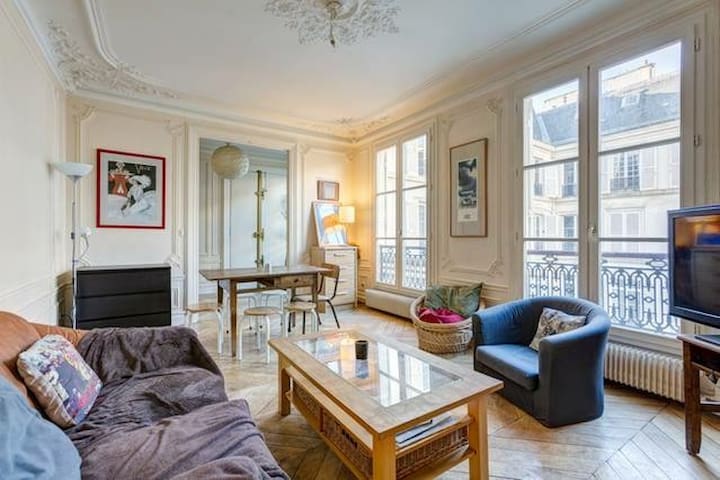 Charming small studio of 11 square meters in the heart of Paris (3rd district ) . Very quiet ( courtyard ), ideally located in the Marais district . Close to the Temple station, 5 subway lines are available.
This charming studio is located on the 4th floor of an old building ( courtyard side ), in the Marais district in the heart of Paris . This studio of 11 sq.m. offers every comfort . The space is cleverly arranged, kitchen area, bathroom space. A microwave is also at your disposal. Kitchenette The kitchen has two hot plates , a kettle and a fridge. There are of course all utensils for cooking (cutlery, knives , pans , strainer, dishes ...) . A high table and two chairs are provided. Heating The heating is individual and electric, you can heat at your convenience . The bathroom functional bathroom with shower, toilet and a sink with a small cabinet to store your business.
Tourism in the area: - Le Marais - Les Halles - Notre Dame de Paris - La place des Vosges à 15 minutes by walk - Le fameux marché des enfants rouges - Le Centre Pompidou (Beaubourg) - L'hôtel de ville - République ( especially at night ) For meals, you will find many cafes and restaurants nearby. Close to the apartment, there is a laundry 20 Rue Montgolfier see (URL HIDDEN) Feel free to ask me questions or request further additional information ! I 'd be happy to answer you.
My stay in Emmanuel's apartment was perfect. It's small but very cosy and well organized! The location is one of the best in Paris with lots of trendy and up-and-coming bars, boutiques and restaurants. It is also well situated near three metro stations. Emmanuel is quick to respond to whatever need you may have. I definitely recommend his apartment!
Lane
2016-06-26T00:00:00Z
Emmanuel was a fantastic host! His apartment is perfectly located for easy walking (or subwaying) wherever you want to go! He also made sure that I had directions, guides, and the general know how for maneuvering Paris. Honestly, staying with Emmanuel took the stress out of travel. If im back in Paris, his apartment will be my first choice!
Bethany
2016-06-16T00:00:00Z
The host canceled this reservation 74 days before arrival. This is an automated posting.
Bérengère
2016-05-02T00:00:00Z
This is a quaint "Van Gogh" studio (I liked to call it) located in the Marais district, close to the Republique, and trains on Temple and Saint Denis. Very lovely neighborhood with lively bars/ restaurants just up the road. Close to theaters, art galleries and shops. Emmanuel is flexible and easy to communicate with. I truly enjoyed my stay!
Aissa
2016-09-26T00:00:00Z
I stayed at Emmanuel's apartment for 13 days and truely loved it, you should see what the French can do with 11 square meters. This apartment in the 3rd district has so much character and charm you won't regret staying here. It is walking distance to some amazing parts of Paris, but is also has located close to several metro lines. All this is great but it also comes with Emmanuel's service. Emmanuel went out of his way to make sure that my trip was perfect. From arranging an early check in and all throughout my stay I felt looked after. I'm sure you will love your stay as much as I did.
Kris
2017-03-09T00:00:00Z
The flat is well situated, an easy walk from many of the Paris highlights. For those not keen on walking there are 3 metros all within a 5 minute walk that will get you around Paris. There are many bakeries, supermarkets & eateries close by.
Stephanie
2017-01-04T00:00:00Z
I didnt meet Nicola by prson, I had someone to let me check in. But overall the experience is ok. I recommend the stay.
Charbel
2016-08-09T00:00:00Z
Wonderful stay chez Emmanuel! He has impressively made a perfect studio from a small space. Very clean and tidy. Fun and lively neighborhood in the Marais. Emmanuel was extremely helpful and available for any questions. Thanks!
Nathalie
2016-09-05T00:00:00Z
Room Type
Entire home/apt
---
Property Type
Apartment
---
Accommodates
1
---
Bedrooms
Paris, Île-de-France, France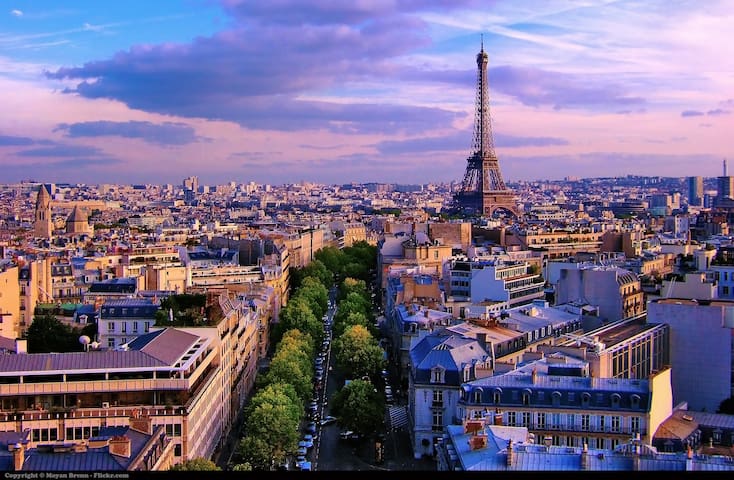 Eiffel Tower 4 minutes and Champs Elysées 10 minutes walk. Private appartement 1st floor, completely renovated, full option, very central and really romantic with luster 19th century, marble and moulding :)
AN EXCLUSIVE LOCATION Apartement on the 1st floor in a beautiful parisian building, in the heart of the highly desirable « 16th district » of paris, the very charming home located between Trocadero and bois de Boulogne, just off the famous Avenue Foch and the luxury boutiques of Avenue Victor Hugo. The Eiffel Tower, Avenue des Champs Elysées and Arc de Triomphe The small apartement offers a quiet setting to its guests while being a walking distance from the best restaurant, the Wine museum, the Guimet museum, Marmottan-Monet museum, Museum of Modern Art, Galliera museum and Palais de Chaillot- Cité de l'Architecture.You will also be able to walk to your meetings in rue Spontini, rue de Longchamps, avenue Kléber, place de Mexico or avenue d'Iéna for example. The business districts of La Défence, Levallois-Perret and Neuilly-Sur-Seine are at a few minutes by taxi or subway.
THE NEIGHBORHOOD Enjoy the Paris lifestyle at its best in a prime location featuring two shopping malls Monoprix and Casino in my street open utill 10 pm, the best Baker (PAUL), Pastry,Butcher, convenience stores "chic" style shopping, lively cafes, gourmet restaurant, various sport facilities with Velib ( for rent a bike), all at in the same street. A lot of Restaurants, boutiques and landmarks in the street
Romain' home was very clean. He left a bottle of orange juice as well as two bottles of water in the fridge which was very nice. It was also in a great location walking distance from many attractions. The apartment is quite small so it would be important to feel really comfortable with the person you are with.
Felicia
2015-05-13T00:00:00Z
Romain's apartment is very centrally located and great for a weekend visit.
Elyse
2015-09-01T00:00:00Z
Very cool setup and a very comfortable and nice pad! I would highly recommend this place to anyone. Keep in mind a few things which we expected and thus were no problems to us: There is a bit of noise, everyday at 5am the restaurant next door makes a bit of noise right outside of the window. Also the bathroom door isn't the best, so expect to get very close to the person who you are sharing the space with. If you're ok with those items, which were 100% ok with, then this space is perfect for you. The HUGE pros: - Very close location to Arc de Triumph & metro lines - Water & Soda in the fridge for us - Clean Towels - Kitchenette
sukhjinder
2014-11-26T00:00:00Z
What a lovely stay in Paris! we loved everything! Romain was a such an amazing Host! The apartment its just a 5 minutes from the Eiffel tower,the neighborhood is great ,lots of places to eat and drink! Thank you Romain! We hope to be back soon!
Stephanie
2015-06-23T00:00:00Z
This quaint little bachelor/studio room is set up in a fantastic location. We wanted to be close to the Eiffel Tower but also enjoy cafes that locals would eat at as well. Romain was very helpful and accommodating, making us feel very welcome on our arrival. He also works at an amazing Italian deli too which we checked out during our stay. The room may be small but who comes to Paris to hang out in their room?
Carly
2016-08-07T00:00:00Z
The host Romain was very welcoming and accommodating. The apartment however was very small, you couldn't fit 2 suitcases in... There was no toilet paper and a number of fixtures appeared to be broken such as toilet seat and door handle. The location however was good!
Kim
2016-07-13T00:00:00Z
I had the privilege of staying in Romains place. It was everything we wanted and more! The apartment is located in a very good area and near the metro. We had no problem running around Paris. And we were walking distance to the Eiffel Tower. I couldn't be happier with the services Romain did gave us. He stayed in contacts with us the entire time. I look forward to staying there again very soon.
Tasha
2015-06-29T00:00:00Z
My boyfriend and I stayed in Romain's apartment in mid September for 4 nights. The apartment is in a great location, within walking distance to the Eiffel tower and many tube stations. There is a supermarket just down the road which is really useful for buying food and lots of French patisseries'. The apartment is small, but matches the description and is perfect for a couple. The only small problem is that there is a Chinese restaurant next door which can be slightly noisey around 5/6am for about half an hour. Apart from this everything is lovely. Romain is very helpful and provides very clear directions for accessing the apartment and advice whilst in Paris e.g. Where to store luggage. Overall staying at the apartment was a great way to visit Paris on an affordable budget, whilst staying somewhere that was clean, has the necessary facilities and in a good location.
Lucy
2014-09-20T00:00:00Z
Room Type
Entire home/apt
---
Property Type
Apartment
---
Accommodates
2
---
Bedrooms
Paris, Île-de-France, France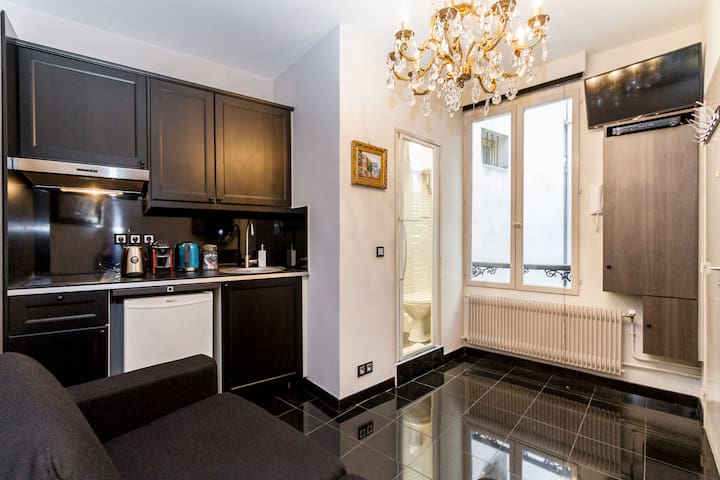 21m2 studio on the first floor, overlooking a quiet courtyard with flowers.
The studio consists of a main room (bedroom / living room), a bathroom and a separate kitchen (fridge, freezer, stove induction, toaster, washing machine).
The area is alive! Montmartre and Sacré heart are less than 15 minutes walk from the apartment. A small supermarket (also open on Sunday morning) is in front of the building. And a great wine shop is just down! A good bakery and a pharmacy are just down the street.
Room Type
Entire home/apt
---
Property Type
Apartment
---
Accommodates
2
---
Bedrooms
Paris, Île-de-France, France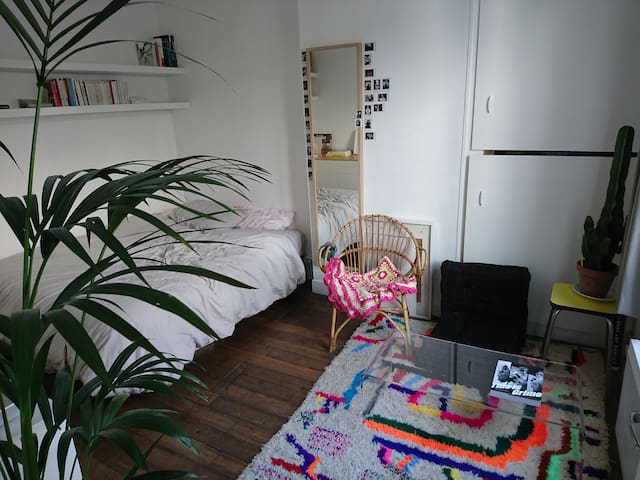 Small room completely refurbished located on the top floor of a nice Haussmann building. Close to parc Monceau and walking distance from Place de l'Etoile. For 1 person only. Shared toilet on landing but kitchenette and shower in the room.
Very nice area in Western Paris: family neighbourhood, typical "Haussmann" buildings. Beautiful parc Monceau less than 500 m away. Poncelet et Levis markets nearby. Champs Elysees and Place de l'Etoile at walking distance
Great room. Well located. Close to the Arc de Triomphe, right next to the métro. Full room with everything we need. Excellent cleaning. Very attentive host, always in touch with the guest. Indico. I intend to return.
Tallys
2017-02-27T00:00:00Z
Fantastic location! Very upscale area, centrally located in the 8th Arr near every site! Literally steps away to the Metro which makes navigating the city a breeze. Pierre was a fantastic host, and worked with me when I was coming into Paris late into the evening. The apartment is newly renovated so everything was brand new. Thanks again Pierre!
Ciarán
2017-02-25T00:00:00Z
Room Type
Entire home/apt
---
Property Type
Apartment
---
Accommodates
1
---
Bedrooms
Paris, Île-de-France, France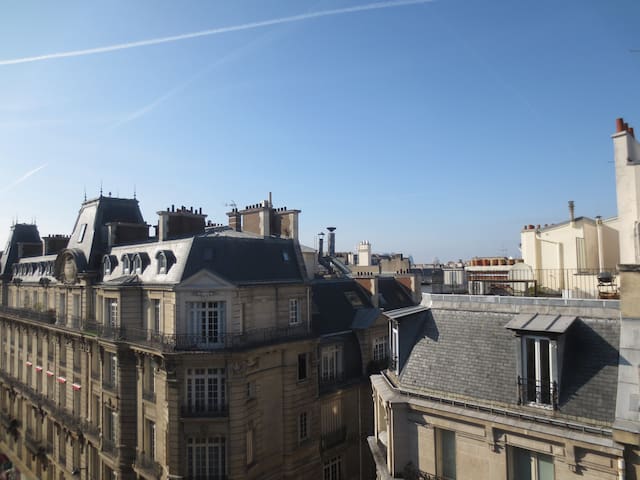 In the real heart of Paris, welcome to our cosy 3 bedroom apartment. Located in the sunny historical street of Paris in a 16th century building, you are at a walking distance of Paris' most magical monuments. Within 10 minutes walk, you can chose to visit the Louvre, Notre Dame, Le Marais, Beaubourg, Saint Germain, Hotel de Ville, Les Halles... or you can simply stroll 200m to the Seine river and enjoy its pedestrian banks. It is a wonderful place to enjoy the magic atmosphere of Paris.
Comfort in the best location in Paris. Renovated and colorful, the apartment is brand new for your experience to be smooth and relaxing. The apartment has 3 separated bedrooms but if you only need two bedrooms, you can fold the partition wall between third room and leaving room to have more space. 10 people and 6 beds: There are 6 beds, that can accommodate a total of 10 people: - Room 1: 1 double bed and 1 inflatable one person mattress - Room 2: 1 double bed and 1 inflatable one person mattress - Room 3: 1 convertible sofa that can be turned into a 2 people bed (possible to fold the removable partition with the leaving room) - Leaving room: 1 convertible sofa that can be turned into a double bed. The bedsheets and towels are furnished WIFI HOTSPOT TO VISIT PARIS: The apartment has remote Wifi hotspot that you can take with you during your visit of Paris to stay connected with high-speed internet everywhere in the Paris region. Please don't forget to put it back charging when you checkout :). The apartment has a fully equipped kitchen. The bathroom has a shower with a marble bench for you to experience a smooth rest under shower after a long day exploring Paris.
Cafés, Restaurants, Shopping, Art Galeries, Museums, Bars, Supermarkets... Between the Seine River, Le Marais and Louvre Museum, it is the most lively area of Paris. It is a pedestrian area where you will appreciate the Parisian atmosphere to its fullest. Because of the central location, everyday you will save a great amount of time with no unnecessary commuting as you are already at the heart of Paris.
Room Type
Entire home/apt
---
Property Type
Apartment
---
Accommodates
10
---
Bedrooms
Paris, Île-de-France, France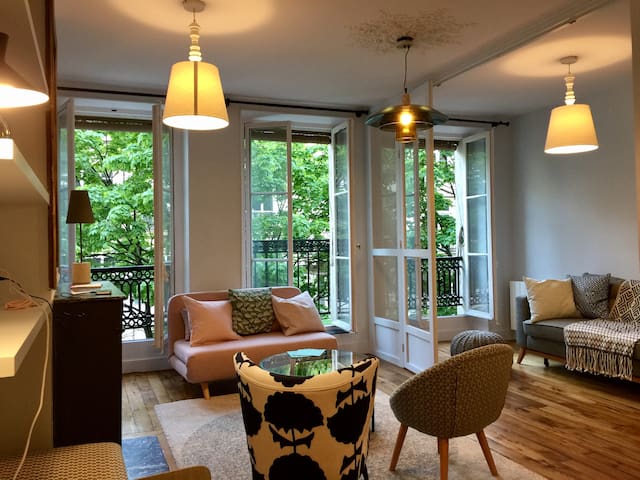 Tastefully furnished studio with kitchen, bathroom and balcony with a table and two chairs, all in a very well maintained in the center of the 15th district building. 2minutes walk to the Beaugrenelle shopping center and 10 minutes from the Eiffel Tower. A cozy and sunny studio, with a cute little balcony- 2 minutes walk from subway station, close to shopping center (Beaugrenelle) The apartment is well furnished and is Located in the center of the 15th arrondissement of Paris
Room Type
Entire home/apt
---
Property Type
Apartment
---
Accommodates
2
---
Bedrooms
Paris, Île-de-France, France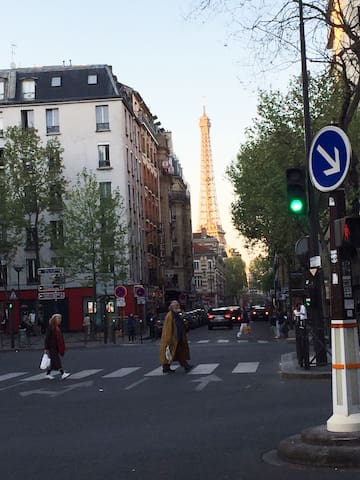 Please do not book before you contact me at AIRBNB@JJAMUYE C0M
Room Type
Entire home/apt
---
Property Type
Apartment
---
Accommodates
8
---
Bedrooms
Paris, Île-de-France, France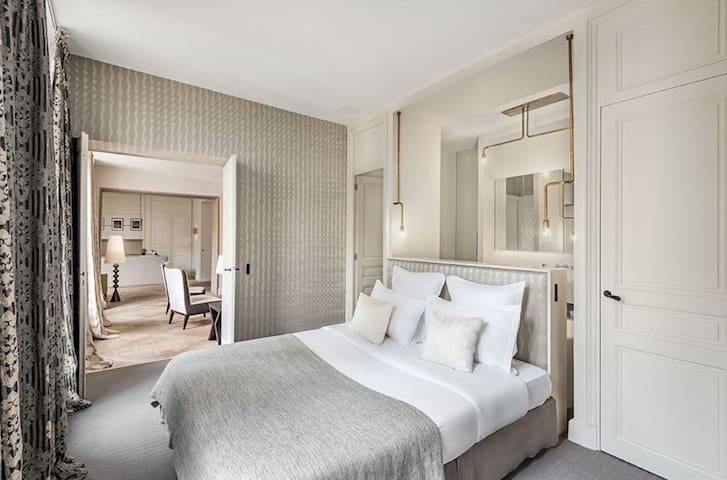 This beautiful fully renovated studio is located in the heart of Paris. With its allure of "mini-house" located on the ground floor and isolated, take advantage of the calm!
The studio is located in the heart of Paris, between the shopping streets, the various monuments. Access to transportation is convenient.
Neighborhood at the same time residential, calm and tourist. Enjoy the shopping street for shopping, strolling on the Mars Field just 15 minutes walk.
Very clean apartement with anything you could need in your daily life! It was easy to communicate with Mehdi. There is a supermarket less than five minutes away by feet and public transport aswell. So i would come back to his apartement anytime! Thanks a lot!
Philipp
2017-03-19T00:00:00Z
Small but very clean studio. Mehdi is a very helpful host.
Alice
2017-02-25T00:00:00Z
Mehdi's place was awesome! Located an easy 15 minutes from the eiffel tower, down the road from plenty of great shops, supermarkets and restaurants, surrounded by metro lines that will take you anywhere in Paris and probably the most important is that the neighbourhood is safe! Mehdi's contact with us was exceptional, while busy schedules kept us from meeting each other, Mehdi was vigilant in providing clear instructions on how to get to his place and how to get inside once we had arrived. On top of that he sent more than enough instructions on how to operate the heater, key safe, sofa bed etc. Making the check in and out process seamless. The apartment is separated from the street by a large steel gate with an access code. From there you find yourself in a small courtyard shared with an apartment building. Mehdi's place is a simple single story studio that borders the previously mentioned courtyard. Inside, the apartment is clean! Very clean! Tiled, fluffy rug and then a sofa bed. The kitchen has everything you need. Microwave, stove top, fridge, freezer, kettle and a coffee machine. Not to mention the washing machine and dryer that was effortless to use once I translated the interface. On top of this Mehdi stocks the cupboards and the fridge with essentials. We were surprised to find milk and a beer, herbs and spices, coffee pods for the machine, hot chocolate, cooking basics and home comforts essentially. Cutlery, crockery, cups and mugs, pots and pans were all in abundance. The bathroom, while on the smaller side, was clean and also stocked full of soaps, shampoo, conditioner, bandaids, tissues etc. One thing to note is the 75L hot water tank will run out quickly once two people decide to wash their hair on the same day. I attempted to use the TV but didn't bother trying too hard after my first unsuccessful attempt only because Mehdi's super fast WiFi was perfect for our nightly Netflix sessions on the ipad. The sofa bed was easy to unfold and was plenty comfortable and a generous size. It was however a bit squeaky, not much can be done about this and is to be expected to be honest. Definitely not an issue. Plenty of spare towels, sheets and quilts. Not that you need the extra warmth as Mehdi's heater kept the place toasty warm throughout our winter stay. We will return to Paris one day soon and we have our fingers crossed that Mehdi's studio will be available, we may even base our trip around his availability ;) great place, great host. HIGHLY RECOMMENDED!
Logan
2017-02-23T00:00:00Z
Staying here was great, very close to the metro which leads to anywhere you need to go for only €1.90. Very clean and cosy space with everything you need. Mehdi was a great host, greeting us and explaining everything we needed to know.
James
2017-02-02T00:00:00Z
Great location - a very short walk to 2 different metro stops/lines and about a 20 minute walk to the Eiffel Tower. Numerous cafes and restaurants in the area as well. It is small but if you are out and about most of your trip and are looking for convenience and practicality it works well
Steve
2017-03-08T00:00:00Z
What a fantastic host and a fantastic place to stay in Paris. My girlfriend and I stayed here in early March, 2017. Mehdi was extremely helpful leading up to, and during our stay. We had fantastic communication before we arrived, he gave us some tips for transportation once we arrived, met us at the apartment upon check-in, and was available to answer a couple questions during our stay. The apartment is fantastic. It's in a great location as it's just far enough away from the tourist traps to avoid the big crowds while being just a couple minute walk from three metro lines. Also there are many shops, cafes, restaurants, and bakeries within easy walking distance. The Eiffel tower is a quick walk, as well. The apartment itself was very clean, had all the amenities you could want, really fast wifi, and inside a passcode protected, gated area. My girlfriend and I felt very safe. Mehdi helped make our first trip to Paris worry-free and let us enjoy the beauty, sights, and history of the city. Highly recommended to anyone visiting Paris. Thank you, Mehdi!
Christopher
2017-03-14T00:00:00Z
Mehdi's studio was clean and modern and had all the amenities we were hoping for! We felt safe in the location and would definitely stay here again.
Aurora
2017-01-22T00:00:00Z
It is a nice studio, cenrtally located. Better then low to mid grade hotel rooms. Two can stay confortably. The host is a very friendly person..
Ahmet
2016-12-27T00:00:00Z
Room Type
Entire home/apt
---
Property Type
Apartment
---
Accommodates
2
---
Bedrooms
Paris, Île-de-France, France
We'll be happy to be your host in order to make your trip in Paris very pleasant. Speak english and german
Appart récemment rénové. Cuisine équipée. Lave linge / sèche linge. Salle de bain avec baignoire et douche. Un lit deux places confortable. Salon convivial + salle à manger.
Le quartier est très vivant et dynamique. La Tour Eiffel est à 10min de bus ! Près de Roland Garros et du Parc des Princes. Vous pourrez vous promener le long de la Seine et l'ambiance générale du quartier avec le marché ouvert tous les mercredi et dimanche matin.
Thibaut was a great host. We didn't have the opportunity to meet him, but he was always availably on (SENSITIVE CONTENTS HIDDEN) or his phone. The place was perfect for us: well-equipped, good location and quiet. We will definitely book this place again if we visit Paris.
Nadia Tamara
2016-11-01T00:00:00Z
The contact with Thibaut was great and the place itself really lovely. I would truly recommend it.
Katarzyna
2016-08-20T00:00:00Z
We had a great experience. We went out of his way to help us. He was respectful and polite. We had a great time. We would defiantly stay there again.
Grace
2014-08-24T00:00:00Z
It is such a lovely and clean apartment and you can take the bus at the front of the apartment. The Metro is only a 5 minute walk.
Marleen
2016-12-04T00:00:00Z
The host canceled this reservation 3 days before arrival. This is an automated posting.
Trinety
2017-03-21T00:00:00Z
Some friends and I were in Paris over the new year and we had such a lovely stay over at Thibaut's place! The apartment was exactly as described, and there were lots of ammeties and entertainment (soo many dvds!) provided for guests to use. Fresh towels were readily available, as well as a working kitchen as we wanted to cook for new year's eve. Thibaut was lovely and friendly to meet! He checked in on us a day or two before we arrived. We landed pretty late the day itself and he provided clear instructions on how to enter the building as he came down to greet us. The neighbourhood itself is very safe, with many bakeries and supermarkets at our convenience (which he helpfully drawn for us). The apartment is cosy and beautiful, just what a few travel buddies was looking for to spend the end of the year. If you walk across the bridge nearby, you can see the river, and the Eiffel Tower on a clear day! It's beautiful at night as well! Friendly host, stunning place & neighbourhood, will definitely come back when we get the chance!
Siti Aishah
2017-01-01T00:00:00Z
Thibaut nous a acceuilli avec (URL HIDDEN) nous a offert une collation de bienvenue et nous a proposé son aide pour notre séjour.l'appartement était impécable et conforme aux photos et sa situation au centre de paris est idéale pour un séjour touristique.
germaine
2016-10-25T00:00:00Z
Thibaut hat uns sehr nett begrüßt und hatte sogar ein kleines Geschenk für uns. Er spricht Deutsch, was die Verständigung ganz einfach gemacht hat. Wir haben uns in der Wohnung sehr wohl gefühlt und sie war für vier Personen (2 Erwachsene und 2 Kinder) groß genug. Die Lage ist fantastisch. Wir sind zu Fuß bis zum Eiffelturm gelaufen. Aber auch mit der Metro ist man ganz schnell im Zentrum.
Arben
2015-10-31T00:00:00Z
Room Type
Entire home/apt
---
Property Type
Apartment
---
Accommodates
2
---
Bedrooms
Paris, Île-de-France, France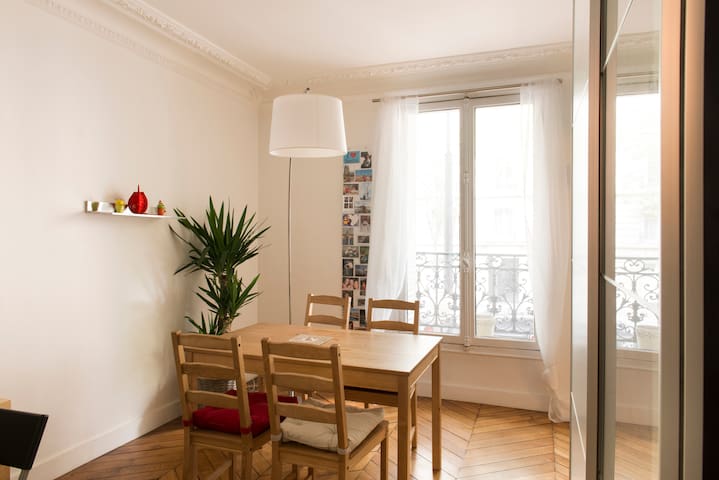 My flat is a stone's throw from the Place de la Nation and close to the Place de la Bastille and the Aligre Market. The metro is 2 minutes away and the buses and the RER A (30 min to Eurodisney, 20 min to La Défense 45 min to the airports). You will appreciate my accommodation for the neighborhood, calm and brightness. I use my flat as an office, but it has all the comfort of an intimate apartment. My accommodation is perfect for couples, solo travelers and business travelers.
The flat has surely a characteristic style, as may be seen in the pictures. Just beside it, there is a little park, a wonderful pastry and some folkloristic bistros. You'll enjoy the location.
It is a comfortable neighborhood not too far to a major park (bois de Vincennes), but also to the dynamic area of Bastille with many bistros...
Gianni was a very accomodating host! The location of his airbnb is a short walk to the subway, and is very accesible to dining and grocery stores! I had no trouble at all when it came to communication. I highly recommend staying in this cozy flat!
Edwin
2017-04-02T00:00:00Z
Room Type
Entire home/apt
---
Property Type
Apartment
---
Accommodates
2
---
Bedrooms
Paris, Île-de-France, France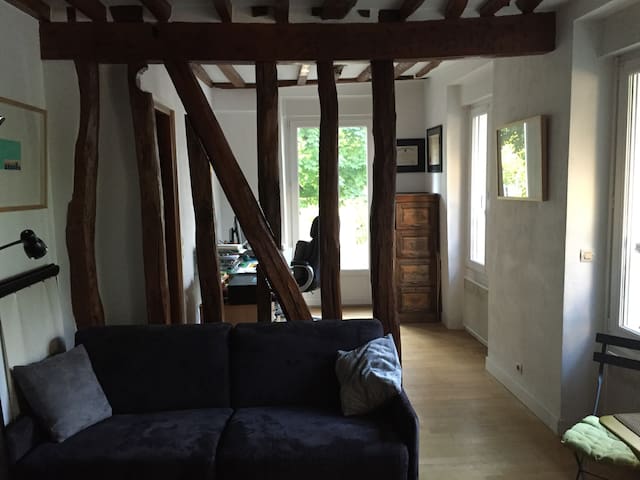 Cozy and quiet apartment with lots of natural light located in a bustling neighbourhood near the Canal Saint-Martin. You will have the apartment to yourself. There's one bedroom and a big and comfortable sofa bed in the living room. Perfect for a weekend getaway.
The apartment is well furnished and very quiet as it looks onto a courtyard.
The area has great charm, and is populated by students and families. The apartment is located on a quiet street, but the neighbourhood is lively.
The host canceled this reservation 35 days before arrival. This is an automated posting.
Matteo
2015-12-16T00:00:00Z
Room Type
Entire home/apt
---
Property Type
Apartment
---
Accommodates
4
---
Bedrooms
Paris, IDF, France
Enter dates to see full pricing. Additional fees apply. Taxes may be added.