Luxurious air-conditioned apartment with high quality services, in a very safe area,surrounded by shops and restaurants, with a spectacular view above Paris, at hand from the Eiffel Tower. Have a look at the reviews !
Located in the very safe and residential part of the city (7th arrondissement), opposite the 'Champ de Mars' garden and the Eiffel tower, this bright 70 square meters one-bedroom apartment is located on a high floor of an elevator building, There are large windows and a spectacular view on Paris monuments such as the 'Sacré Coeur' (Montmartre) and faces the very close Eiffel Tower : you can almost touch it ! There is a outdoor terrace with a table for enjoying your breakfast or a cocktail at night in front of the breathtaking twinkeling Eiffel Tower : C'est MAGIQUE :-). Even in the winter time since the table outside is radiant heating. One very comfortable king sized bed in the bedroom and a spacious living room . The apartment is elegantly decorated, has ample closets, two flat TV screens with cable HD channels and blu-ray disk console, a stereo system, a safe deposit and unlimited free high speed wireless internet access. No charge for your phone calls to USA and CANADA (land and cell phones). No charge as well for calling landphones in Australia and many other countries (illimited complimentary). The bedroom and living room are AIR CONDITIONED. This Parisian apartment has a complete kitchen that includes nice induction range, oven, micro-wave oven, large american refrigerator, freezer, double sink, ample counter space and closets, washing machine (and laundry detergents), tumble dryer, iron, vacuum cleaner, dishwasher (and appropriate detergent), coffee maker (usual+Nespresso), kettle, juice maker and toaster, dinner ware and serving pieces as well as quality linen. Bathroom has been totally renewed with a large space where you can seat and enjoy different showers. You will find at your disposal a lot of towels, bathrobes, a hairdryer and amenities, such as soaps, shampoos, facial tissues... I also provide tea, coffee, sugar, mineral water, and a good bottle to greet you on your arrival. No need to go down to the shop as soon as you arrive... just relax and enjoy the panorama.. I make a special price for 2 weeks or more and provide the apartment with spare duvetcovers and pillowcases. Supermarket, bakery, cheese shop, wine shop are around the corner, opened late at night. Nice very typical French brasseries nearby the 'Ecole militaire' with a large choice of excellent fresh food and a continuous service (with a menu translated in English). The open air market of the rue Cler is a short walking distance and it is worth wandering the aisles and savoring the sights and smells. Le "café du marché" on the corner is the place to sit and enjoy the action. Next is an "épicerie fine" with all kinds of "produits du terroir" and terrific home made icecreams :-) A great number of buses in front of the place will take you almost everywhere inside Paris. Direct underground to Musée d'Orsay, Invalides, Saint Michel/Notre Dame and Latin quarter (3 stops). Many museums are walking distance. You can jog in the park opposit the street under the Eiffel tower. You also can rent a bike (public bike station just in front of the place). For your airport transportation, I can advise a reliable and reasonable priced shuttle that would wait for you at the airport with your name written on a board. I can book it for you if you wish me to. You will be able to check in any time in the early morning on the day of your arrival : the apartment will be ready for you since I always leave a full day in-between my guests. Same with your departure : check out possible in the afternoon. I am really so happy and proud to have been elected a member of the airbnb Superhost alliance. This comes to me as a recognition of all the efforts made to ensure that my guests have an unforgettable time in Paris.
The EIFFEL TOWER...
This was our first trip to Paris and was to celebrate our 40th wedding anniversary. We wanted the trip to be extra special and memorable. We also decided that we wanted to spent our two weeks exploring Paris and experiencing a little slice of Parisienne life rather than running ourselves ragged like many a tourist. We fell in love with Charles' apartment from the moment we first discovered it on Airbnb. Without exception, the apartment was as pictured and as promised. The way that Charles' mother Marie and father Pierre attended to our needs was truly extraordinary. They made us feel like we were a part of the family! What can we say about the amazing view of the Eiffel Tower? Equally as impressive was the "Central Park-like" view of looking over the park called Champs de Mars, the distant view of the Basilica Sacre' Coure on Montmartre and the expansive view of the north and western portions of the city. There are plenty of great places to eat in the neighborhood, an amazing cheese shop just around the corner and a very nice wine shop too. Local markets are close by, making it convenient to stock up for a home cooked meal or several. The apartment is perfectly suited for walkers like us. We logged 10-15 miles per day exploring most parts of the city from our "home" base. While we did not travel by bus, you could catch a bus to anywhere just by stepping out the door. A Metro station, which we did use a few times, is a short 5 minute walk down the street. At first we were concerned that the apartment would be very noisy at night but with the sliding windows and curtains closed, it was not noisy at all. It helped that the bedroom and living room have air conditioning, especially since it was quite warm the two weeks we were there. In a nutshell, we highly recommend this great apartment and especially appreciate the gracious hospitality shown to us by Marie and Pierre.
Michael
2014-09-21T00:00:00Z
My stay at this apartment was absolutely brilliant. Charles and his mother Marie, were the most amazing hosts - from before we arrived until the moment we left. This was my first time using this site and I feel so blessed to have found such an incredible place with such trustworthy hosts. There are so many apartments listed for Paris, but they are apartments you can find anywhere in the world. The spectacular view and wonderful facilities of this apartment ensures that you always remember that you are in the stunning Paris. You don't want to miss any opportunity to have to stay here - I promise you, you won't regret it! Memories for a lifetime.
Anita
2011-12-15T00:00:00Z
This apartment was wonderful! The owner's mother who manages the place was gracious and helpful. A great location with a most wonderful view. I would eagerly rent the place again . A++++
JoAnne
2012-07-14T00:00:00Z
The apartment is amazing. Big, great location, very confortable and well equiped. The beds are very good to sleep after a day walking. The view is something else. Have your private view of the eiffel tower is speechless. Charlie and Marie are great hosts and make everithing to assure the best experience during your stay. They are really nice people and you feel very secure before and while you are staying. I've never rented an apartment for vacation before, so i was a little afraid. But the real experience prove even better of what i was expecting. Stay in paris, in charlie's apartment, give paris a new look and provided a new experience. In the end, the only bad thing was to go away. My wife kept insisting to change our plans and stay more time. If you are looking an apartment, this one must be your choice! Stop looking!
Alex
2012-06-17T00:00:00Z
Much as I'd like to come up with some nitpicking deficiency, just to prove I'm discerning and alert, the fact is that this apartment ranks among the very best accommodations we've rented -- ever -- and that covers a lot of territory. There is literally nothing about this place that requires improvement. From the spectacular view to the well-equipped kitchen; from the welcoming gestures to the kind and knowledgeable help we received from Marie, Charles' mother; from the comfortable bed to the gloriously imagined bathroom, the apartment was practically a destination in itself. There are very few Paris apartments that sport a 40 foot balcony, loads of light (and complete darkness when you want it), mirrors that accentuate and reflect the grand vistas this place affords some nine stories up and a location that is second to none. My wife and I love to rent apartments instead of hotel rooms, and this place is a perfect example of why it makes sense.
Thomas
2015-05-12T00:00:00Z
I am recently retired and my wife and I got to spend our 39th anniversary in this wonderful place. Our host, Marie, was the most welcoming host I have ever encountered in our travels. She was attentive, gracious and incredibly helpful with our in-country travel plans, locations of places of interests and local markets and restaurants. The flat was just perfect! Clean, super location, great view from the balcony, plenty of room and amenities. We want to go back to Paris soon and would definitely stay there at this apartment again.
john
2015-06-22T00:00:00Z
Beautiful views in a nice, quite area. It was magical to see the Eiffel Tower sparkle from our bed each evening (though the curtains could keep the light out if desired). The Christmas Eve key swap was a bit tricky, but Charles and his mom made sure we were able to get in even with a late arrival. We were so happy with our reservation, and we hope to be back again!
Jamieson
2011-12-28T00:00:00Z
The description and pictures are perfectly accurate, but what they don't provide a sense for, are the magnificient hosts, Marie and Pierre (who was at the door step when we arrived, and gave us the warmest welcome), insisted that they help with our luggage, and provided fantastic recommendations around the city. The location is perfect, with city bus lines 42, 69 and 82 that will fulfill most, if not all transportation needs for the typical tourist - taking a bus is one of the best choices we've made staying there, all the sights minus any safety concerns ... I initially had some reservations about staying in the 7th/15th arrondisement but my concerns quickly dissipated once I discovered how convenient and easy it is to get groceries and food/restaurants (Vin & Maree just steps away is a must do !). Thanks Marie for your kind hosting, and I look forward to returning in the future !
Joshua
2016-10-09T00:00:00Z
Room Type
Entire home/flat
---
Property Type
Apartment
---
Accommodates
2
---
Bedrooms
Paris, Ile-de-France, France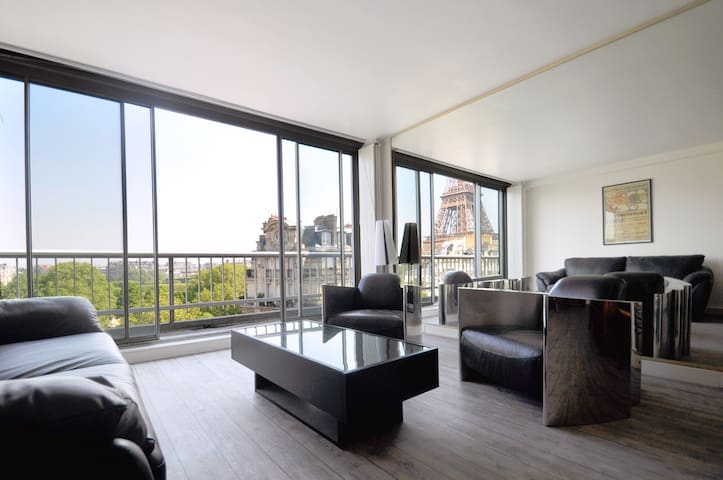 The apartment is located in the heard of Paris, it mesure 20 square meters with a bed on mezzanine (I don't now this word exist in english). There is a small garden and a kitchen with view on the sky.
Appartement de 20m2 avec un lit en mezzanine et une petite cours en plein coeur de Paris.
Vous pouvez accéder a l'appartement via les stations de métro Grands Boulevards (Ligne 8 & 9), Sentier (Ligne 3).
wow, what a place!.. it has everything you need for a perfect Paris experience. feels like a home away from home and I highly recommend this place as Laura was a great host and the location is just what we were looking for.
jonathan
2016-08-21T00:00:00Z
Due to a family crisis Laura could not meet us upon arrival and we were met by someone who faileded to pass on crucial information, including that the door to the building needed a code after dark, so when we retuned from dinner on our first night we found ourselves unable to access the building and no way of contacting the host, which was most distressing. So if you stay here, make sure you take the code with you. Other than that the flat is clean and although small has everything you need. It is very central and we found we could walk to most places within a few minutes, the area felt quite safe.
suzanne
2016-09-09T00:00:00Z
Great little place in an excellent location. Had a few problems with the door but other than that really great!
Kirsten
2016-09-10T00:00:00Z
Laura made me feel at home in Paris. Her apartment was beautiful and clean. Laura was very helpful and considerate.
Hannah
2016-10-21T00:00:00Z
Very cute place in fabric district! Also has nice bars and restaurants nearby!
Loren
2016-06-04T00:00:00Z
Laura's place was just perfect! Very good location, super clean, and she was available for my questions. I had difficult time learning how to open the apartment door but she gave me a sheet that described detailed instruction. Her place was so popular so I could only stay for one night. If I had a chance to come back to Paris, I would stay at her place again.
Kyoko
2016-05-04T00:00:00Z
Laura was a perfect host! The apartment was really clean, she was helpful and prompt, and it was very comfortable. Thank you Laura!
siobhan
2016-03-19T00:00:00Z
Thanks Laura for your kind hospitality. I did enjoyed the stay... Love ur place..
Felicia
2016-11-21T00:00:00Z
Room Type
Entire home/flat
---
Property Type
Apartment
---
Accommodates
2
---
Bedrooms
Paris, Île-de-France, France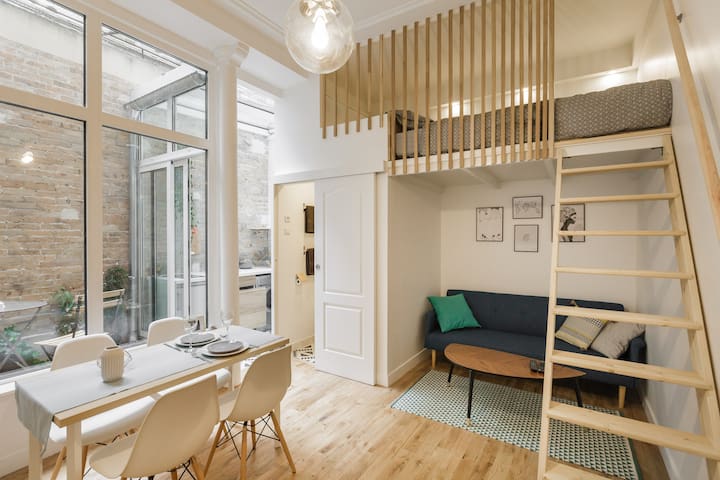 Suite Deluxe 2 rond Point des Champs Elysées located on the most beautiful Avenue of the World. Last Floor 50 sqm + 50 sqm of Terraces with fantastic 360° view from all over Paris. Bed Room & Living Room 4 Terraces. Air Conditioning IMPORTANT : new elevator completed and building still under renovation
The place appears in many TV Spot Most Beautiful View over Paris from last floor in Champs Elysées. Panoramic Terraces Velib Station just downside the building
The apartment is amazing! The view from the balcony is very beautiful! But the elevator was broken!
xuanwei
2015-01-31T00:00:00Z
The apartment was great and the views were even better than we expected. It was so nice to watch the sun go down while sitting on the balcony. The A/C worked well, but we didn't need it even in August -- you get excellent breezes by opening all the windows and letting the air flow through. Bed and sofa were comfortable. Everything was clean and quiet. Washer/Dryer combo worked well, after we translated the controls. Dryer took at least 90 minutes, so plan accordingly (but this is common with this type of machine). There is a brand new elevator in the building, which worked great. The only downside is that you're on the Champs Elysées, which is super touristy and crowded. But we knew that when we booked it, and the apartment more than makes up for it. Plus, there's a metro station just across the street, so you can get to other parts of the city quickly. There's also a Monoprix a few blocks away for picking up groceries. We would definitely stay again.
Lindsay
2015-08-10T00:00:00Z
The Apartment is GREAT! This is actually my 2nd time at John's place, the first time was 3 years ago when i went for my pre-wedding photoshoot in Paris, and we stumbled into his apartment by accident ( my photographer was staying here ) and since then, we decided that IF we ever go to Paris again, it will be at John's place, and so we did this time for our honeymoon! The view was CRAZY, if there's a 6* rating available, i would have given one! U get 4 balconies with all of Paris in view, it couldnt be any better than this! Totally speechless, as i sat on the balcony, looking at eiffel (even though its freezing outside when i visited Paris, it was -3/-5 degree) i forgotten about the cold. totally would stay here again the next time i have the chance!
Andrew
2017-01-06T00:00:00Z
Such a lovely place to stay, the view is spectacular and the appartment is lovely. I had such a great time.
Avril
2017-03-12T00:00:00Z
Amazing apartment, perfect location and everything we wanted for a 4 nighty stay in Paris!! Would definitely return and recommend to friends - made our time in Paris even more memorable! Thanks John!
Joel
2015-10-24T00:00:00Z
Nice apartement, probably in the best area in Paris! The building is being renovated, but there is a brand new elevator! The view is great and the only bad thing is that you wouldn't want to leave!
Петър
2015-04-20T00:00:00Z
Unforgettable. Even the photos do not do it justice. Once you arrive and hear the buzz of Champs Elysées and capture the postcard view then and only then will you know how uniquely special this apartment is. This is not an apartment, but an experience you will remember for life.
Benjamin
2016-02-01T00:00:00Z
Amazing special place with best views in paris
Fiona
2016-12-21T00:00:00Z
Room Type
Entire home/flat
---
Property Type
Apartment
---
Accommodates
2
---
Bedrooms
Paris, Île-de-France, France
Direct Conexion from all airport!.Center of Paris, in the pedetrianized area of Montorgeuil and châtelet .. Geat restaurant, and nice café. Cosy and design athmosphere .10 mn walking from LOUVRE ,NOTRE DAME,POMPIDOU ,THE SEINE and many monuments.
COSY AND DESIGN 40 M2 FLAT, ONE DINING ROOM, ONE BEDROOM AND ONE SEPARATE KITCHEN, ONE BATHROOM AND ONE SEPARATE TOILET. COMPLETELY IN THE OLD CENTRAL PARIS.3 MN WALKING FROM ALL SUBWAY RESTAURANTS AND CAFE NICE AROUND EVERYWHERE. 10 WALKING FROM NOTRE DAME, POMPIDOU THEY ST LOUIS, THE LOUVRE, LE MARAIS. 2 MN FROM DISTRICT Montorgeuil. THE SOFA IS A SOFA BED for 2P. (I Provided the linen and will prepare the bed in the dining room) NESPRESSO MACHINE AND CUP PROVIDED :-) SECOND FLOOR WITHOUT ELEVATOR. Its location is ideal, totally central, pedestrian area and historical monuments. The apartment is on the 2nd floor without (URL HIDDEN) has a very nice atmosphere in both design and (website hidden) very large windows, two balconies, the building in 1900.
Quartier Montorgueil, pedestrian, also the whole atmosphere of Paris with its cafes, restaurants and historical monuments in front of the building ...
FANTASTIC!!!! I love this place so much. Very convenient, great location, actually better than what you see in the photos. It is very spacious. 3 metros around the apartment which made our life very very convenient. Emmanuelle is also a super nice person. She even offered my son to use her daughter's trolley. very convenient to contact her. She lives just in the same apartment. STRONGLY recommend to stay here!
dusit
2015-10-26T00:00:00Z
Emma's flat was amazing. Best location possible, super quiet building and it's even more charming in person. Emma was such a wonderful host, we ran into her while leaving to explore and she invited us to walk with her and showed us the best bakery and a couple great restaurants. I highly recommend staying here.
Angelo
2016-10-26T00:00:00Z
The apartment is extremely well located on the first floor near the centre of Paris but in in a pedestrian square with delightful pubs and restaurants opening up onto the square. It is well equipped and clean
Chris
2016-07-03T00:00:00Z
very good location, Emma was the perfect host for mee, the apartment was fantastic, great location with an amazing bakery close to the place :) We will return.... thank you again
yessyka
2016-01-22T00:00:00Z
Emmanuelle is such a lovely and wonderful host. She has been most helpful to even helped us book our tickets to Versailles. We enjoyed our stay at this apartment. It is so centrally located and we can reach so many sights by foot. There are also so many restaurants to choose from just a stone's throw from her apartment. And it is so convenient to arrive from the CDG airport by the RER B train. The apartment is all and more than what you see from the photos. Will surely recommend anyone to book this place. Only problem is that you may be disappointed as it is booked up till next February. But just give it a try.
George
2015-08-16T00:00:00Z
We were a family of four (two kids ages 10 and 7) and staying here was absolutely wonderful. Emma was gracious, flexible, and both proactive and responsive in her communications, although we didn't get to meet her in person. The apartment was just right, and the location couldn't have been better: moments from Les Halles, comfortable walk (even for kids!) to Notre Dame, San Michel, the Louvre; and the Chatelet-Les Halles Metro is a direct ride on the RER B from CDG (with no shuttle required), as well as an easy connection to any part of the city. There are convenient markets nearby for stocking the kitchen, and it's easy to find both inexpensive meals out (Rue St Denis is just a few blocks away) and of course more expensive restaurants. The only caution I would suggest, if you're a light sleeper, is that on busy evenings (especially Saturday night) the neighborhood is quite noisy, and the apartment is just above a courtyard with some quite active bars and restaurants. The busy murmur of people talking and eating was no problem at all for the kids, and for me I found that the "White Noise" app on my iPhone helped a lot by blending the nightlife into more general background noise. But this did not spoil the experience at all. We appreciated the opportunity to stay in this flat on our visit to Paris and we would very happily recommend it.
Philip
2016-08-19T00:00:00Z
I have just spent two nights in this apartment. It is just how it looks in the photos - stylish, comfortable and clean. It feels like you are staying in a home. It has been thoughtfully decorated and furnished. There are nice restaurants and bars in the square below and the Metro is just two minutes away although we walked almost everywhere. The booking and communication with Emmanuelle was straight forward with no problems AND we had a great time.
Sharon
2016-05-01T00:00:00Z
Emmanuelle is a great host. She sent us details of " how to reach the apartment" before our travel and everything was described very clearly and was easy to understand.She lives in the same building and was available for questions whenever we needed. She also provided us with a bed for the extra guest who joined us at later stage. She also printed tickets for us which was a great gesture as we were new to locality. Our stay was very comfortable. we all left Paris happy and eager to come back :) :) :) Thanks Emma :)
Kiran
2016-02-18T00:00:00Z
Room Type
Entire home/flat
---
Property Type
Apartment
---
Accommodates
4
---
Bedrooms
Paris, Île-de-France, France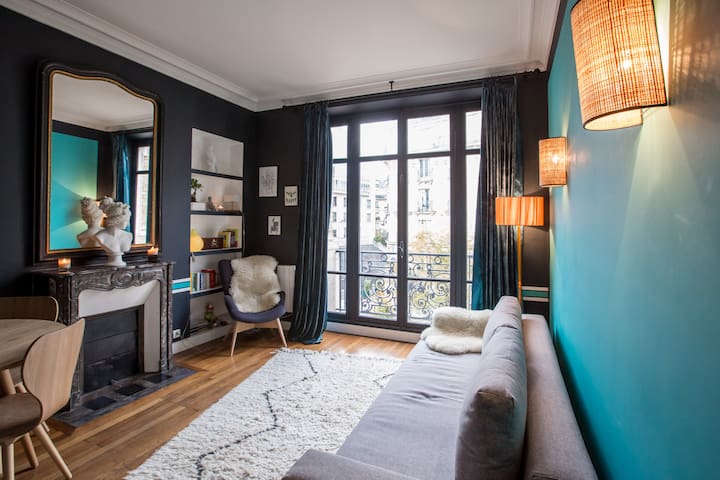 Located rue st sauveur very near rue Montorgueil, this charming studio apartment is a few minutes away from Les Halles, in the Heart of the famous Montorgueil area. Located rue st sauveur very close to rue Montorgueil, this charming studio is just minutes from Les Halles, in the heart of the famous Montorgueil district with its wide choice of quality food, restaurants and pubs. It is also within walking distance of major points of interest such as: The Louvre, Notre Dame, Ile de la Cité .
Located rue st sauveur very near rue Montorgueil, this charming studio apartment is a few minutes away from Les Halles, in the Heart of the famous Montorgueil area with its large choice of quality food products, restaurants and pubs. It's also within a short walking distance from main points of interest like : Le Louvre, Notre Dame, Ile de la Cité or Ile Saint Louis. You will have the whole apartment to your selves this is not not a share All the streets nearby host lots of nice galleries, shops, stylists ateliers, cafés, restaurants, brasseries, wold level museums and lesser known places, just there for you to discover. The area is full of restaurants, cafes, bars and clubs, yet the apartment is completely noise free which is quite surprising in the heart of a city. You can walk all day long as well as evenings as the district is quite safe. You may meet casually movie actors, politicians, philosophs and opinions leaders. The Studio is in a 17th century building. The entrance gate is protected by a security system. this apartment has 17 m2 .The studio is fully furnished with a a double bed. , a shower, sink, 2 electronical plates, a microware,a washing machine, iron, a fridge, a hairdryer, and high speed internet with WI FI You will find everything you need right at hand. A 10 -minute walk from the Marais , a 10-minute walk from the Louvre Museum , and 15 minutes from Notre-Dame Cathedral… There are 3 metro stations "sentier", "reaumur sebastopol" and "les halles" within 5min walk including Chatelet-Les Halles for direct travel to CDG and Orly airports as well as Eurodisney. The main double bed is on mezzanine.I will provide you towels and bed linen. The minimum stay is 2 days but I prefer longest stay. Other commodities include TV, DVD, Stereo and free internet, WI FI, and unlimited phone calls to all europe and United States (fixed line phone). All Linens included. There will be fresh bed linen and towels for you to use I have made for the guests a special guide book with my favorite addresses (shops, restaurants and bars) and many information on Paris monuments. If you have any queries do not hesitate to ask me. I hope to welcome you soon!
Montorgueil is just the BEST neigboorghood in Paris: lively and traditional with all the grocery stores and market smart and stylish with all hip cafes and terraces, restaurants and bars full of people all year round. On the upscale shops and galleries and everything else within walking distance! The Louvre, the Beaubourg, the Opera and the Galeries Lafayette, the grand boulevards with its theaters, La Bourse, Le Marais, St Michel and the Latin Quarter are a few minutes walk away. Crossing the Seine ..) Transportation You are right in the center of Paris, just 3 minutes from the Châtelet Les Halles, the main transport hub with 3 RER lines, 7 subway lines, the largest shopping center in Paris
Eric made me feel very welcome and the apartment was exactly as advertised. His communication was very good. I loved the location - very convenient to many wonderful sights and neighborhoods. The neighborhood the apartment was in was wonderful - anything and everything you could want was just a few steps away. I would definately stay here again and hope I get a chance to do so!
Deirdre
2015-08-29T00:00:00Z
I enjoy staying in the flat. Very great location . Good location for food shopping.
Alfons
2012-12-03T00:00:00Z
Very very very central, this location made our trip. Very small bathroom, like when you sit on the toilet you have to turn to the side to fit without your knees hitting the wall but it's not really a big deal. :)
Aimee
2017-01-13T00:00:00Z
Erick was away when we stayed, so we never got to meet, but our correspondence was very friendly. We loved the apartment, and it's location was superb. There are 8 bars/cafes within 1 minute's walk! And within a 5 minute walk, beyond counting. Fresh bread about 4 minutes away, and supermarkets too. Close to the Metro, and about a 25 min stroll to Notre Dame. The apartment had all we needed, and was very quiet due to its location in a private courtyard off the street. Bathroom would be tight if you are of a large size, but was okay for us. We would return if the opportunity arose. Recommended.
Alexander
2015-07-16T00:00:00Z
Erick's apartment is small but great. Mark and I were very comfortable there for 3 nights. Erick was very friendly and helpful and even leant us a Paris guidebook for the weekend. The building is beautiful and safe. The lofted bed is super comfortable. There is a kitchen with plates and cups if you want to cook, but there are also many delicious bistros, brasseries, restaurants and boulangeries within a two minute walk. Its near one of the main train and metro stations in Paris, which was very convenient, and its an easy walk to the Seine, Notre Dame and even the Louvre. I liked it a lot and felt very confortable. I would definitely stay there again!!
Adriana
2013-01-08T00:00:00Z
Erick's appartment is small but has all you need to be comfortable.we atayed there 2 nights so it was perfect for us. It's SO well-located close to Louvre, underground...many nice shops around, and restaurants.we recommend the Thai restaurant which is at the same street than the appartment. With Erick all was perfect, check-in and check-out, and if we go back to Paris we'll repeat!
Laura
2013-01-28T00:00:00Z
It's been a pleasure to stay at Erick's apartment. It is in the center of Paris, very close to tour sights. It is a cozy apartment with everything you need! Thank you so much for the welcoming wine and flowers.
Haein
2013-02-18T00:00:00Z
The neighborhood was really nice and everything in the apartment was as described! Metro was close and even walking to many sight was easy! apartment had a lot of information about Paris and we had wonderful time! Nice hot shower and comfortable apartment, what else can you need! thank you Eric!
Sälly
2015-04-20T00:00:00Z
Room Type
Entire home/flat
---
Property Type
Apartment
---
Accommodates
2
---
Bedrooms
Paris, Île-de-France, France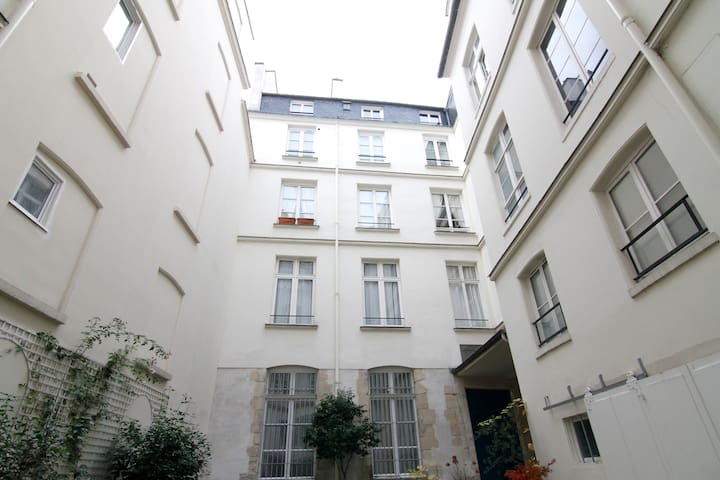 This charming apartment is at the foot of the Eiffel Tower, you will be at the heart of the main sights of Paris. The fabulous view of the Eiffel Tower, will leave you with unforgettable memories. Feel like home and enjoy your stay in Paris
The Amazing view of the Eiffel Tower!
Adam met us at the apartment as promised to run us through everything. The view and location were better than I imagined, kept on looking out the window to make sure I wasn't dreaming. Although tiny, you really don't spend much time with Paris at your front door to explore. Lift is a godsend at the end of the day. You won't be dissappointed by this little hidden gem.
Nikki
2016-09-25T00:00:00Z
We did not actually meet Philippe, but were welcomed by Santiago. The listing is just as described. The flat is very small, but a really comfortable place to stay. The pull out bed and mattress were really great and very welcome after a long day of sight seeing. It could be a bit noisy in the daytime and evening, but for the most part, we never heard much throughout the night. The views are stunning and the location is wonderful! We were so close to everything and enjoyed walking around. The neighborhood was really nice, with lots of shops and cafes. A very busy area with lots of traffic and also tourists. Would definitely recommend this flat by the Eiffel Tower!
Kristina
2015-06-26T00:00:00Z
The location and the view are fantastic! Philippe was very responsive to all our questions and made sure there was someone to meet us at the flat to let us in and show us how to use the wi-fi, etc. The flat was as described, small and comfortable. Overall, a very nice stay.
aimee
2016-03-15T00:00:00Z
Host was polite and very helpful.
Trinidad
2016-07-03T00:00:00Z
Philippe was a perfect host and helped us a lot. Everything worked without complications and we will definitely come back to this apartment! Thank you Philippe! :)
Robin
2015-10-04T00:00:00Z
Great view of the Eiffel Tower! Had a very good stay!
Giselle
2016-06-14T00:00:00Z
We had a very pleasant stay. Communication with Philippe is top notch. The room really next to Eiffel Tower, we can see the whole tower from the window. Amazing feeling to see the light show from the room. Bed is very comfortable.
Sriram
2015-12-22T00:00:00Z
Great location and a fantastic last portion of our honeymoon. Everything was as described - including the view. Would love to go back
Andrew
2016-11-01T00:00:00Z
Room Type
Entire home/flat
---
Property Type
Apartment
---
Accommodates
2
---
Bedrooms
Paris, Île-de-France, France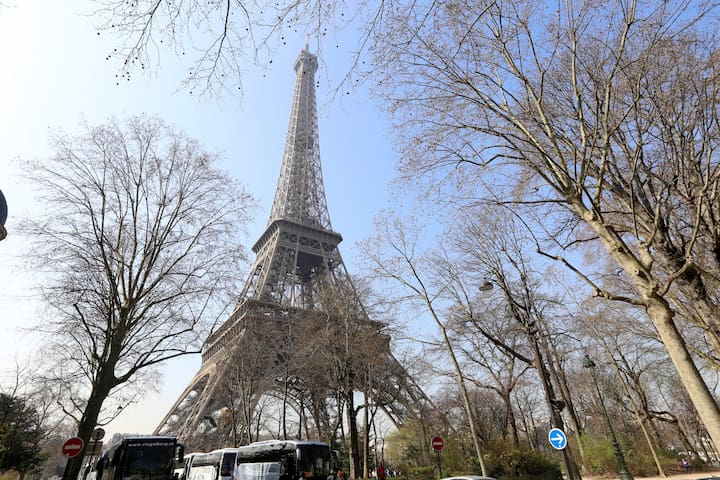 Studio 27 m² on the 4th floor with sunny elevator quiet overlooking a small garden, bathroom with bath, equipped kitchen microwave kettle toaster coffee, located 1 min from Parc Montsouris, 5 minutes RER B and Orly bus and subway
Equipped kitchen - Microwave - fridge - hotplates - Nespresso coffee machine - Coffee machine - toaster - kettle Bathroom - towels - shampoo - shower gel - hair dryer Main piece - Wireless internet and USB connection - radio - TV - office - ironing board - iron
the studio is 1 min from Parc Montsouris, 10 min (walking) from the catacombs near Montparnasse (theaters, Montparnasse Tower and many restaurants including a pizzeria open all night)
Francoise is a cheerful and good host. She welcomed us personally and took pains to ask anything else we require. The apartment is very good, clean, with all amenities and close to Cite Universitie RER line station. Stay here is comfortable, totally private, enough amenities to cook, if you like, linen and washroom are absolutely clean. Nearby there are couple of restaurants, a park if you like to walk/jog and tram/bus service available. Overall it is an excellent stay and will like to come there again.
Ravinder Singh
2016-08-05T00:00:00Z
My husband and I had a great time at Francoise's studio. It is by the University, so it is a very diverse neighborhood and it's close to public transportation. There are two nice coffee shops/restaurants on the corner and more shops/restaurants that are a 5-10 walk min away. The studio had everything we needed. It was clean, cute and cozy. And close enough to the main attractions. If we ever moved to Paris this would be the type of place we would look for. Not to mention Francoise was an amazing host, she helped us with a luggage mishap. We would definitely recommend this studio and hope to stay here again if we visit Paris in the future.
Candace
2016-03-15T00:00:00Z
It was a very nice appartment and very close to everything. Francoise is friendly. I would recommend it :)
Nica
2016-03-29T00:00:00Z
We loved staying at Francoise's place! Very cute and comfortable. Great WIFI connection. Quiet residential neighborhood, which was great for relaxing after a long night out. Some restaurants right on the corner and both a pharmacy and grocery store were 5 minutes walking distance. About 10 minutes walk to the metro station, which made it easy to get into the city center with the sites, museums, etc. Lovely host-we would definitely stay here again.
Lars
2017-01-08T00:00:00Z
Lovely place to spend any time in Paris. Room was as described and larger than anticipated. Would recommend this place to everyone, and would stay here again in a heartbeat
Andrew
2016-03-10T00:00:00Z
The room is just 15-20 mins away from the central Paris, very well located in the heart of Paris. The room itself contains lots of amenities such as cooking equipment and fast wi-fi internet. Especially the host madame is so lovely, favourable and commucative that makes our travelling much happier. I will definitely choose this room again when I re-visit Paris.
Hyemi
2016-06-28T00:00:00Z
It was such a pleasure to be hosted by Francoise. The house is well located, just in front of parc Montsouris, the studio is super clean and functional. Above all, Francoise and her family are great, welcoming and open minded. I strongly recommend Francoise studio.
Gaï
2015-11-23T00:00:00Z
The apartment is well connected with buses just down the road. While I've been to Paris many times I've never been in this area & found very lively. Lots of shops & restaurants nearby. I love to walk Parisv& found that I could go in just about any area & see things. The bed was really very comfortable. The room faces the back so it was very quiet. I'd go back.
David
2016-03-09T00:00:00Z
Room Type
Entire home/flat
---
Property Type
Apartment
---
Accommodates
2
---
Bedrooms
Paris, Île-de-France, France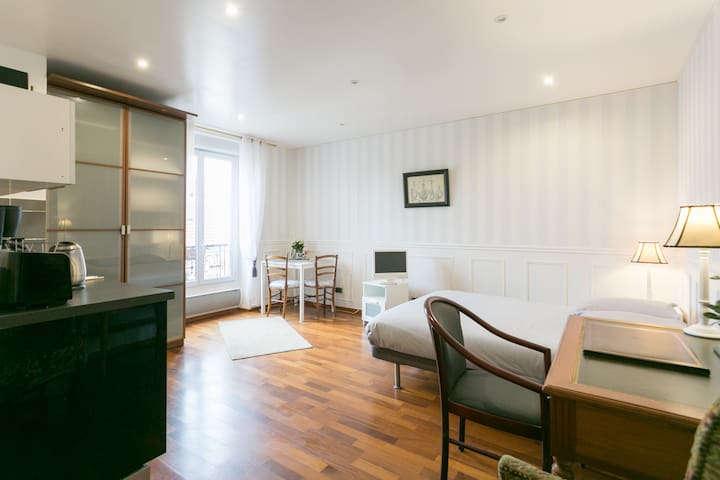 Beautiful flat in foot of the beautiful neighborhood of montmartre, nearby from hausmann shops. Welcome to the " rue des Martyrs"! In a parisian typical building, you will be on rooftop. With a kitchen, in a soft double bed, in a cozy corner.
You are near of Montmartre, Pigalle, Galeries Lafayette. You are in south Pigalle with a lot restaurants, shops, bakery. You are just steps away from famous historical artistic sites of Paris.
Montmatre 15mn by walking Galeries Lafayette, Opéra : 15 mn Moulin rouge : 10 mn by walking The street is safe with shops and artisans
We spent only 1 night in this apartment but it was absolutely amazing! Stéphane's place is really nice and quiet, with an amazing view. We had all the information what we needed, everything on time with perfect communication. If I would have ever gone back to Paris, I want to stay in this flat. Thanks for everything, Stéphane!
Mate
2015-11-12T00:00:00Z
The best rooftop flat in Paris, very near to Pigelle and Montmatre! Stéphane is very nice and friendly! Best moment in Paris!
Umberto
2015-09-10T00:00:00Z
We went to stephane s flat for 3d/2nights. He was great. Really kind. The flat was not very big, though it was really charming. The neighborhood was really good too. We havent got any complain: thank you Stephane!
Tom
2016-02-01T00:00:00Z
We had a lovely stay in this little apartment, it was perfect and had everything we needed. It was centrally located on a very pretty street with lots of tasty food shops and some great restaurants/bars (but it was still very quiet in the studio). Stephane was very easy to contact and always replied, he provided perfect instructions about the apartment, from how to get in to how to work the shower. The apartment is exactly as advertised and ideal for a long weekend, the bathroom is small but manageable and you do have to hold the shower head but I didn't find this a problem. All in all a great stay with a very helpful host, I would definitely recommend it!
Lily
2015-01-27T00:00:00Z
Stéphane's place is awesome. Super cozy, cute, great view, and convenient location. He made himself very available and helpful. I would definitely recommend his place!
Gabe
2016-04-16T00:00:00Z
Stéphane was a great host. The flat is amazing comfy bed and the view from the window is in my eyes typical parisien view. It was easy to get the key even tough we arrived late in the evening. Also Stéphane had a quick response to our messages and gave some good tips on where to eat. Will definitely stay here again!
Laurence
2015-10-05T00:00:00Z
We've spend one week end Stéphanes place and it was wonderful! The Room is small but very cozy and the view is amazing. We liked especially the surrounding with many small shops, cafés and Bars !
Birk
2015-12-21T00:00:00Z
We had a lovely stay at Stéphane's flats. The location is one of our favourite parts of Paris and the flat was charming. Communication with Stéphane was excellent, he was very quick to respond and very helpful. I'd definitely recommend this place!
Jonathan
2016-05-06T00:00:00Z
Room Type
Entire home/flat
---
Property Type
Apartment
---
Accommodates
2
---
Bedrooms
Paris, Île-de-France, France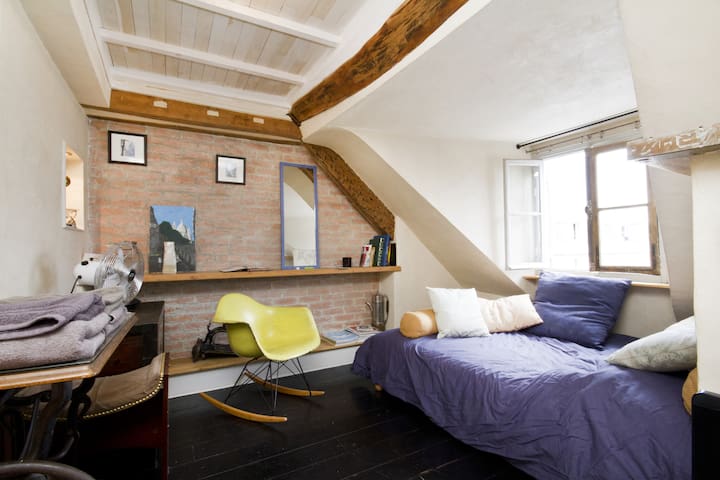 Modern studio in a quiet local area of Paris, with a large balcony to admire the sunset on Montmartre & Sacrée cœur after a long day or having a breakfast and a french coffee paisibly before exploring Paris,close to metro, ideally located to explore Paris without staying in a crowded touristic area. Many foodstores around, do not hesitate to contact me and certainly do not hesitate to book a long time in advance ! See you soon
Located metro Jourdain, Studio of 34 m2, last floor with a panoramic view at 180° of Paris (except Eiffel Tower). Fully equiped (modern Kitchen, bathroom with airdryer, sofa, King size bed, flat screen, balcony) 10 minutes door to door to Republic station and 15 min to metro Chatelet (center of Paris) via direct metro line and Hotel de ville (close to Notre Dame) Jourdain Area is a great distric like a small village with his Church, and their top quality food shop (cheese, wine, the presidential bakery is also there and a few good small restaurants..), also 3 open air market/week. 10 min by foot to "parc des buttes chaumont" The flat is located at 7 min by foot from the metro ; 3 bus station close to the flat and convenient (one direct to Nation, another direct to "quais de Loire") Parking available with no supplement, please specify if needed when booking Pick up an drop off possible at the airport or Railway station with supplement ; please email for availability Extra bed can be dressed , comfortable mattress but on the floor.
My area is safe, mixity and multicultural, this is where "Parisians" people live with full acces to small coffee, Bakery, Wine & Chees Shop, supermarket ... etc .. etc you will be in a peacefull area with a view on Paris, 2 parks nearby !
Wonderful stay! Great communication! We used the parking spot and it was very convenient to have that luxury. Pascal checked us in and gave us an overview of the city as well as tips. He remained in communication with us during our stay. The washer was helpful and the view from the balcony was amazing. Very close to the subway. Would definitely stay here again. Great value! There's an elevator!!
BRIANA
2015-11-04T00:00:00Z
Pascal is a fine host and his place is very clean and comfortable. We like the multi-ethnic neighborhood and the easy access to the subway and busses. The view from the balcony really looks that good! If you want organic groceries, there is a store close by. Ask Pascal to show you. Parc Buttes de Chamont is not far and is very beautiful; you might also enjoy the huge open market on Tuesdays, Thursday, and Saturdays at Plac des Fetes.
Judith
2015-07-31T00:00:00Z
Pascal was wonderful! He met us outside his apartment on the day of arrival and was very accommodating to our need to check in early due to our flight time/time difference/jet lag. He was very thorough in explaining where everything in the apartment was and how to use it. He then took his time in explaining where everything is in the city (literally can stand on the balcony to point things out - wonderful panoramic view!) and then made sure we also knew where all the high points were on the map as well. We found this the most helpful! He has a Nespresso machine handy - but no pods, so if you wish to make coffee or espresso this way, bring your own or (like I did) buy a sleeve at the Nespresso store on Champs Élysées. Otherwise, there is instant coffee handy. Very clean place, easy to access from the metro station Jourdain and good neighborhood - has a grocery store, a few fruit markets and two bakeries with very good baguettes and croissants (you walk past both en route to the apartment from the metro station).
Megan
2015-08-04T00:00:00Z
We were late, but Pascal was waiting for us, and he stayed long enough to show us around. The apartment has a fully-equipped kitchen, a large shower with plenty of hot water, a comfortable bed, and a large balcony with a great view of the city. The Eiffel Tower beacon is visible at night; however, the tower itself is blocked by a large building (disappointing, but we knew this to be the case). There is construction going on down the street, and a school and a day care nearby, but the neighborhood is very quiet at night. The Metro is only a five-minute walk. There is a laundromat, an ATM, several grocery stores, bakeries and other shops in the area. The building and the apartment are not quite as new and modern as they appear in the photos, but the security is excellent. The hallways are a little dark and worn, and there were several things in the apartment that needed repair. However, overall, we enjoyed our stay. Merci, Pascal!
Holly
2014-09-20T00:00:00Z
Pascal was great he reached out early to us and gave us directions from the airport. His apartment was in a quiet neighborhood and a short walk to the subway. We were there during the Paris attacks and Pascal checked in with us to make sure we were safe. thanks for everything Pascal!
Marta
2015-11-16T00:00:00Z
Great stay! A very nice apartment in a quiet good part of Paris. Nearby to the Jourdain metro station, which brings you into the heart of Paris. The apartment has a great view. The apartment was very clean, has a great shower and the bed was good. Pascal is a superb host who gave us all the information we needed. I would recommend it to anyone and will surely come back if I'm going to Paris.
Ardy
2013-05-07T00:00:00Z
Pascals Flat is EVERYTHING it advertises to be! The views from the balcony are simply stunning! I could sit out there and sip coffee every morning! Great neighborhood and close to the Metro... Will ABSOLUTELY stay here again. Highly recommend!
Frank
2017-04-03T00:00:00Z
Had a lovely weekend staying in Pascals apartment! Great balcony with an amazing view, apartment was lovely - clean, spacious and stylish. Would definitely stay again and recommend to all!!
Will
2016-11-14T00:00:00Z
Room Type
Entire home/flat
---
Property Type
Apartment
---
Accommodates
3
---
Bedrooms
Paris, Île-de-France, France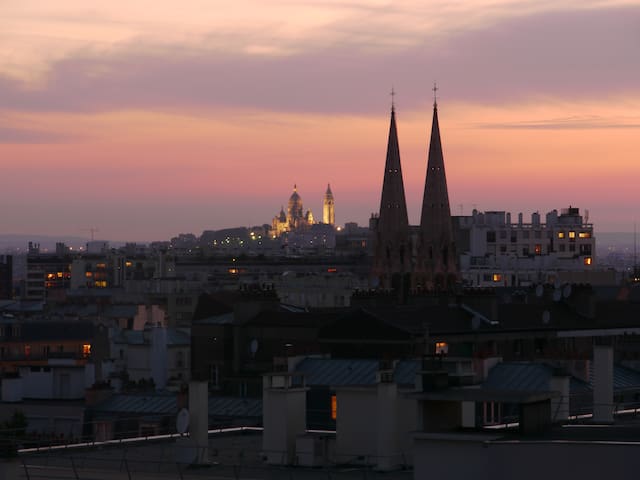 Studio in the 12th district, luminous, industrial style with exposed brick, steel mezzanine and walk-in shower. Close to the metro, bus and tramway. A queen size bed in mezzanine and 2 person sofa bed. Kitchen with cooking utensils.
It is an old 13m² (140ft²) caretaker's lodge restored . This old centenary parisian building hid resistants in 1940. The bed on the "mezzanine" (6.2inch under, 4inch upstair) is 160 cm (8ft, queen size) and the sofa bed is 140 cm (7ft). The walk-in shower can largely be suitable for 2 people ;) The kitchen is fitted to minimum but it has everything you may need. The Lodge is bright.
Pleasant area of the 12th arrondissement (middle class and old parisians). "Porte de Charenton" easily accessible by public transport. 20 minutes from the center of Paris by métro (line 8 then 1). Near the park and wood of "Vincennes". Small stadium "Léo Lagrange" in front, next to "Espace-Charenton" (conference center). Zoo, Seine river and new parisian district of Bercy at one tramstation.
We had a fantastic time at the apartment , we were able to check in early and out a bit later due to our train times so this was really helpful , the apartment is literally on the metros door step so it's great for getting around and if you fancy something different its walking distance to the zoo , would definitely recommend it and would return
Courtney
2015-03-02T00:00:00Z
Had a great stay at David's. Nice and close to the Metro, convenient for getting around. It was clean and well stocked with everything you'll need. Also make sure you go to Porte Dorée for supper.
Tyler
2015-09-21T00:00:00Z
A very convenient studio next door to the Metro and the River Seine. David was careful to ensure no inconvenience on arrival. Communication was fantastic.
Ann
2015-07-21T00:00:00Z
David was not in Paris during our stay, but arranged for a neighbor to provide the key, and for us to get the key if arriving late (as we did). He provided detailed info and was patient with us when I forgot the prior info he had provided. The place is as advertised, right by a Metro and light rail stations, with all you need a short walk away, including a great Sunday market. The place is small, as noted in his description, but the loft bed gives two people plenty of room, and storage is cleverly built into the walls and into the loft beside the bed. Lovely shower of the European type where the bathroom becomes the shower stall, with a 'rainforest' type shower as well as a spray wand. Be aware you will need to climb a ladder to get into the loft - just a few rungs, and the loft allows for a big futon style bed. There is a fold out bed on the first level we did not try as a bed - works okay as a couch. The kitchen has the necessaries, including a bar to eat at. Because it on the ground level, the window opens right onto the sidewalk - there are shutters that let in air without putting you on display, but be aware that opening the shutters and windows makes the place much lighter, but also brings the outside in - we had someone stop and comment on our dinner one evening.
Jerry
2015-07-29T00:00:00Z
Nice little lodge close to public transport. Great for a weekend.
Göran
2017-02-15T00:00:00Z
The lodge is small but very comfortable, and David is an excellent and organised host; we booked the flat at very short notice and it was ready for us the same afternoon. David made us feel comfortable and was available for contact whenever necessary. He responded really quickly to texts, e-mails, phone calls, and on arrival he patiently went through all the basics of the flat and the area with us and covered any questions we had. The lodge is comfortable and we had a really nice stay there. The bed is on a raised platform and requires you to climb a ladder but there is plenty of space when you get up there; there is a large sliding cupboard and the bed is a good size. The kitchen is small but manageable and the showers were good whilst the hot water lasted. The lodge was extremely close to both trams and a metro station, making it very easy for us to access transport to travel around Paris. David also gave us a map of the local area for bars and restaurants so we did not have to travel into the centre of Paris if we did not want to. Overall it was a very nice little lodge and a comfortable stay made easy by David. Thank you :-)
Vincent
2017-02-24T00:00:00Z
Very nice and lovely host. The flat is a bit smaller than the pictures would suggest but we did not find this a problem. The metro station is much much closer to the flat than I thought when looking on (SENSITIVE CONTENTS HIDDEN) maps. The street outside appears to be really noisy but actually completely quietens down at 12 when the trams stop. We had a great stay and would stay again!
Lily
2017-02-09T00:00:00Z
It was clean
David
2017-03-13T00:00:00Z
Room Type
Entire home/flat
---
Property Type
Apartment
---
Accommodates
3
---
Bedrooms
Paris, Île-de-France, France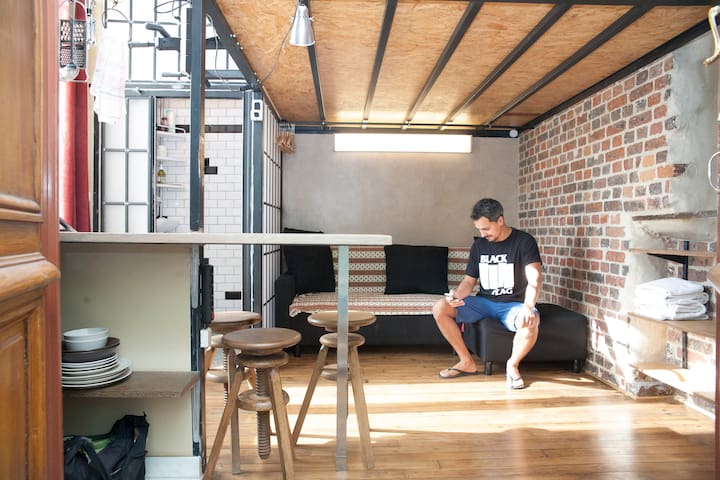 Our places is a few blocks away from The Eiffel tower and next to the "Rue du Commerce". It is an ideal place for combining and visits and shopping in the exciting city of Paris. An feel like being a real Parisian in the family like 15th district.
The flats is one bedroom, an independant kitchen and a bathroom (24m2). Watching the Eiffel Tower sparkling in the night from your bed is a unique experience. Ideally located for visitors who want to feel like being Parisian. The building is typically Parisian style from 1930 and was built by my grand grand father. We simply love this place and the shopping around.
Le quinzième arrondissement est un quartier très vivant, très familial où se côtoient toutes les génération de parisiens. A deux pas de la tour Eiffel et du champ de Mars, il est desservi par trois lignes de métro qui convergent à la station de la Motte Piquet Grenelle, où se tient un marché les mercredi et dimanche de 7h à 15h. La rue du commerce est un lieu idéal de shopping pour tous les goûts : grandes enseignes et commerçants typiques s'y succèdent. Le nouveau centre commercial de Beaugrenelle est également à deux pas en allant vers la Seine.
Brilliant location, fantastic apartment, this was our first time using Airbnb, was both a great and an easy experience, would definitely stay there again. Extremely happy.
Michael
2016-03-12T00:00:00Z
Absolutely perfect! Oanh and Antony are spectacular hosts...communication was exceptionally quick, all questions were answered completely. The condo was clean and cozy, perfect size for two for our 12 days in Paris. The bed is very comfortable and the view is incredible (falling asleep watching the eiffel tower twinkling away never gets old). Great neighborhood...just a few minutes to the bakery, market, and the metro. Clean linens were provided, and the kitchen was excellent for making simple meals. Overall we loved staying here and would not hesitate to stay again!
Michael
2016-08-08T00:00:00Z
Oanh & Antony were fantastic anything you wanted to know they were so helpful it was a most pleasant stay & just that view of Eiffel Tower is amazing. Condo had everything in it you need fantastic area walking distance to 3 train stations. Thank you again for a pleasant stay
Christine
2016-09-21T00:00:00Z
My wife and I had the best experience staying at this condo! It was very clean. The bed was large and comfortable. Being able to have a small kitchen was nice. The view of the Eiffle from the window made it feel like you are truly staying in Paris. We had fun exploring the neighborhood around the condo. It had great bakeries, cafes, and shopping just a block from the entrance of the building. The metro was very easy to get to as well! Our hosts were great on checking on us without feeling smothered. We would love to stay here again next time we are in Paris!
Joseph
2016-07-04T00:00:00Z
Oanh's & Antony's condo was perfect in every way, superb view of the Eiffel Tower, cleanliness second to none, warm and cozy in a very cold spell in Paris. Great space and light and airy too. We will definitely be going back to the condo in spring. Lovely little touches too such as filter coffee left & biscuits. Location was ideal too with great local inexpensive brasseries, cafe's & restaurants.
Sandra
2016-12-01T00:00:00Z
One of the best AirBnB places I have ever stayed. Great location with lots of cafés, shops, and bakeries; try the bakery down the street, it is amazing. The apartment was great; and the view, fantastic! When I come back to Paris, I will stay here again.
John
2016-05-28T00:00:00Z
My wife and I really enjoyed the stay, although we didn't stay in that much. There's a very lovely view of the Eiffel Tower. There's many little shops near by. We would stay again.
Richard
2016-11-24T00:00:00Z
My granddaughter and I thoroughly enjoyed staying at the condo. It was everything we had hoped for. The neighborhood was so accommodating. It took us no time to learn the Metro System and enjoy Paris at its best. The condo was clean and well-stocked with essentials and made us feel like home. Thank you for a nice experience.
Mary
2016-08-16T00:00:00Z
Room Type
Entire home/flat
---
Property Type
Apartment
---
Accommodates
2
---
Bedrooms
Paris, Île-de-France, France
Lovely Parisian appartment nearby Montmartre and the Sacré-Cœur. Served by 3 metro lines and surrounded by restaurants/shops, in the very center of Paris!
Ideally located at the feet of Montmartre, you are surrounded by the history of Paris. Between the Gustave Moreau Museum (10 minutes walk), Pigalle, Montmartre, the Moulin Rouge ... All Paris is accessible to you in a few resorts (15 minutes from the Louvre, 10 minutes from the Père Lachaise cemetery, 20 minutes from the Eiffel Tower ...). The area itself is very nice.
Room Type
Private room
---
Property Type
Apartment
---
Accommodates
1
---
Bedrooms
Paris, Île-de-France, France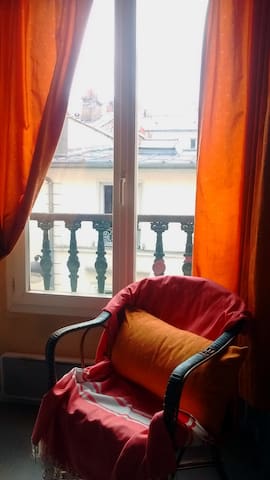 Beautiful apartment in Paris. Large room with two tall double beds, with one for you ! Large bathroom with bathtub. Apartment close to the center, close to the lively neighborhood Belleville. Next to Butte Chaumont Park, the Villette Park, and The Philharmonie. Two steps from the St-Martin channel, lovely walk to do in the evening.
Room Type
Shared room
---
Property Type
Apartment
---
Accommodates
2
---
Bedrooms
Paris, Île-de-France, France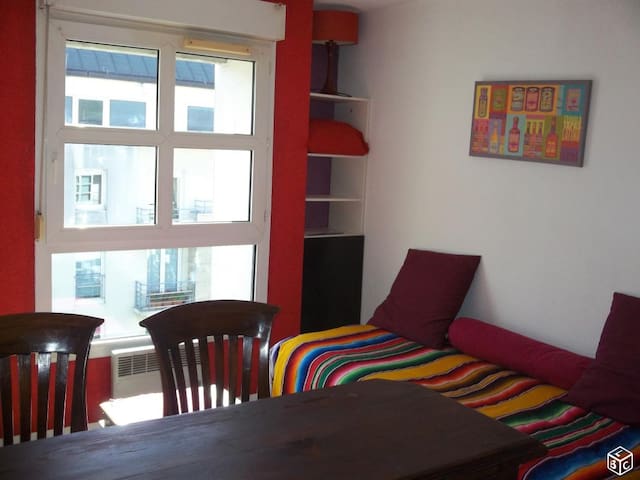 Eiffel Tower 4 minutes and Champs Elysées 10 minutes walk. Private appartement 1st floor, completely renovated, full option, very central and really romantic with luster 19th century, marble and moulding :)
AN EXCLUSIVE LOCATION Apartement on the 1st floor in a beautiful parisian building, in the heart of the highly desirable « 16th district » of paris, the very charming home located between Trocadero and bois de Boulogne, just off the famous Avenue Foch and the luxury boutiques of Avenue Victor Hugo. The Eiffel Tower, Avenue des Champs Elysées and Arc de Triomphe The small apartement offers a quiet setting to its guests while being a walking distance from the best restaurant, the Wine museum, the Guimet museum, Marmottan-Monet museum, Museum of Modern Art, Galliera museum and Palais de Chaillot- Cité de l'Architecture.You will also be able to walk to your meetings in rue Spontini, rue de Longchamps, avenue Kléber, place de Mexico or avenue d'Iéna for example. The business districts of La Défence, Levallois-Perret and Neuilly-Sur-Seine are at a few minutes by taxi or subway.
THE NEIGHBORHOOD Enjoy the Paris lifestyle at its best in a prime location featuring two shopping malls Monoprix and Casino in my street open utill 10 pm, the best Baker (PAUL), Pastry,Butcher, convenience stores "chic" style shopping, lively cafes, gourmet restaurant, various sport facilities with Velib ( for rent a bike), all at in the same street. A lot of Restaurants, boutiques and landmarks in the street
I stayed here for four nights and it was very comfortable! Perfect for a little getaway. Around a ten minute walk from cute cafes, transportation and even the Eiffel Tower. Located close to the center of the city, but out of the way enough that the noise outside wasn't bothersome. Would definitely stay here again!
Samantha
2017-03-29T00:00:00Z
Romain's apartment is very centrally located and great for a weekend visit.
Elyse
2015-09-01T00:00:00Z
Romain' home was very clean. He left a bottle of orange juice as well as two bottles of water in the fridge which was very nice. It was also in a great location walking distance from many attractions. The apartment is quite small so it would be important to feel really comfortable with the person you are with.
Felicia
2015-05-13T00:00:00Z
Very cool setup and a very comfortable and nice pad! I would highly recommend this place to anyone. Keep in mind a few things which we expected and thus were no problems to us: There is a bit of noise, everyday at 5am the restaurant next door makes a bit of noise right outside of the window. Also the bathroom door isn't the best, so expect to get very close to the person who you are sharing the space with. If you're ok with those items, which were 100% ok with, then this space is perfect for you. The HUGE pros: - Very close location to Arc de Triumph & metro lines - Water & Soda in the fridge for us - Clean Towels - Kitchenette
sukhjinder
2014-11-26T00:00:00Z
Romain was an excellent host; the space and location were exactly as described! Romain was attentive and helpful the entire trip and made our first visit to Paris a very comfortable one. I highly recommend this listing, the surrounding neighborhood, and the city of Paris.
Jordan
2014-06-16T00:00:00Z
Good host a very responsive, always available to help. The flat is in good condition and well located. However it's much smaller than it look like in the picture.
Chardy
2014-11-20T00:00:00Z
Romain was a great host, very nice and helpful during check-in. Offered us couple of drinks and we ate a his restaurant. Lasagna was good! To be honest I was not satisfied with my stay, it's our last day in Europe at the end of our trip and we were expecting our last night to be the best night(we spent twice the price ($124) staying here for one night than our first apartment($60 per day)for 4 days weeks before this).However location was excellent, walking distance to Trocadèro/Eiffel tower, Arc de Triomphe, shopping, etc. when I saw the pictures online, I knew the apartment would be small but not this small, it was very tiny. Also from the pictures apartment seems very clean but when we got there I think this studio was flooded recently, the wall around the kitchen/bathroom was all bubbly and messed up(water damage). Floor was oily and the bathroom sink was moldy. Some of the fixtures are also broken.
Yudi
2016-09-11T00:00:00Z
Great location and everything worked as planned! Romain was super helpful prior to our arrival and during our stay as well! The apartment is nice and clean and other than recommending his place I'd also highly recommend grabbing some food from his close by restaurant which was just excellent!
Josip
2016-06-20T00:00:00Z
Room Type
Entire home/flat
---
Property Type
Apartment
---
Accommodates
2
---
Bedrooms
Paris, Île-de-France, France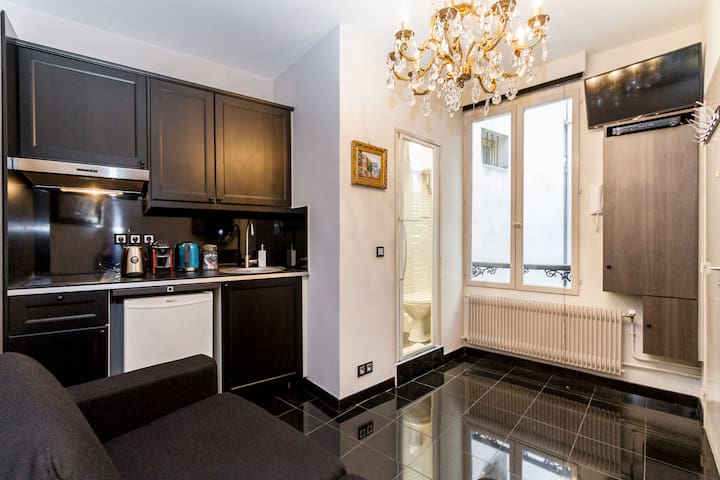 Nicely decorated cozy studio in the heart of the most romantic area of Paris - Montmartre. 5 min walk to the metro station Abbesses on a calm street just around the corner of the Amelie's shop. Only 300 m far from The Basilique de Sacré Coeur. 10 min walking to the cabaret Moulin Rouge and 5 min far from La rue Lepic. The neighbourhood is plenty of traditional french cafes, bistros, cabarets and art galleries. You will find many interesting places to discover and will never be bored.
In the heart of Montmartre you will discover a charming cozy studio, located between neighbourhoods Pigalle and Abbesses . Located on the ground floor in the building of the 19th centuary. The studio is 16m2 with a kitchen corner. In the salon you will find a folding table with chairs, convertible sofa and built-in wardrobe. There are also LCD TV / microwave/coffee machine/kettle/toaster/fridge/ dishes/iron with an iron table/hair dryer. Nicely decorated bathroom includes shower cubicle, sink, toilet and a mirror. There is a convertible sofa 140x200 and I can bring an extra bed 70x190, when I welcome 3 guests. Concerning accomodating 3 guests : the studio is mostly suitable for a couple with a child then for 3 adults who need an individual sleeping place and privacy. Please, be sure that you are close enough to your friend/partner because there is no real door in the bathroom, there is a curtaine. But for anycase there is another toilet in the building. Convertible sofa is provided with a comfortable mattress. The kitchen and the bathroom are modern. International TV channels, highspeed Wifi, International callings are included in the price. Towels and linen are provided. This apartment is very quiet, very well located and will appeal to all lovers of Paris. If you travel by car, there is a guarded underground parking 250 m far from the apartment. You can find its prices attached among other photos in the profile of my apartment. Please, be sure, you do not arrive to Paris late in the evening, because I am not able to welcome my guests later then 21:00.
The apartment is located on a calm street only 250 m far from the metro station Abbesses (line 12). Few minutes far by walk from all the famous Montmartre sites (Moulin Rouge, Sacré Coeur, Place du Tertre, Café des 2 Moulins, Pigalle, rue Lepic, …) and from the public transports (only 5 minutes far from metro Abbesses or metro Pigalle). Le Bateau Lavoir, which hosted famous artists (Pablo Picasso, Henri Matisse, Georges Braque, Guillaume Apollinaire ...) and Place du Tertre famouse square with artists - the center of the old village of Montmartre are all nearby. You can access to Basilica Sacré Coeur in 5 minutes, it is just 300 meters far from the apartment. You will be able to reach the Champs Elysées and Arc de Triomphe in 15 minutes, the Louvres museum, the Eiffel tower and Trocadero in 25 minutes. In addition to its touristic and historic appeal, the neighbourhood is particularly appreciated for its "village" atmosphere, full of art galleries, shops, music bars and restaurants that make it one of the liveliest and friendliest areas in Paris.
Yannick (Julia's husband) was very helpful and he showed us everything we should know about the appartment. It was in the heart of Monmartre, 2 minutes by foot from Sacre-Coer and Abbess metro station. It was very clean and cozy! :-)
Kostas
2015-02-25T00:00:00Z
Julia's apartment is in a great location. The suite was clean and cozy, and met all of our needs, it was perfect for two people. Julia and her husband were very friendly, helpful and punctual. We would definitely stay here again! Thank you Julia.
Andrea
2014-01-02T00:00:00Z
This is a great little apartment right in the heart of all the Montemartre action. There is so much to see within walking distance. Julia was a pleasure to deal with and easy to contact. She was available to show us into the apartment on our arrival.
Karen
2014-07-20T00:00:00Z
Fantastic location! Right near Sacre-Coeur and Montmartre. Very Parisian feel to the apartment.
Lara
2016-10-09T00:00:00Z
Julia is a fantastic, responsive host. The place is small, a bit unique, but Julia has done an amazing job making it cozy and, per the description, romantic. Like anywhere in Montemarte, the studios location will test your leg strength and stamina, so plan ahead in terms of arrival timing, luggage, etc. The building has a narrow spiral staircase and some low ceilings, but it was built in the 1800's so just be prepared. Julia maintains her place meticulously, and even provides instructions on how to operate the various devices and internet. (You think you don't need these - you probably do!). Would we stay there again? In a heartbeat. Was it a great value? For a couple wanting a clean, cozy place to bunk while they explore Paris, a tremendous value. We highly recommend Julia's studio and Julia, we'll be back - thank you so much!
Edward
2014-09-12T00:00:00Z
The location was convenient, just 3 min walk from the metro and short walking distance to attraction such as the Sacre-coeur Basilica & the Moulin Rouge. Julia's apartment is clean and cosy, It is a perfect apartment for the 2 of us and we can find everything we need in this apartment. We enjoyed our stay very much.
Meili
2015-06-02T00:00:00Z
Julia's studio was just as the picture described. Perfect place to be in for a few short nights in Paris. The Sacré Coeur Basilica is less than a 10 minute walk from the studio. We didn't get a chance to meet Julia- as she was away on vacation, but she sent her housemate, Ola. Ola was very nice and showed us into the studio. Julia is also very responsive and we were able to keep in touch with her even though she was on vacation. Suggestions for travelers- pack light because you will be walking up and down some stairs. If you're staying with friends/love ones be sure that you're comfortable with each other. There is no door to the bathroom, only a curtain that separates the bathroom to the rest of the studio.
Thi
2015-09-03T00:00:00Z
Small and convenient flat in one of the nicest areas in Paris. Very quiet.
François
2017-02-23T00:00:00Z
Room Type
Entire home/flat
---
Property Type
Apartment
---
Accommodates
3
---
Bedrooms
Paris, Île-de-France, France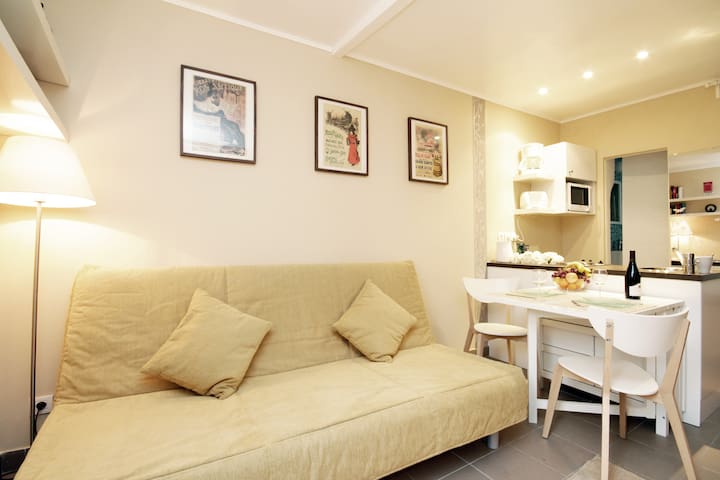 NEW!! Amazing Eiffel Tower view in the very smart and lively Eiffel Tower area 7th floor position studio with elevator in a beautiful building of the 1930s. Quiet courtyard position. Eiffel Tower, parisian roofs and the sky will be your fantastic neighborhood! Romantic place!
New 30 sq meters studio fully renovated and equipped Three windows facing the Eiffel Tower and the parisian roofs Brightly rare position. Extremly comfortable and sophisticated place. An electric murphy bed controled by remote control is going out of the wall at night and offers a sofa position during the day. Large cupboards. Kitchen with fridge, hotplates, oven / microwave, washer / dryer machine. Nespresso coffee machine and all ustensils to cook. Dining space with Eiffel Tower view. Comfy bathroom with italian shower.
The Eiffel Tower area is both so elegant and so lively Going out from the residence which has an extremly quiet position, you will imediatly appreciate all the shops, restaurants and facilities you can find around!
The apartment is exactly like the pictures, very beautiful and comfortable. The view is really amazing. The neighborhood is safe and lively and walking distance to train and subway station. I cant wait to go back.
Flavia
2017-03-04T00:00:00Z
Everything fantastic.... Thanks for the bottle of wine... It has a unique view of the Eiffel Tower!!!!
Francisco
2017-03-21T00:00:00Z
Margaux's location was fantastic! Loure was very responsive and always answered my questions promptly. The pictures posted on the website are very accurate. At night, I would recommend laying with your head at the foot of the bed and watching the Eiffel Tower's light show. It is truly breathtaking. There are amazing restaurants, bakeries, and shops within walking distance. It is even within walking distance of many tourist attractions, as well as the metro and the Big Bus tours. I honestly can't imagine staying anywhere else on my next trip to Paris.
Sonya
2017-02-08T00:00:00Z
This is the place to stay in Paris! Amazing view. Central location yet peaceful and quiet. Secure building. Highly recommend.
Kenneth
2017-03-29T00:00:00Z
Perfect in everything! Excellent location! Did everything by foot! Eiffel Tower, champs ellyses, Arc the Thriump... Louvre, Siene river... just walking! The apartment is small, but perfect for a couple! All kitchen accessories are brand new! The building is good as well! Have elevator! The view is amazing! Eiffel Tower Just in front of you! The host are very kind and thoughtful! Que arrived in Christmas Eve, but they stopped the celebration for a moment to welcome us! Even brought a bottle of wine! In resume, perfect in everything! Thank you !
Fábio
2016-12-29T00:00:00Z
We loved our stay here. A very stylish appartment that has everything you need for comfort and practicality when travelling. The view from our apartment of the Eiffel Tower made our stay in this beautiful city even more surreal. The neighborhood is lovely with a great range of shops, cafes and restaurants. Highly recommended this appartment and our host.
Nicci
2017-03-15T00:00:00Z
This is the ultimate Honeymoon crash pad. Basically, everything you want to see in Paris is within walking distance. Also within proximity: grocery store, restaurants, pharmacy, bakery, flower shop, souvenir shops, tobacco shop, EIFFEL TOWER....basically EVERYTHING! The kitchen was SO useful. The bed, pillows, comforters..all SO COMFY! The washer/dryer was like icing on the cake. I would only stay here when going to Paris! THE VIEW, OMG! <3
Christie
2017-02-20T00:00:00Z
Excellent place and view.....the place has almost everything you need.....highly recommended.....
Kin Cheung
2017-04-08T00:00:00Z
Room Type
Entire home/flat
---
Property Type
Apartment
---
Accommodates
2
---
Bedrooms
Paris, Île-de-France, France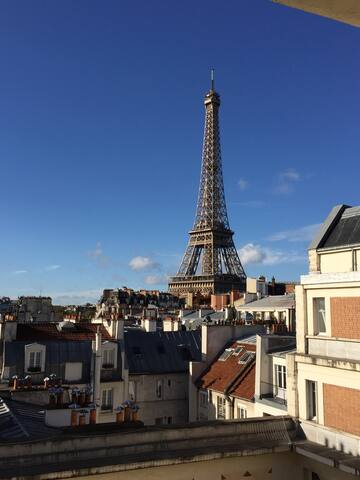 Come and discover this charming studio perfectly located between the Louvre, the Palais Royal and the famous Opéra. The flat has been newly renovated and is fully equipped for an unforgettable stay in Paris!
With 30 sqm, the studio is on the 1st floor of a 18th century building. The area and the building are safe and secured (digicode & intercom). The flat is very cosy and comfortable. You will find a spacious area with a table, sofa bed, desk and closet. The kitchen is fully equipped with a micro-waves, hot plate, coffee machine, fridge, and wash machine. The bathroom is equipped with Italian shower, big sink, hair-dryer, towel-dryer and suspended toilets.
The flat is very well situated in Rue de Richelieu between The Opera, Palais-Royal and the pyramid of the Louvre. You can walk to the Tuileries Gardens, to the Place Vendome and Place de la Concorde and of course the famous Champs Elysées avenue… You will find many shops, luxury boutiques, coffee places, Brasseries and restaurants…
The studio was a great base to explore the city. The metro is a short walk and there are many cafés and a grocery store close by so you don't have to look far if you're feeling hungry. Sebastien was nice and accommodating. He responded to my messages politely and in a timely manner. The studio itself was cosy and clean. We enjoyed our stay in the studio and in a Paris. Thank you!
Maria
2014-09-05T00:00:00Z
Verx nice, cute & confortable flat! Best located.
Melanie
2015-06-28T00:00:00Z
My husband and I stayed here for 4 nights/5 days. We didn't get to meet sebastien on check in or out but he made the process of retrieving the key very easy. He was also very accommodating with us, allowing us to leave the apartment late due to a delay in our departing flight! The good points: - Cosy little studio with plenty of room for a couple or 2 people. Great decor and heaps of natural light. - Great furnishings and fit out, bathroom was impressively large for European standards! - Awesome location, literally 2 mins walk from the Louvre and closest train station. Heaps of shops, convenience stores and places to eat nearby and within walking distance! Also always felt safe and the streets outside are brightly lit. - Good heating and wifi! The not so great points: - The bed is... Not great. Mattress was far too soft, springs not great (you WILL wake your partner/friend when just turning over), pillows... Yeah, nah. We ended up putting the mattress on the floor to sleep. - Not sure what happened but upon returning from a whole day out one day, we came home to find a thick layer of dust coating everything in the bathroom and kitchen. Floor, benchtops, everything. We're still not sure where it came from but thinking it may be something to do with the construction work we heard earlier in the day, perhaps the vibrations unsettled some dust??... No idea. Anyway we cleaned everything and let the host know, it wasn't his fault afterall.. - This one is a minor issue, but I felt the kitchen was missing some basic appliances. No kettle or toaster.. But if you can live without these, then it's not a problem! - Another minor issue maybe for the elderly or physically disabled; the stairs (not many) coming up to the apartment aren't the most stable or widest. Not a problem for us, but could be for some I think! Overall I would recommend this for short stays, and we would come back if not staying for too long!
Cheryl
2015-03-20T00:00:00Z
Sebastien is a very prompt on his communication and has been a good host. The apartment is clean and well maintained and equipped. The location of the apartment is very convenient and central and perfect for vacationers. You only need to climb one short flight of stairs to reach the apartment which is located conveniently on the first floor. The apartment is well furnished and the sofa bed is comfortable for 2. However do not plug in too many electronics as it might cause the power to trip. Other than that it is perfect for travelers.
John
2015-03-06T00:00:00Z
This flat is lovely, modernly decked out, in an old building, on a very nice old street. The location was fantastic, within walking distance of the Louvre. Our host was very helpful and left great instructions for accessing the apartment, all very smooth.
Jessica
2016-04-12T00:00:00Z
My husband and I had a great experience at Sebastien's flat! Amazing location, so close to all the main sites but tucked into a cute neighborhood with lots of cafes, markets and restaurants (especially Japanese) nearby! Very close to the metro as well. The apartment was clean, bathroom/shower worked well and great after a long day of sightseeing and the bed was surprisingly comfy. Street noise is a little loud if you have the windows open but since it was chilly when we were there we slept with the windows closed. Pretty bare bones for amenities, no toilet paper so we had to go to the market to grab some. Not sure if that's the usual... Easy to coordinate with Sebastien for check-in/out, another plus!
Mabel
2015-11-06T00:00:00Z
The house was perfect, exactly as described. Sebastien was outside paris but was quick to answer any question over the phone. The house is very secure and in an amazing great area. Everything was close, great restaurant and boulangeries around. The kitchen is amazing, i felt home !! The sofa bed is very relaxable, the house was clean and fully ready. As my first trip to paris i don't wish i was anywhere else than this lovely flat. have to mention that the heating system was a little bit bad as there was no heating.
Moussa
2015-01-18T00:00:00Z
Just got back from Paris and absolutely loved it!! Sebastien was very helpful and extremely accommodating and communicative. I had my bag stolen whilst in Paris including the apartment keys and he got us replacements within half an hour! Central location and lovely apartment which was very homely and nice and warm :) Would highly recommend!! Thank you
Lou
2015-02-15T00:00:00Z
Room Type
Entire home/flat
---
Property Type
Apartment
---
Accommodates
2
---
Bedrooms
Paris, Île-de-France, France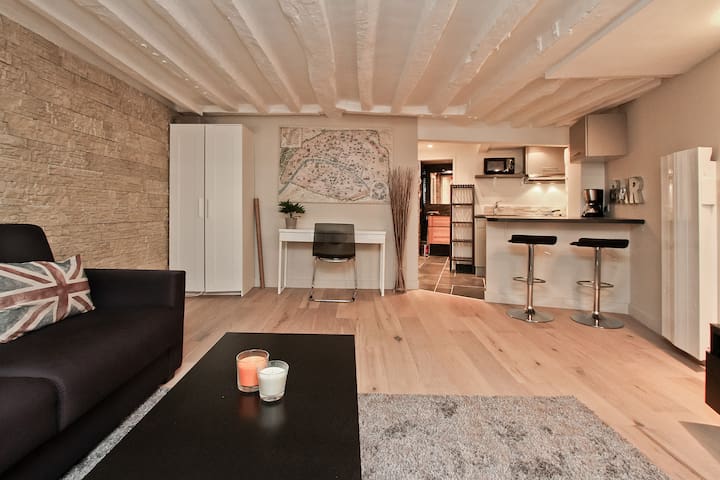 Comfortable, chic and classic, this studio is the perfect place to enjoy the capital as a real Parisian. In the heart of the 1rst arrondissement, discover Paris has never been so easy!!
Amazing studio, spacious and luminous, located in one of the most fancy street of Paris! This cosy studio of 24m2 has a large living room with kitchenette. The bedroom is situated on a platform with a total view on the living room. There is a lovely bathroom with shower. Pets are not allowed.
Two steps away from the Vendôme place, the apartment is located in one of the most desired street of Paris. Behind the building you will find the Tuileries garden and Louvre museum. Not so far, the Opéra Garnier, the Concorde Place, the Galeries Lafayette and the Printemps Haussmann are here to make you feel the real Parisian atmosphere!
The apartment is wonderful and perfectly located
Lizzie
2016-10-09T00:00:00Z
Great apartment, wonderful location. Would strongly recommend to anyone wanting a convient location close to the main attractions in Paris!
Sam
2017-03-13T00:00:00Z
Nicolas's place is exactly as pictured and everything was a dream. A few things to be prepared for: the room gets a bit chilly and the heat cannot be adjusted; if we return in winter, we'll bring some house shoes/ slippers. The curtains are not black-out (they are see through) and the neighbors' windows are close (although this is one benefit - an immaculately quiet yet bright flat!). There's a handy curtain by the bed though which offered an additional layer of security/darkness. Lastly, we were a bit surprised by the laundry drop off and pick up which happened while we were there, about 15 minutes before check out. It was a little startling to let a man I didn't know into the flat, but once I understood his purpose (no English) I had a good laugh. Just be prepared ;) The benefits to this place are huge - location, cleanliness, facility, comfort... we will absolutely stay here again. Won't even shop around for a better option. For the price, the cuteness of this place alone... loved it :)
Alicia
2017-01-04T00:00:00Z
This apartment was perfect for our trip. It was a good size for 2 people (a couple), and had great closet space so we didn't have to live out of our suitcases. The building is quiet, so we slept well, and stepped outside to busy streets during the day, walking distance from the Louvre, Tuilerie Gardens, and pretty much everything we wanted to see (and a Starbucks, which saved us). The street is quiet at night, but the apartment felt safe and secure. Nicolas and his colleagues were prompt and responsive, we would stay again!
Ashley
2017-04-03T00:00:00Z
This studio/apartment was awesome! 5 mins walk from Luvre. Super convenient to walk around the attractions! The studio is very clean and cozy! We loved it.
Shelly
2017-03-20T00:00:00Z
Cute place stay! Even for single girl to stay here.Quiet and clean,also very convenient!
Xiao
2017-03-12T00:00:00Z
Amazing apartment in a great location for shopping and walking around! Very recommended
Monica
2016-11-16T00:00:00Z
Very good location, walking distance to Louvre Palace, shops just downstairs, very continent.
Rebecca
2016-12-15T00:00:00Z
Room Type
Entire home/flat
---
Property Type
Apartment
---
Accommodates
2
---
Bedrooms
Paris, Île-de-France, France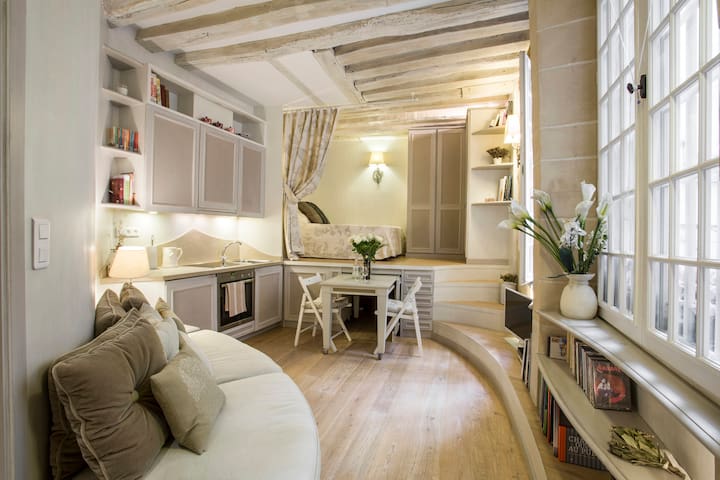 Enter dates to see full pricing. Additional fees apply. Taxes may be added.