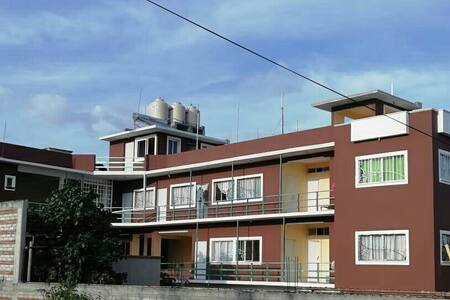 Private room · 2 guests · 1 bed · 3.5 shared bathrooms
Habitaciones económicas en Tlacolula de Matamoros
Espacio amplio. Ideal para descansar, no hay ruido de coches. Estacionamiento seguro. Patio amplio y jardín para niños o mascotas. Muy cerca del sitio de taxis. Fácil traslado a zonas turísticas como el Tule, Mitla, Yagul, YaguarZoo
What guests are saying:
"For the price you pay you actually get a lot more than expected. These rooms are located in unfinished building (like a future hotel), nevertheless rooms are dully functional. You even have hot water! Clean bed linens, towels, everything is present. Plus you can park your can or motorcycle in the yard behind the walls (very secure). So for the price less than for camping in a tent you get fullsize bed, hot water and private space. Perfect value for the money"
Para nosotros la sencillez no está separada de la comodidad, tendrás un espacio limpio y modesto para descansar, un corredor con hamaca, habitación con baño propio a unos pasos, puedes pedirnos todas las recomendaciones que necesites. La capital Oaxaca se encuentra a 50min en colectivo, el transporte a Hierve el agua a 2min y el centro de Mitla a 10min caminando, te recomendaremos lugares deliciosos para comer, mi familia esta a tu servicio, imagina que llegarás a tu propia casa. ¡Bienvenidos!
What guests are saying:
"Excellent location, next to the bus stop that goes to Hierve el Agua and to Oaxaca. Easy to find. Very good deal with Uri and his family. Although we only spent one night, we were able to share good words. They also gave us good recommendations for eating in Mitla. If you are going to visit the archaeological site of Mitla, go up to Hierve el Agua and get to know some mezcal palenque, it is an ideal place."
This is comfortable and spacious unit. Its walking distance from coffee shops, restaurants and the Sunday Plaza, the biggest market place in the region with food, fresh produce, textiles, pottery, furniture, traditional clothing. 40 minutes will take you to El Tule. 30 minutes will take you to Mitla. It's located 45 minutes from the international airport, Hierve El Agua, Montel Alban, the main city and many other tourist places, including textile and pottery towns. It's an excellent location!
What guests are saying:
"Rutilio's place was excellent , clean and very comfortable. The place is located walking distance to the mercado and the town square , there are many places to eat and shop as you make your way to the mercado . I traveled with kids and was pleased with the many amenities the place comes with .(kitchen, tv, WiFi ,Netflix comfy beds)etc. It's a great place to stay over all and will be back to stay and enjoy the beautiful sights and food of Oaxaca ."