Privacy, tranquility, and nature, 45km from BH. Eight private waterfalls are just minutes away. The condominium is closed and has very few houses and lots of character! Why not come and relax for a few days? Get ready to go back re-energized! Contact us and make your reservation!
What guests are saying:
"It was my first in-app experience and could not have been better! Lucas is extremely careful and considerate in every detail! He shares with us a little bit of what was the place for him for the whole family! Everything is very well organized, there is affection in every corner! The location is excellent, both being only 1 hour from Bh and being in a prime location within the condominium! The house looks so beautiful toy, the waterfalls are all very close, most of the trails very peaceful to be made! Perfect place to rest and recharge! Each waterfall has a unique beauty, just like the house, you can not describe how pleasant it is to be there, everyone needs to experience, because the only desire that gives is never return from there! Heheh !!!"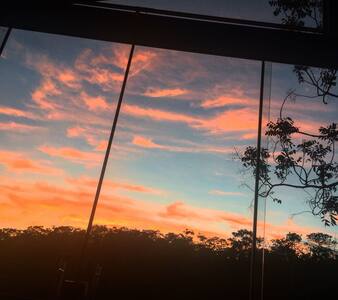 SUPERHOST
Farm stay · 2 guests · 1 bed · 1 bathroom
Bangalô da Pedreira - romântico, elegante, isolado
Experiência mágica para a harmonização de casais (e isolamento) em santuário da natureza, na Quinta de São Chico, a 3,5 km da cidade. 1) Bangalô romântico, ao som da cachoeira, decoração sofisticada. 2) Energia revigorante; paisagem e natureza exuberantes; vista do Vale, alvorada e pôr-do-sol; trilha na mata e cachoeiras exclusivas. 3) Circuito para jornada espiritual e terapêutica. Capela para oração, espaços de meditação. Área inspira o encontro com o Ser Superior e para a da Paz Interior.
What guests are saying:
"Mr Carlos' space is simply AWESOME, without words to describe what the view is, the landscape and the waterfall that is there. To have an idea is muchoooo more than the Photos, it's beautifulooooo, it's wonderfulooooo. We love everything, and the housekeeper from the place that served us is super polite, and asks for what you need. AMAMOOOOOS and we'll be back for sure."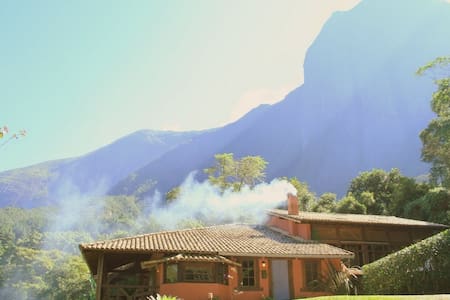 SUPERHOST
Entire chalet · 2 guests · 1 bed · 1 bathroom
Chez Pyrénées - Chalés em Araras - Chalé Pirineus
Chez Pyrénées é perto de arte e cultura, belas paisagens e restaurantes e refeições. Excelente localização, ideal para relaxar com conforto, romantismo e muito charme! 3 chalés à vossa disposição. Em Araras , importante centro gastronômico da região, próximo à Itaipava. Araras é considerado um distrito ecológico, pois é uma microrregião que requer cuidados especiais, pela sua biodiversidade e beleza natural, entre a Reserva de Araras e a Vida Silvestre da Maria Comprida. Ideal para casais.