Alaska-tough made yurt: the Alaska version of a traditional Mongolian nomadic home. Yurt life is much more connected to nature than conventional accommodation; connect to your surroundings; the sky, trees and song birds thru the skydome. If you need fancy accommodation, need to be catered to, if you do not enjoy the woods, do not stay here. If you want to experience rural Alaskan lifestyle, are independent, enjoy being immersed in nature, enjoy peace and quiet, you will love it here:)
What guests are saying:
"We love staying in Rachel's yurt. We have had the fortune of staying there 2 times. It is perfect for a cozy winter stay, super close to downtown Talkeetna or even the ski trails. I would happily recommend it to others and hope to be returning myself!"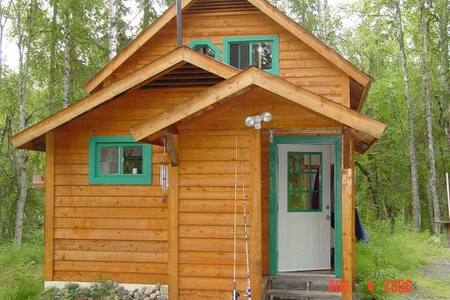 SUPERHOST
Entire cabin · 4 guests · 2 beds · 1 bathroom
20 Acre Wood cabin by Christiansen and XYZ Lakes
Delightful cabin with all amenities just three miles from downtown Talkeetna, one mile from Talkeetna Lakes Park and Christiansen Lake, and three hours south of Denali National Park. The cabin is fully plumbed and wired, with shower, washer, dryer, and full kitchen. This is a sweet quiet spot in the woods for you!
What guests are saying:
"Regarding the cabin: it has everything you would need! I loved the wooden handcrafted table and bench, as well as the stairs! It is simply lovely. It has a lot of windows, so you get to see the forest and lots of sunshine! I got lucky with the weather and this place was PERFECT for my soul retreat! The bed was very comfy and I slept like a baby! Sitting by the fire at night was a perfect way to end my day. Also, it is very close to town. I felt very cozy and happy the whole time! I definitely recommend booking this cabin if you love the nature but also value a good and safe place to stay. I will definitely be back!!! Regarding the host: I had a pleasure to meet Sarah and her 2 fluffy doggies! Sarah is a truly lovely host and she really does care! I am very thankful for the place she has created and for sharing it with other people! Seriously, this place will not disappoint!"
Whether you're visiting from the lower 48 or across the state, Coho Cabin is the perfect little getaway! Nestled snuggly in East Talkeetna on 1/3 acre of wooded property, our cozy cabin is within walking distance of historic & beautiful downtown Talkeetna. We can help make your stay in Talkeetna unforgettable! We can arrange a float down the river, a flightseeing trip, or a variety of other exciting & unique activities. Escape to Coho Cabin and experience the ultimate Alaskan adventure!
What guests are saying:
"Above and beyond! I've stayed at many Airbnb and VRBO, Katies sets a new precedence for all! Excellent communication, reasonably priced, clean, really nice location and quite! We were looking at upcoming months for availability. The only thing I would recommend is to replace the upstairs bed frame. It's squeaky so any time there's movement the person down stairs can hear. We're both light sleepers. Even with that we're planning on coming back! The simple touch that Katie provides is something that will stick forever!"