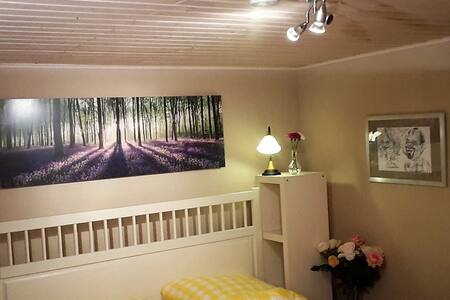 SUPERHOST
Private room · 2 guests · 1 bed · 1 shared bathroom
Nähe Vulkanradweg - Zimmer Völzberger Köpfchen
For the current reason: Our house is about 30 minutes drive from the highways. Please book only if this is fine for you and please give 5 stars regarding the situation in your rating. The house is located in a very idyllic field location. This is the right place for you to unwind and get new strength. AST and bus connections exist in the direction of Wächtersbach. Distances: - FFM 83 km - FD 37 km - GI 58 km - Wächtersbach (RE stop) 26 km
What guests are saying:
"Marco was very friendly and helped me to get me from the bus station on the Birnstein. The room was just good, good bed and nice. Marco has a warm Hertz! Loved the village and everything! Immediately, Marco was very friendly at the telephone. He picked me up from the Birstein Bus station., As he was teaching gym that evening. The room was good with a small brook running in front and a low noise rooster in the garden. The bed was good, clean and roomy. Marco has a warm hard. I loved the village and everytning."
SUPERHOST
Entire house · 8 guests · 2 beds · 3.5 bathrooms
Raus aufs Land – Exklusives Haus im Spessart –
Ihre Unterkunft - FrankfurtEscape Ferienhaus wenige Minuten von der A3 und A45, A66 Erholung, Freizeit, Entspannung, Messeunterkunft 1 Schlafzimmer für je 2 Pers., Radio EG 1 Schlafzimmer für je 2 Pers., Radio DG Wohn- und Schlafzimmer für 4 Personen, LCD Sat TV, Radio DG Wohnzimmer, Couch 3 Sitze, Couch 2 Sitze, LCD Sat TV, Radio EG Kachelofen, Balkon mit Terassenmöbeln EG WC; Bad und Küche EG Dusche mit WC im DG Terasse, Sauna mit Dusche & WC; Fitnessraum UG Parkplatz direkt vor dem Haus
What guests are saying:
"Both Guido and Manuela are very kind hosts. They have to cancel their dinner date as we were late in our check in so that they can pass the keys to us. Similarly when they heard that this is our last stop before taking 12hour flight home, they have graciously extended the checkout time to whatever time we need (as coincidentally there is a cancellation the day we are checking out) so that we can shower and go straight to airport. In the end we checked out at 5pm local time. Their house is very clean and comfortable and the view at their patio is fantastic esp in evening. They have stocked their fridge with lots Of foods and drinks for their guests. In the bathroom, a lot of items such as tooth brushes, sunscreen, hairspray etc were also provided. Nice touches where a fresh bouquet of flowers is placed at dining table to brighten up the place. As another guest has mentioned in an earlier comment, the pictures do not do justice to the house. My family has definitely enjoyed this last stop in Westerngurd."
Biete kleine Ferienwohnung für bis zu 2 Erwachsene und 2 Kinder. Die Kurorte Bad Orb und Bad Soden-Salmünster sind auch innerhalb von 10-15 min zu erreichen. Ideal auch für kurzfristige Messebesucher, Strong Viking ist in 10 min zu erreichen. Fahrzeit nach 63607 Wächtersbach, bzw. A66 ca. 10 min. Fahrzeit nach Frankfurt/Main bzw. Fulda je ca. 45 min. DB Bahnhof in Wächtersbach.
What guests are saying:
"I booked the first time via airbnb and "landed" with Katrin and have not looked back. Katrin is a great host who welcomes her guests personally and with little attentions. The apartment is exactly as written, small, cozy, clean. Nothing was missing. I would be happy to book with Katrin again."