Beautiful home located just 5 minutes drive from La Fortuna downtown and 2 km away from La Fortuna waterfall, surrounded by nature. Arenal Ginger Home will be the best place to explore the Arenal Volcano area YOUR RESERVATION INCLUDES ENTRANCE TO THE HOT SPRINGS TERMO ARENAL, WHICH ARE NOT IN THE HOTEL PROPERTY, THIS ARE LOCATED 6 KM AWAY AND TRANSPORTATION IS NOT INCLUIDED
What guests are saying:
"A very nice place. A/C in the two bedrooms work very well, the shower in the main bathroom was runnin cool at the warmest. Alonso may have been able to get it repaired but didn't mention it because I was ok with it. The beds are hard, which I would have been fine with if my back wasn't acting up in the first place. The forest in the back got loud as the sun went down, lots of insects. We spend our evenings on the patio checking out the new 5 lb bug of the day, exaggeration but they were some of the biggest I've ever seen. There are bugs everywhere, including some fruit fly type bugs in the house so you have to be able to co-exist a bit. Again I didn't mention it because I can tolerate. The best surprise for me was the fact that I didn't need any bug repellant. I read so many things about how you NEED bug spray in CR but I didnt spray once, not even on our nightwalk. I got bit maybe 4 or 5 times through our entire 10 days in CR by who knows what and thats it. Alonso is an awesome host, full of good advice. He booked tours for us last minute, gave us excellent advice on what to pay for a tour guide and what we could do on our own. They cleaned the house up very nicely every second day. It was nice to wake every morning to the sound of cows, birds, and roosters. So many things to do in that area so the location is perfect. The alley leading to our house was very quiet. We all loved this place and would definitely stay again."
Villa Colibrí (Hummingbird Villa) is the perfect choice for couples, families, friends or solo travelers. It's the most quiet and relaxing place in La Fortuna, away from noisy streets but at the same time, close to all principal attractions. It's surounded by tropical gardens, full of colorful flowers, where you will have the chance to see a lot of different kind of butterflies, humming birds, to hear howler monkeys and many kind of birds. Fully furnished; Volcano View & Hot Tub up to 5 people.
What guests are saying:
"We stayed together with our 2 kids (4&6years) in the Hummingbird Villa for 4 nights and we enjoyed our stay each second. Honestly we are still not finding the right words for this fantastic villa. During our last breakfast on the viewing- Terrace our little son said: "This is the most beautiful place on earth". Young kids don't lie and he is absolutely right. It feels like you have your own private resort. Pool, Poolbar, BBQ, Jacuzzi, Viewing-Terrace with a great new roof, Tropical Garden, Dschungel-Shower,... Also checkin & contact to Jason was very uncomplicated. Beside the villa we definitely recommend to visit the nearby Slot's Territory. We had an amazing guided tour on a trail through the rainforest. We saw many slots, birds, bats, a snake and other animals. Thanks & Pura Vida"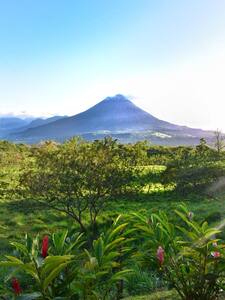 SUPERHOST
Entire cabin · 5 guests · 3 beds · 1 bathroom
Cabaña arenal view!! close to the main Hot Springs
Our cabin has a private property with 1 bedroom with a double bed, 1 bunk bed, and in the living room there is a small sofa.We provide everything you need such as A/C, Smart tv, WIFI, Stove, Hair Dryer, Iron,fridge, washing machine etc. Our place is just 5 minutes from the springs resort and spa and at 15 minutes from La Fortuna town and the free hot springs river called Chollin. You can enjoy the view from our balcony with lot of birds and nature. We will give you all our tips!
What guests are saying:
"The view of the volcano was breathtaking. It was not easy to see the volcano completely clear of the clouds but it was completely clear almost the entire morning that we have been at Daniel's. The autonomous entrance greatly facilitated our arrival. The numerous follow-ups made by Daniel to be sure that we were not missing anything were very appreciated. Our stay with Daniel was exceptional. I highly recommend."