A lovely ground floor apartment situated close to the bars, restaurants and community pool at Lauro Golf.The apartment has one twin bedroom, lounge/sitting room with dining area, a fully equipped separate kitchen and good sized bathroom with over bath shower. Air conditioning is installed to both bedroom and lounge/dining area. There is also a shady terrace for sitting out on those warm evenings.For extra guests there are two futon bed sofas situated in the lounge area. Ideal for golfers!
PLEASE NOTE - NO INTERNET ACCESS IS AVAILABLE AT THE APARTMENT. Free internet access is only available in the Courtyard.
If you play golf in Lauro place is most fantastic. There is only 100 meters to golf club. Also nearest restaurant (Larissa) is about 10 meters from the door (really good place). Apartment is really good for two person also four person will fit (then you don't have living room :)). Apartment is comfortable and all you need is included. It is really great place, would be fantastic if it also included Wifi.
Markku
2016-04-12T00:00:00Z
Suzan precise person and welcoming, clean house and well described close to golf, I recommend.
Alessandro
2016-09-20T00:00:00Z
Room Type
Entire home/flat
---
Property Type
Apartment
---
Accommodates
4
---
Bedrooms
Alhaurín de la Torre, Andalucía, Spain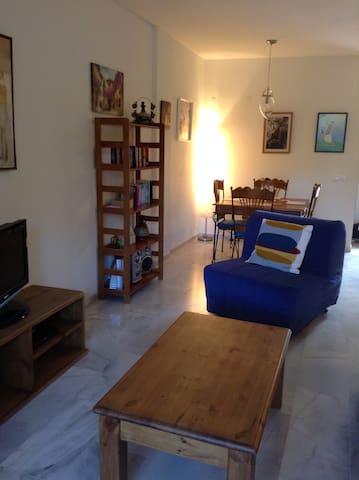 very quiet, beautiful area view, 7km from Alhaurin de la Torre, 20 min drive from the beaches of Malaga and Torremolinos and 15 minutes from the airport. Apartment any comfort, elevator, accessible with wheelchair seat, community swimming pool, golf, paddle tracks, restaurants, cafeterias, parking lots, car essential, for travel.
Tranquility
Alhaurin de la Torre is a beautiful village
A lovely clean apartment. Comfortable too. I spent a lot of time by the communal pool. Just the right temperature and the garden setting was lovely.
Sandra
2016-08-09T00:00:00Z
The apartment is nice in quiet location in Lauro golf malaga which around 25 minutes driving to malaga center if you don't have a car is difficult to visit malaga city center or buy something from supermarket. The host were very nice and fully supported to show me a lot of things in malaga. .nice place
Ayman
2015-08-22T00:00:00Z
Yves and Ana were great hosts. They were welcoming and offered their assistance in putting us in touch with local services. The apartment is in a nice and quite complex, mostly used by foreigners. Be sure to rent a car as you'll need to drive to get to the complex and nearby towns or Malaga (free parking is provided on premises). It is a 3-floor walk-up. The apartment is equipped with a full kitchen (utensils/appliances), bathroom, living room, bedroom and balcony. There is A/C on the living room, which helps cool down the apartment but the bedroom can be a little warm at night. The only thing the apartment lacks is wifi.
Ivan
2016-07-17T00:00:00Z
Nous avons passé un séjour formidable dans l'appartement d'Ana et Yves! L'appartement est tel qu'on peut le voir sur les photos, très propre avec tout le nécessaire, il est très soigné! Nous avons particulièrement apprécié le calme, la piscine, les balades et les restaurants à quelques pas de l'appartement ainsi que les villages des alentours et les villes de Marbella et Malaga assez proches. Enfin, nous n'aurions pu recevoir meilleur accueil, il y a eu une très bonne communication avec les propriétaires, disponibles, et qui donnent de bons conseils! Nous ne pouvons que recommander cet endroit! Merci encore!
INGRID
2016-08-16T00:00:00Z
Ana et Yves ont été des hôtes aux petits soins. Très disponibles à notre arrivée et pendant le séjour, ils ont su rendre notre semaine de vacances très agréable. Un grand merci à Yves pour toutes ces indications touristiques. L'appartement est conforme à la description, situé au calme, bien équipé, idéal pour des voyageurs cherchant la tranquillité. Excellent rapport qualité prix.
Marion
2016-08-22T00:00:00Z
Room Type
Entire home/flat
---
Property Type
Apartment
---
Accommodates
4
---
Bedrooms
Alhaurín de la Torre, málaga, Spain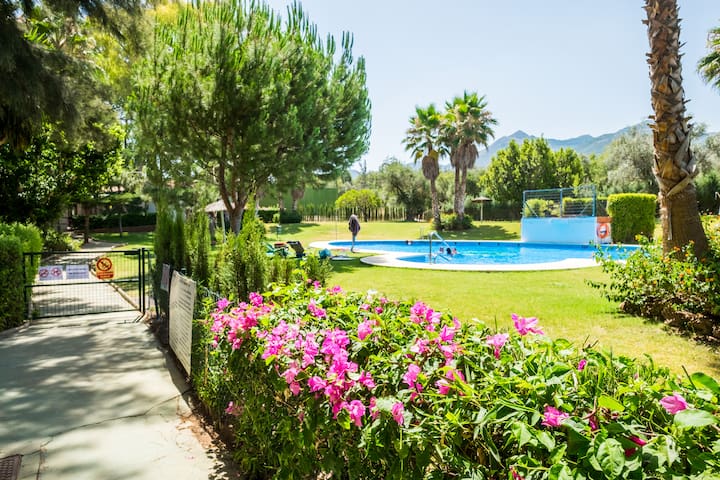 Great location only minutes away from Malaga city Centre, Airport and beaches around Costa del sol. Why not enjoy a short break away in peaceful white little town only stone away from all the action that Malaga offers!
Spacious three bedroom apartment with a generous terrace and front balcony overlooking the Guadalhorce valley. Great location with easy access to Malaga and short drive from the airport, ideal for those who are looking at staying away from the crowded holiday destinations around the coast line, because of the short drive is easy to commute for beach trips and for those who are looking for something new to do around, the apartment is not far away from Guadalhorce reservoir which offers water sports, hiking, climbing or beautiful walks. Plenty of Golf courses nearby. Two double bedrooms with one en suite and one twin room, each room has it own ceiling fan and AC is provided in master bedroom and living area.
PLACES TO EAT NEARBY Cartama offers informal places to eat from local fresh fish to delicious tapas, also over the weekends in the village market you can buy fresh churros or roasted chicken at very affordable local prices. Estacion de Cartama is also only five minutes away and offers a variety of places to eat and drinks and home made ice cream shops and during the summer restaurants offers al fresco barbeques, specially barbeque fish SWIMMING POOL While the apartment doesn't have a swimming pool, there is an outdoor public swimming pool walking distance to the flat PLACES TO VISIT NERJA - less than one hour away from the apartment Nerja is on the seashore some 50 kilometres from Málaga on the N340 coastal highway, and marks the eastern tip of Málaga's Costa del Sol. Once a sleepy fishing village, the town now has a population of over 22,000. Nerja boasts 16 kilometres of beaches with powdery sand and sparkling clear water. All major water sports are available here, including water skiing, scuba diving and sailing. However, the heart of Nerja is its spectacular Balcón de Europa the "Balcony of Europe", a magnificent promenade along the edge of a towering cliff, once the site of the great Moorish castle, with sweeping panoramic views of the Mediterranean and the small coves and beaches below, against an awesome backdrop of hazy blue mountains. MIJAS - this place is located only 30 minutes away from the apartment One of the jewels of the Costa del Sol is the beautiful little village of Mijas, which nestles comfortably in the mountainside at 428 meters above sea level; it is a superb choice for either holiday or full time living. Of the 7,500 population, there are so many foreign and English speaking residents in and around the pueblo that the Town Hall has a very helpful Foreigner's Department, which caters for the many needs of those who do not speak Spanish. When you wander through the narrow cobbled streets of this Andalucian village, you can understand what has attracted foreigners to settle here over the years. Many artists and writers have made it their home, enjoying the benefits of an excellent all year round climate, without being part of the busier, more commercial coastal towns just 7 kilometres down the mountain side. Despite its huge popularity with tourists, Mijas Pueblo has somehow managed to retain much of its traditional Andalucian way of life, the locals displaying their unabashed passion for all things festive and an unmistakable relaxed 'mañana' outlook on anything that can be put off for another day. The craft shops have some wonderful hand made pottery and often affordable paintings and prints by acclaimed local artists, such as Don Clarke and Michele Lehmann. A holiday memento could turn out to be a sound investment. BENALMADENA - 25 minutes away Overlooking the sea, separating Arroyo de la Miel with Benalmadena Costa are the beautiful gardens of La Paloma Park which covers ov(PHONE NUMBER HIDDEN) square meters with a central lake where you can see many different types of birds, which are well cared for in these very beautiful surroundings. Inside the park is the Benalmadena Auditorium where many events are run throughout the year, including the Summer Music, Theatre and Dance Festival, which runs from the middle to the end of July. The Park also houses the Benalmadena Library, as well little bars, where you can rest and enjoy the relaxed atmosphere. MALAGA CITY CENTER - 20 minutes away It is easy to understand why Malaga City is dubbed the Capital of the Costa del Sol. Once considered the poor cousin of Andalusia's Capital city, Seville, it now competes successfully for attention, thanks to its profusion of quirky museums, pedestrianised shopping centre, innovative restaurants and stylish hotels, many featuring trendy rooftop terraces with bar, pool and stunning views. Muelle Uno is the latest addition; a leisure complex in the port and a new grass roots art district called SOHO is fast developing. The opening of the Picasso Museum in 2003 triggered the city's cultural rebirth, and visitors are now flocking to this port city which boasts excellent transport, top-class cuisine and fascinating monuments, from Moorish and Roman times through to modern day - while retaining its authentic Andalucian feel. Whether you are visiting from a cruise, a weekend break or a curious Costa del Sol visitors you will be pleasantly surprised by Malaga City. Malaga has more museums than any other city in Andalucia; over 30 at last count - and there are new ones opening al the time. Learn more about Malaga through its wine, at the Wine Museum; its social history and customs, from the collection of 19th-century paintings at the new Carmen Thyssen museum; and its famous local personalities, such as the painter Felix Revello del Toro. For more art and design delights, you can visit museums of contemporary art, archaeology or glass; while fashion is covered, together with cars (yes, seriously - it's a clever gender-balancing combination) at one of the city's latest openings. PUERTO BANUS - 45 minutes away Puerto Banús is a marina located in the area of Nueva Andalucía, to the southwest of Marbella, Spain on the Costa del Sol. It was built in May 1970 by José Banús, a local property developer, as a luxury marina and shopping complex. It has since become one of the largest entertainment centres in the Costa del Sol, with 5 million annual visitors, and is popular with international celebrities. Developed around a coastal village in the Mediterranean architectural style, Puerto Banús contains expensive shopping malls, restaurants and bars around the marina. It is also scene to many exotic cars that are owned by international celebrities and wealthy owners that also own large yachts. Luxury cars like Rolls Royces and high end sports cars like Ferrari's, Lamborghinis and Mercedes Benz are a common sight in the summer months around Marbella and Peurto Banus. These cars are brought to the eye of the public via huge showrooms and dealerships RONDA - just over one hour away Ronda is also famous as the birthplace of modern bullfighting, today glimpsed once a year at the spectacular Feria Goyesca. Held at the beginning of September, here fighters and some of the audience dress in the manner of Goya's sketches of life in the region. Legendary Rondeño bullfighter Pedro Romero broke away from the prevailing Jerez 'school' of horseback bullfighting in the 18th century to found a style of bullfighting in which matadores stood their ground against the bull on foot. In 2006 royalty and movie stars were helicoptered in for the Goyesca's 50th anniversary celebrations in its small bullring, while thousands jammed the streets and parks outside. Otherwise the bullring, Plaza de Toros, is now a museum, and visitors can stroll out into the arena. Ronda also holds a lovely 'romería' pilgrimage each year. This is in honour of the Virgen de la Cabeza and is organised by the local Catholic brotherhood of the same name. For those wishing to see the lighter side of life in Ronda this is a wonderful way to participate in a local tradition that dates back to the beginning of the 20th century. Because of it's location, it is easy to reach popular Andalusian destination cities, like Granada, Seville or Cordoba, perfect for day trips if you don't fancy the drive then high speed trains can be taken from Malaga city centre to some of these cities.
We were welcomed by J's representative to a clean, comfortable and attractive apartment. We had slight difficulties with directions but were able to contact J who sent his representative to find us very promptly. J's representative was keen to supply us with information about the local area and offer any assistance we might need during our stay. The apartment was everything we had hoped for when we read the listing and looked at the photographs. The neighbourhood was a pretty white town with stunning views of nearby mountains. The locals were friendly and we were served excellent food in nearby restaurants and bars. Anything else we needed was available locally. Beach resorts were reachable by motorway in a very short time. The local bus service provided links to a nearby train station and an easy trip into central Malaga. A half hour walk up the hillside to a small chapel was very worthwhile and the view was amazing. We loved this place and hope to visit again.
Joanne
2015-08-10T00:00:00Z
Room Type
Entire home/flat
---
Property Type
Apartment
---
Accommodates
6
---
Bedrooms
Malaga, Malaga, Spain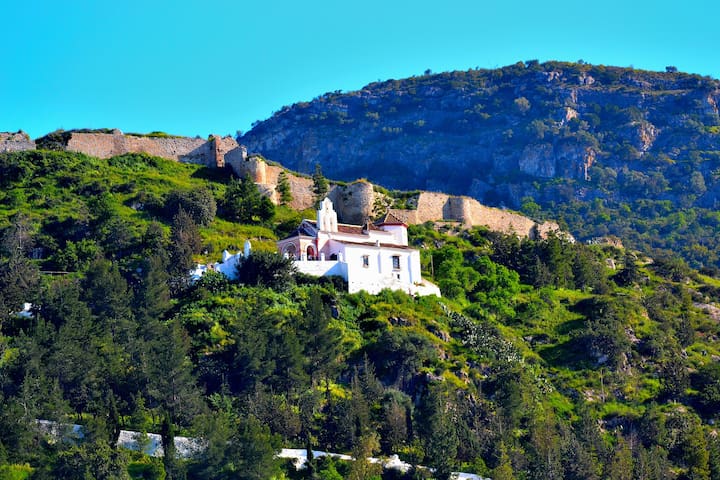 My place is close to Caminito Del Rey Alora Ardales Lakes National Park Restaurants You'll love my place because of the view from the front door. How close it is to the amazing Caminito del Rey and the glorious mountains beyond. Ideal for cycling and walking ALL year round. We are also 15 minutes drive from regular train service to Malaga central.. My place is good for couples, solo adventurers, and families (with two children max)
Thanks again for the nice stay. Donald is a very friendly and helpful person. It was so good to have somebody providing all needed information. The place is great if you plan to explore the surrounding national parks and very calm in the evenings. For people like us preferring to escape their busy hometown for their vacations Donalds home was perfect. Alora is quite close with all the shops and restaurant - only 15 min to drive by car. You will find there everything you need.
Stephan
2017-03-02T00:00:00Z
Great place and host
Scott
2016-12-11T00:00:00Z
Donald was a great host. Very friendly and helpful. Nice place to stay if you want to be away from the towns.
Mimi
2017-02-20T00:00:00Z
Donald was a very nice and welcoming host. He helped us with all our questions and was always very polite and easy going. The appartement was very clean. The kitchen had a lot of supplys to cook which we enjoyed very much. In conclusion we had a fantastic stay at Donalds place.
Markus
2016-12-24T00:00:00Z
The flat is cozy and clean. Donald is very nice and helpful. And communication with him is easy with prompt reply.
Jutta
2017-03-23T00:00:00Z
The host canceled this reservation 28 days before arrival. This is an automated posting.
Paz
2017-04-08T00:00:00Z
Donald and his son Jimi made us feel very welcome. We had the privacy of the apartment but knew they were available if we needed anything.
Michael
2016-12-31T00:00:00Z
My wife and I decided to climb in El Chorro and chose to stay at Donald's nice and cozy guest house. The house had everything that we needed: kitchen and bathroom fully equipped with water boiler, micro wave, cooker, fridge, washing machine (if you need it), towels, soap, toilet paper etc. We didn't need to bring anything with us! The bed was 1,40x2,00 and very comfortable. Bed sheets, bed linen and so on were available as well. All in all we really enjoyed our stay at Donald's house. Donald is a very nice and great host! We love you dogs by the way Donald! They said hell to us every morning and every evening when we came back from our trips! Thanks a lot, we really recommend the stay!
Frederik
2017-04-02T00:00:00Z
Room Type
Entire home/flat
---
Property Type
Apartment
---
Accommodates
2
---
Bedrooms
Álora, Andalucía, Spain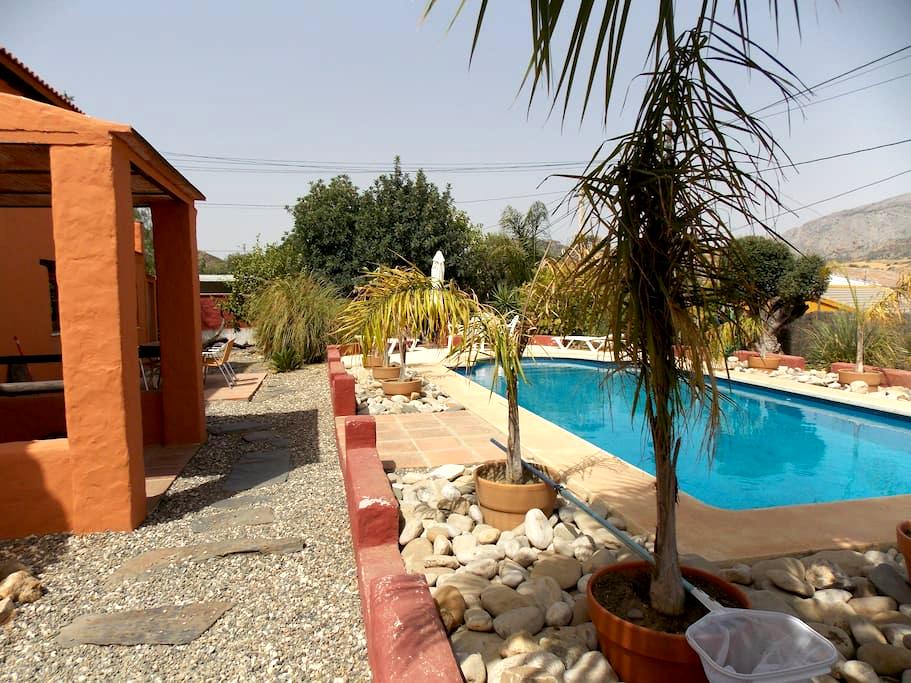 bright, warmly decorated, fully equipped. Wifi. surrounded by oranges, avocados and almonds In a natural environment without noise pollution. 1 km from the village and 20 from Marbella. In the environment there can stream and hiking.
is in full naturaleza..durante night only frogs and crickets are heard. With no light pollution, the stars seem closer still ... full moon nights are expectaculares ... At the same time, it is very close to all civilization. natural spring water.
safety, even though we live in a time where we all live under lock and key, here it is possible to live with open doors. Yes, enter insects, grasshoppers, amantis, some long-legged spider harmless ..... No fumigate respect for the environment ...
Pilar is a wonderful host! Everything is just perfect and the place is amazing! Really! Im already sad that we could'nt stay longer. We will definitely be back another time! To all who read this posting, I will just say that Pilar's place is unique!
Emma
2017-02-24T00:00:00Z
When arriving we were not sure if we were at the right place, because we didn't see an address but most of all because we thought it was just to good to be true. Such a lovely place! A really wonderfull view on the mountains and orange trees. Pilar is the most welcoming host! We just got everything we needed and more! Very nice shower and in general just a very comfy house. We hiked in this area too, great views! Although we almost always end up going to an unknown (to us), new destination I hope to come back here someday! Thank you Pilar and Ricardo!
Maartje
2017-02-21T00:00:00Z
Casa Ami is a wonderful place to spent your vacation if you love incredible views and the piece and quietness of nature. Also Marbella and Malaga are not far away by car. The house is located 1km from the road, but even with our small rental car it was no problem to reach the house. Pilar and Ricardo are a warm and friendly couple who made us feel at home right away. We would love to come again :-) Jasmin & Koen
Jasmin
2016-11-30T00:00:00Z
We had an amazing time staying at Pilar and Riccardos place! They were so nice and made us feel at home! The place itself was perfect! The pool was really nice and the house was very clean and had everything we need! Will stay here again when we come back. I recommend 10/10
Chris
2016-06-27T00:00:00Z
Pilar, Ricardo, K-pax the dog and their lovely cats made us feel right at home as soon as we arrived. They even cooked us a lovely meal as we arrived late on the sunday and so most shops were closed. The apartment was very clean and modern while the outdoor area was beautiful and green. It was lovely getting to know you both and thanks for everything!
Danielle Norita
2016-09-22T00:00:00Z
The host canceled this reservation the day before arrival. This is an automated posting.
Josua
2017-03-24T00:00:00Z
Pilar and Riccardo were lovely hosts. Pilar gave us good advice on where to visit and Riccardo came to pick us up from town on arrival. We were made to feel at home, and we were even given fresh food from the garden. The appartment is really well equiped, clean and has a beautiful garden with an amazing view over the mountains.
Diane and Beth
2017-02-17T00:00:00Z
Pilar and Ricardo (and their lovely dog K-pax) were very friendly and hospitable. We feld immediately at home. The apartment is ideal for relaxing and although it's part of their house it offers you all the privacy you'd want. The kitchen is far better equipped than average and has everything you need. Also the bathroom was very comfortable. The view on the terrace is simply amazing. It's the ideal spot for a couple to relax and enjoy their holidays.
Kirsten
2016-09-03T00:00:00Z
Room Type
Entire home/flat
---
Property Type
Apartment
---
Accommodates
2
---
Bedrooms
Guaro, Andalucía, Spain
Finca Los Tres Arboles is a self-contained apartment just outside the village of Cartama. The two bedroom apartment, sleeps four and is perfect for a couple or small family. The accommodation is set in a beautiful peaceful garden, with private pool and has incredible mountain views. It is a short walk to Cartama, a traditional Spanish village with local bars, restaurants and supermarkets, and is a 20 minute drive from Malaga town centre and beach.
The apartment has two bedrooms, a master with double bed and the second with bunk beds. There is a small kitchen, living area and shower room complete with washing machine. A selection of games & books is provided. In the apartment you will find a file with practical information, wifi codes, activities nearby and other places of interest in the surrounding area.
Cartama is an ancient, small and friendly town. There is no tourism here, people are living the Spanish rhythm. The apartment is on the outskirts of the town , approx. a 5-minute walk. The town has a selection of bars, restaurants, shops and supermarkets. Cartama town has a bus and train station.
Extremely nice couple! Very nice appartment and amazing view. Everything was perfect ! Thank you very much for your kindness.
Adeline
2017-03-23T00:00:00Z
We had a really good time at Diederik and Elena's place, who are excellent and kind hosts. The garden has a great view en beautiful swimming pool, the apartment was brand new and clean. Cartama is a lovely village and Malaga is nearby, this AirBnb is definitely worth a visit!
Lonneke
2017-03-19T00:00:00Z
Logement très beau et très propre. Idéal pour une famille recherchant le calme. Les hôtes sont très accueillants et très à l'écoute. Je conseille ce logement
Aurelia
2017-02-26T00:00:00Z
Room Type
Entire home/flat
---
Property Type
Apartment
---
Accommodates
4
---
Bedrooms
Cártama, Andalucía, Spain
A beautiful brand new apartment in the heart of the stunning Spainish village of Ardales. The apartment has full facilities including air conditioning, large flat screen television, welcome pack on arrival etc. Both bedrooms are equipt with large beds with memory foam mattress's to guarantee you a good nights sleep. The shops, restaurants, bars etc are only a 2 minute walk away. Only 10 minutes drive to the Natural Park, lakes and Caminito Del Rey.
This is a new modern property with quality mattresses for a very comfortable stay.
Quiet street located close to the plaza.
Very nice, clean apartment in a quiet side street in the attractive town of Ardales. Was a great base for our explorations. Karen was very helpful throughout.
John
2016-12-20T00:00:00Z
El apartamento totalmente nuevo, con todas las comodidades, el barrio tranquilo, perfecto para pasar unos días por la zona. Karen es una anfitriona excelente, está disponible en cualquier momento, tuvimos un problema con el agua y rápidamente lo resolvió, sin duda repetiría si volviese por la zona.
ROCIO
2016-09-11T00:00:00Z
El apartamento está perfecto. Con todas las comodidades de una vivienda moderna. Con muchos detalles, todo muy nuevo, y más amplio de lo que esperábamos. Bien situado, en el centro de Ardales, y muy cerca de la zona de bares y restaurantes. La calle es muy tranquila. Hemos pasado un muy buen fin de semana. Gracias a Karen por ser tan buena anfitriona!
Juan Jose
2017-02-27T00:00:00Z
El apartamento es nuevo, la habitación muy amplia, silenciosa, la cama cómoda, el baño pequeño pero ajustado a lo neceserio. El salón está bien y la cocina es pequeña pero suficiente para lo que uno necesita por pocos días. Sí echamos en falta un microondas porque es más rápido de usar para calentar. Karen es una chica dispuesta a ayudar, lo único que no se menciona es que ella no es la propietaria con lo que algunos inconvenientes se salen de su capacidad de resolución. El piso no tiene internet y supuso un problema porque la cobertura de nuestros tfs es casi nula dentro de el, tanto para datos como para llamadas. Tuvimos el inconveniente de que la tv no iba, con lo que sin internet y tv, Karen hizo por ayudarnos dándonos el wifi del vecino de abajo pero tampoco pudimos usarlo ya que la señal entraba mal, creo que es por la construcción del edificio. Así que mi sugerencia para el propietario es que en estos tiempos se agradece tener este servicio, sobre todo si nuestros propios dispositivos pierden cobertura dentro del alojamiento. La tv se pudo arreglar lunes, ya que nos pilló fin de semana y el técnico no pudo ir. Agradecer el detalle del agua, la leche y las cervezas. Esperamos volver y seguramente os vamos a recomendar. El caminito del rey está muy cerca con lo que para nosotros fue fundamental. En general nuestra estancia fue buena.
Marcela
2017-03-22T00:00:00Z
Logement très bien situé, calme, propre et fonctionnel. Très bonne literie. Les alentours d'Ardales sont magnifiques.
Lise
2017-03-29T00:00:00Z
Room Type
Entire home/flat
---
Property Type
Apartment
---
Accommodates
4
---
Bedrooms
Ardales, Andalucía, Spain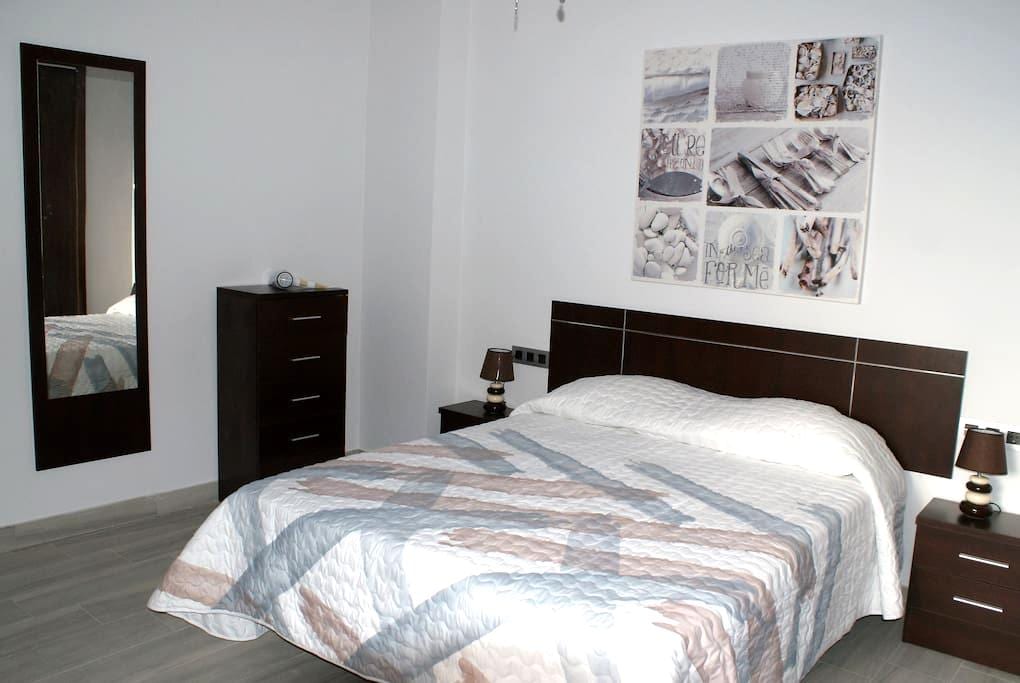 Lugares de interés: Ardales is a town that deserves to be visited and its outbuildings hide a true paradise to discover. Te va a encantar mi espacio por ser un apartamento acogedor situado en el centro del pueblo, donde encuentras todas las comodidades a tu alcance. Be a cozy apartment located in the center of the village, where you find all the comforts . Mi alojamiento es bueno para parejas, aventureros, viajeros de negocios, familias (con hijos), y mascotas.
Alojamiento situado en el centro del pueblo rodeado de comodidades que facilitan su estancia. Accommodation located in the center of the village surrounded by amenities that facilitate your stay for families, backpackers, couples ....
En la avenida principal tenéis cafeteria, restaurantes, panaderia,bancos…. y punto de encuentro de muchas excursiones. In the main street you have coffee shops restaurants, bakery, banks .... And meeting point of many trips.
Rocio is a very nice person, kind and cheerful. The flat is very convenient and confortable. It's definetly a good address for a couple! And the village is very beautiful and full of life!
Florence
2017-04-01T00:00:00Z
Rocio received us very friendly and was easy to contact. The apartment is small but everything is there and clean. Rocio gave our good tips for activities in and around the town. Great location.
Linda
2017-03-20T00:00:00Z
Location is perfect in terns of going to caminito del rey and exploring el chorro or checking out flamingoes at fuente de piedra. We also went to the bobastro ruins. Recommend the place. Note it does not have wifi. Also the place is a bit small but not cramped. Car park is free and just a few meters down the street.
Kamaljit
2017-03-26T00:00:00Z
Rocio is very friendly. The room is nice with bath and kitchen, not very big, but you have everything your need. Thanks!
Oskar
2017-03-14T00:00:00Z
Room Type
Entire home/flat
---
Property Type
Apartment
---
Accommodates
4
---
Bedrooms
Ardales, Andalucía, Spain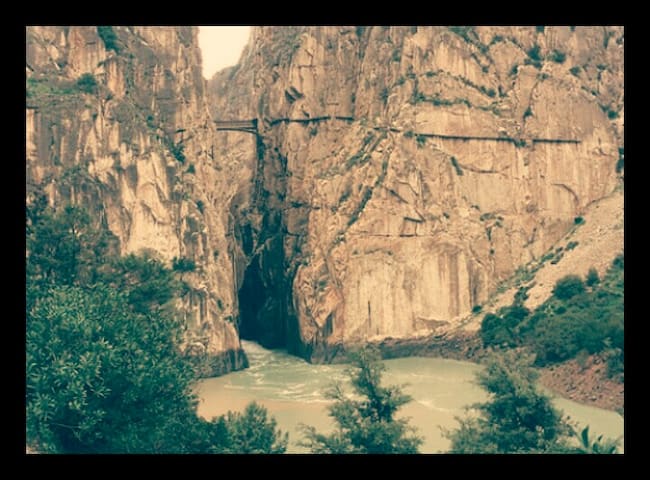 Na 3 km landweg door de heuvels net even buiten Álora staat "Casa al Cerro". Het bijbehorende appartement/geschakeld huis "La Vida" ligt in een oase van rust. Heerlijk ontspannen bij het zwembad, genieten van de uitzichten rondom, je privé terugtrekken op het dakterras, het kan allemaal.
Het ruime appartement/woning met dakterras beide 50m2 en groot half overkapt terras van 27m2 is onlangs totaal verbouwd en is nu een prachtige ruimte geworden. In de woonkamer, met houtkachel, is een doorgang naar de compleet ingerichte keuken. Er is een grote eettafel, waar eventueel hele avond aan getafeld kan worden. Vanuit de woon-/eetkamer kom je in de hal waar de toegang is tot de moderne, lichte badkamer, slaapkamer met airco en ventilator en naar de inpandige trap naar het dakterras.
Bij Casa al Cerro ervaar je totale rust, ruimte en vergezichten. In het dorp Álora zijn vele bars en restaurants met bijbehorende terrassen te vinden. Tevens een grote supermarkt, banken en allerlei winkels.
We have had a wonderful stay at Jolanda's villa. It has been truly relaxing with such a peaceful and quiet location. The villa was beautifully presented and well equipt, we also had fantastic views of the countryside and a real log fire every night. The Jonkers were excellent hosts and we will be recommending their villa to our friends in England.
Kasha
2016-03-05T00:00:00Z
Great place to stay! Absolutely agree with all the preceding reviews. It is a lovely, spacious and clean apartment. They make sure you have everything you need for your stay. Clean towels, coffee, and even a cold wine and some beers in the fridge. All in all a very warm welcome and would definitely recommend this place to anyone that wants to visit this part of Spain in a relaxed and quiet environment. Driving to Alora for some food/drinks takes you about 20 min so that's fine as well. Thanks for the good care!
Jesper
2016-11-19T00:00:00Z
A real gem, the perfect place to relax and enjoy Andalucia. The house is very well equipped, very clean and cozy. Jolanda and Wice were the perfect hosts. We highly recommend!
Yair
2016-04-25T00:00:00Z
We had an amazing time at Jolandas place. The view from the terrace is breathtaking. Jolanda and her husband are wonderful, gracious hosts. I like to go back there soon.
Roman
2016-11-13T00:00:00Z
We had great time at this beautiful place and even more -we had happy time. The house is just perfect with all-you-might-ever-need kitchen, AC in the bedroom, big wooden table to eat outside and beautiful pool exectly as it looks in the pictures. Jolanda and her husband are great hosts, we enjoyed being around them and the whole place has a very great vibe.
Olga
2016-08-18T00:00:00Z
A place like no other, just what is needed to enjoy a peaceful and relaxing holiday! Our experience at "La Vida" was perfect. Great location and landscape views, very hospitable owners who made us more than welcome!
Pauline
2016-07-08T00:00:00Z
The views from the apartment are absolutely incredible, I could have done nothing else all day but sit with a glass of good red in my hand and watch the (URL HIDDEN) fact I did for a few days! Although you are in the middle of nowhere there is always something new to see, a horse being lunged across the valley, the donkeys braying at the finca further up the valley and one evening an owl came and perched about 5 feet away from us, watched us for a minute and then flew off. It is good to be a dog lover if you come here, as the dog Ratje (we called Roger!) is very friendly and for us was a real added bonus as we have recently lost our dog and it was lovely to have 'roger' padding around. The apartment has been furnished with quite unusual but excellent taste by Jolanda and is all of very good quality. Overall we loved this place and would like to come back one day, but the one thing you should be aware of is the track up to it which is quite tough.
Rob
2016-08-13T00:00:00Z
We have just returned home from an amazing week! Perfect, friendly hosts, beautiful home and stunning views. And a lovely, friendly dog! If you are looking for a relaxing break, away from the crowds, do not hesitate to book your trip to Casa al Cerro :) You can relax by the pool or there are plenty of cool things to see, such as Caminito del Rey or horse riding in El Chorro. Ronda is about an hour away as is Malaga. The nearest town is Alora, where there a restaurants and a super market. We also went for dinner in Alhaurin el Grande and found great restaurants. We ate in quite a few nights and the kitchen is perfectly well equipped with everything you need. There was a bottle of wine and some beers waiting for us in the fridge which was a nice touch. The bed is comfortable and there is aircon which was great. There's also a lovely terrace with an amazing view. Would definitely return as it was just super! :)
will
2016-08-02T00:00:00Z
Room Type
Entire home/flat
---
Property Type
Apartment
---
Accommodates
2
---
Bedrooms
Álora, Andalucía, Spain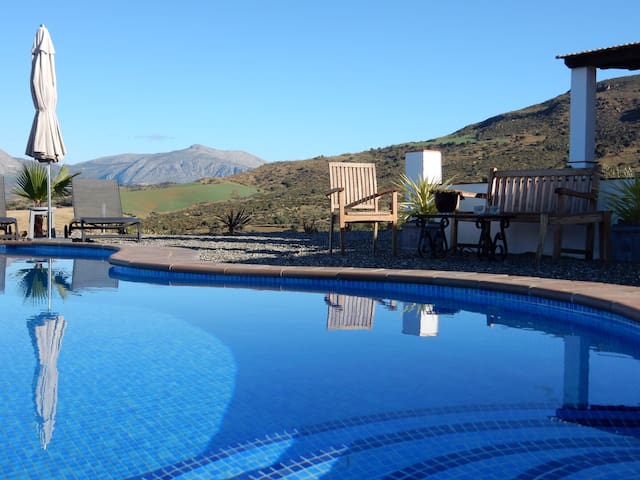 A Small self contained Apartment with 2 rooms. In The Entrance Room you will find 1 Double Bed and One Single Bed and the Toilet with Shower. In The Lounge Room you have a Sofa Bed that can sleep 2 people and a Small Kitchen with Dining Table, Chairs
The Apartment is Small and can sleep up to 5 people, but Best Sutable for a Couple. You will have your own Private Garden with some chairs and a table and sunbeds and if its Possible you might be able to use the Outdoors Jacuzzy ( in the Summer its all yours with Cold Water ). You will have access to the bigger Shared garden ( shared with us or Other Guests in the Other Apartment ) with Splash Pool and BBQ area. Parking just outside the Property. If you are Looking for something more Spacious please Check in to our Other Listing: " Apartment in Álora Station "
The Apartment is just in the Station Area of Álora with Local Trains to Málaga and The Airport. All so trains to Ronda, El-Chorro and Sevilla. In The Station you will find, Cafés and Bars all so some Shops. The Rio Guadalhorce is on you door step and lot of Nature and good walks.
Marina and Mikes place is great,we had a fantastic stay.The studio is beautifully decorated with such love and made a very relaxing place to chill out.It is exactly as it looks in the photos and had everything you need for a comfortable stay.The train to Malaga stops right outside (it's not noisy)so we took advantage and had two great day trips in.there are also restaurants nearby that serve very good food.I would really recommend Mike and Marina's place to anyone looking for somewhere artistic and quirky while also being really comfortable.
Jane
2017-02-15T00:00:00Z
Cool Place cool People. The Casita is decorated with much love and you can see that Marina is an Artist. Mike is Produkte of the Shooter and year it's powerfull .... WE enjoyed our stay and would come back
Waltraud
2017-03-25T00:00:00Z
We had an awesome week staying in our cute little apartment at marina and mike's place. The place was perfect for us, and the interaction with Mike and Marina made it my best airbnb experience so far! We even enjoyed a bbq night together. Alora is a cute village, and for us a nice place to go climbing in El chorro from.
Renske
2017-04-01T00:00:00Z
We had a very comfortable and unique stay at Marina and Mike's place. The Airbnb and surrounding yard was filled with cool and unique art. We loved every bit of it. It was quiet and fun. Marina was very friendly. I would definitely stay here again.
Alana
2017-01-20T00:00:00Z
we had a wonderful time. Marina and Mike made us feel very welcome and comfortable. We wanted to stay longer. The place had everything needed for a comfortable stay and more. We highly recommend staying in this little piece of heaven!
Anna
2016-07-31T00:00:00Z
The apartment was as described on the airbnb website. Lovely colourful home made decorating, and a lot of creative details giving the place an extra shine. The shade garden for me was a welcoming gift after a lot of sunny days in broiling Spain. On top 2 hosts who were very accessible and open, which gave us an immediate intimate feeling. I wish Mike and Marina all the best and would recommend the place and them as hosts to anybody.
Wouter
2016-07-21T00:00:00Z
Marina and Mike are some fantastic, helpful, caring and sweet hosts. We got a warm welcome and felt at home in the cozy and art full apartment and backyard. I broke my leg and was hospitalized and Marina wrote to us if we were okay, as she could see we had not come home at night. Thank you for caring Marina. The best recommendations. -Thomas And Tobias
Tobias
2016-10-09T00:00:00Z
M and M were great from start to finish. They were available if we needed them, but mostly we were just left to enjoy the space and get on with our holiday. There were two of us, and we thought that it felt a lot bigger than the pictures suggest, but if you were to have more than two or three it might feel a bit tight. Also, do not be put off by the pictures of the shower... It's probably one of the best showers i've used in recent months. Plenty of hot water and good pressure, a very welcome surprise! It's a lovelly space, and for the money way more than we expected. Thanks :-)
Sheryl
2016-11-01T00:00:00Z
Room Type
Entire home/flat
---
Property Type
Apartment
---
Accommodates
4
---
Bedrooms
Barriada Estación, Andalucía, Spain
This attractively converted self contained apartment, only 40 minutes from Malaga Airport and 10 minutes from the beautiful White village of Casarabonela. Privacy and beauty all around, delightful gardens leading to steps which take you down to a gorgeous Private swimming pool (Apartment guests only), with its wide terrace surround the pool at its centrepiece, the views far and wide. There's a covered al fresco dining area with night lighting at one end, the barbecue handily placed alongside.
The apartment with its private terrace area, has a sitting area with a wood burning stove, a compact kitchenette (with a 4 ring hob, electric oven, fridge and washing machine), two comfortable double bedrooms with ceiling fans, both with en-suite bathrooms. There is fabulous mountain scenery to explore - as diverse as the lakes of El Chorro, only half an hours drive from here, the moon-like landscapes of El Torcal Natural Park near Antequera (an hour away), the stunning peaks of the Serrania de Ronda, the Sierra de las Nieves and the Grazalema Natural Park. Anyone who enjoys walking, riding, swimming, canoeing or quad biking will be in their element here.
Just 10 minutes drive (approximately 7 km) from the whitewashed village of Casarabonela. It is an easy, 40 minute drive from here to Málaga airport, Ronda is just a 50 minute drive away as are, heading south, coastal hotspots like Marbella and the sandy beaches of the Costa del Sol. Even closer to hand is Andalucía's very own Lake District, an area of outstanding beauty, dramatic gorges and turquoise blue lakes.
This was our best airbnb stay so far. Steve and his wife were very welcoming and helpful and made us feel at home at once. This place is perfect for those who are looking for a private and relaxing place with a private pool. They even had all kitchen utensils you might need to cook as well as a grill for barbecuing. The little porch outside was the perfect place to eat early breakfasts as well as for watching the sun set :)
Abbas
2016-09-26T00:00:00Z
Room Type
Entire home/flat
---
Property Type
Apartment
---
Accommodates
4
---
Bedrooms
Casarabonela, Malaga, Spain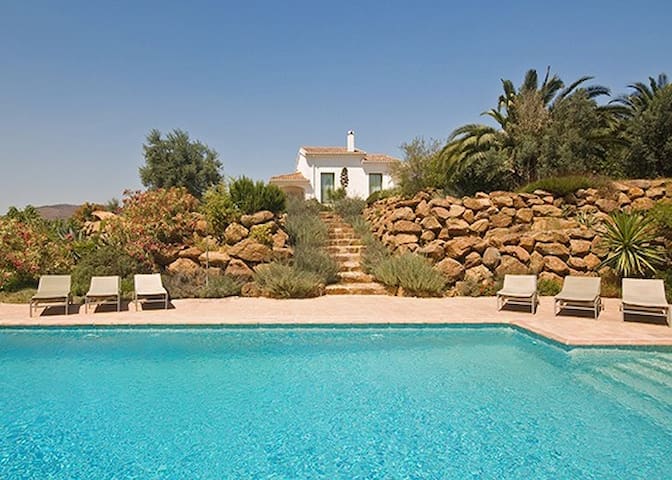 Acogedor y coqueto Apartamento en el centro de Ardales con garaje; dispone de una habitación doble, cocina americana totalmente equipada, salón luminoso con dos balcones y, maravillosas vistas al pueblo y al valle; servicios; tv, termo eléctrico, microondas, horno, aire acondicionado. Se encuentra situado a 100 m de la plaza principal de Ardales; junto a los Pantanos de Ardales y del Caminito del Rey; a 30 minutos en coche de de Ronda, Antequera y Málaga.
Acogedor y coqueto Apartamento en el centro de Ardales con garaje; dispone de una habitación doble, cocina americana totalmente equipada, salón luminoso con dos balcones y, maravillosas vistas al pueblo y al valle; servicios; tv, termo eléctrico, microondas, horno, aire acondicionado. Se encuentra situado a 100 m de la plaza principal de Ardales; junto a los Pantanos de Ardales y del Caminito del Rey; a 30 minutos en coche de de Ronda, Antequera y Málaga.
Cosy, clean and as described. Perfect for a comfortable stay in ardales or to explore the caminito del rey.
Heike
2016-11-27T00:00:00Z
Very good adress, good contact, nice living in a andalusian village. We will come again.
Gerd
2017-01-06T00:00:00Z
Excelente apartamento muy bien ubicado en el centro del pueblo de Ardales, un lugar con encanto en el que se pueden hacer multitud de actividades, entre otras el Caminito del Rey, visita indispensable para aquellos que no tengan vértigo. El apartamento estaba muy limpio, y tenía todo lo necesario para pasar unos días. Tanto la asistenta como el anfitrión estuvieron en todo momento disponibles para cualquier cosa que pudiéramos necesitar. Sin duda para repetir
oscar
2016-10-24T00:00:00Z
Apartamento ideal para una escapada romántica. En el corazón del pueblo y de fácil llegada al Caminito del Rey. Pueblo tranquilo y silencioso. Es muy fácil aparcar.
Jesús
2016-11-20T00:00:00Z
La casa genial, la zona muy bien y Ed nos ayudo mucho en todo. Muy recomendable, nosotros repetiriamos!! Un saludo!
david
2016-08-08T00:00:00Z
logement agréable et fidèle à la description. attention la taille du lit est de 130x180cm, cela peut gêner certains malgré quelques manques en équipements de cuisine, je le recommanderait village calme et sympa idéalement placé pour faire le Caminito del Rey et découvrir les environs
marie pierre
2016-10-13T00:00:00Z
Room Type
Entire home/flat
---
Property Type
Apartment
---
Accommodates
2
---
Bedrooms
Ardales, Andalucía, Spain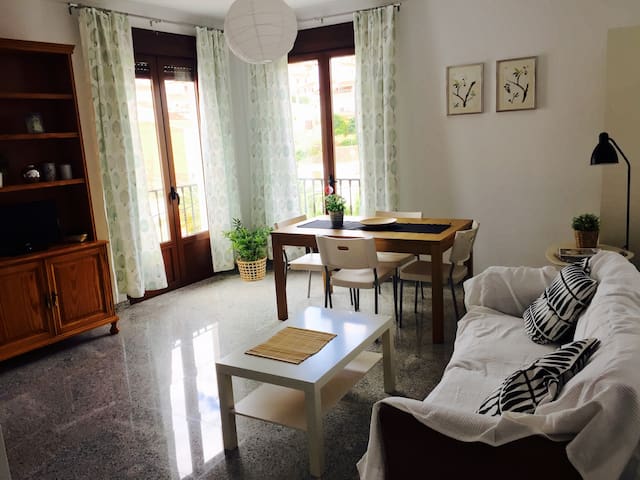 A fully air-con luxury 2 bedroom penthouse with 2 terraces with panoramic views of a Moorish castle, mountains and the historic town of Alora. It is very popular among rock climbers of El Chorro and visitors of the El Caminito del Rey. It has its own private garage located in the lower floor of the building with measurements of 4 meters W x 8 meters L. Having said that the free municipal car park is just 200 meters away, if guests do not want to negotiate the narrow and winding roads.
The lift/elevator opens straight to the living room (with a help of a key so it is still very secured). It occupies the whole of the top floor.
What makes Alora attractive is the presence of many tapas bars and restaurants at very affordable prices and the locals are very friendly. It is an authentic Spanish working village and not a tourist resort. You can observe how a typical Spanish town get on with their lives.
The appartment is spacious and clean. The views are just stunning. Not far from Camenito del Rey. The compliment and breakfast from the hosts were a pleasant addition. We loved the terrace and conservatory. Definitely recommended!
Julie
2017-03-28T00:00:00Z
This is a really great apartment in the centre of the town but in a quiet street. Great location, great hosts and extremely well equipped. We felt really at home and comfortable. Everything was on the door step yet it was peaceful. We would highly recommend it.
Elsa
2017-02-26T00:00:00Z
El alojamiento muy recomendable, muy cuidado todos los detalles y las vistas preciosas. Respecto a la limpieza todo muy limpio. Volveremos
Pilar
2017-03-12T00:00:00Z
El piso es incluso más bonito que en las fotos. Tiene todo lo que se pueda necesitar. Los dueños fueron muy atentos y flexibles, además de detallistas. Estuvieron pendientes en todo momento. Si alguna vez volvemos a Álora vendremos de nuevo
Marina
2017-02-12T00:00:00Z
El apartamento muy completo y bonito, en especial las vistas de las terrazas. Helen y Steven son unos GRANDES anfitriones, dispuestos a ayudarte en lo que necesites.
María
2017-03-26T00:00:00Z
Room Type
Private room
---
Property Type
Apartment
---
Accommodates
4
---
Bedrooms
Álora, AL, Spain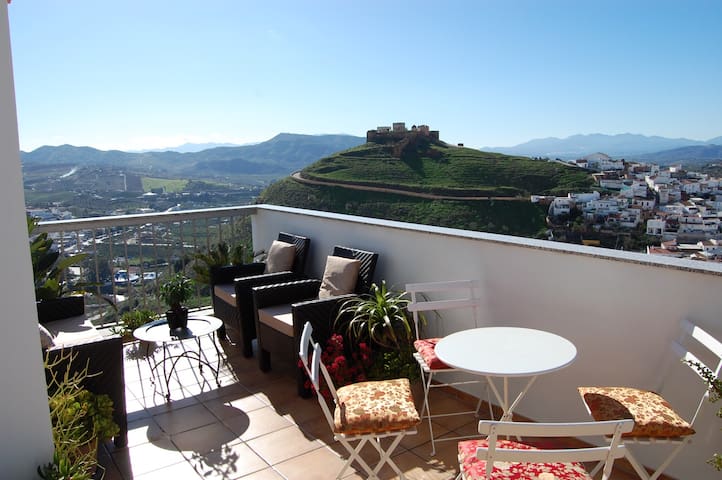 Precioso, moderno y luminoso ático situado en el centro de Álora, a 15 km del caminito del rey, con dos amplias habitaciones y una espectacular terraza con vistas a todo el pueblo y el valle del Guadalhorce.
Apartamento Completo
Room Type
Entire home/flat
---
Property Type
Apartment
---
Accommodates
4
---
Bedrooms
Álora, Andalucía, Spain
Te encantara nuestro precioso apartamento situado en una casa patio del siglo XVII, en pleno centro de Coin, a 20 minutos de las principales ciudades, cerca de playas y montañas. Recientemente renovado, combinando Historia y Modernidad. Amplio salón cocina, con dos bonitos dormitorios invadidos de luz y bienestar.
Nice central flat in Coin. Everything in accordance with agreements and as shown in the add.
Janus
2017-02-13T00:00:00Z
A very conveniently placed and comfortable apartment overlooking a small courtyard in an interesting old building in the old part of Coin. Very quiet as no windows face the street, spacious rooms with high ceilings and thoughtfully designed and decorated. Be prepared to search for parking and walk a short distance when you return to the apartment which is situated in a narrow street.
Angela
2017-01-19T00:00:00Z
This apartment is on a small side street, very quiet, with a bar at the end of the street & a little supermarket a few doors away. The host is local and everything was easy.
Ena
2016-10-09T00:00:00Z
Excelente ubicación!! Maria Jose a sido una anfitrión magnífica!! Gracias Maria Jose :)
Robert
2016-10-30T00:00:00Z
Room Type
Entire home/flat
---
Property Type
Apartment
---
Accommodates
4
---
Bedrooms
Coín, AL, Spain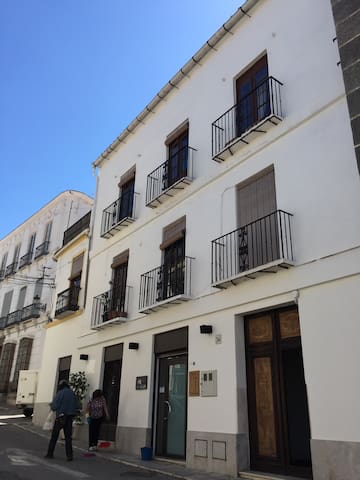 En trivelig to-roms leilighet, lys, moderne og rolig med stor terrasse og flott utsikt midt i det historiske sentrum av den hvite andalusiske byen Álora, 35km fra Malaga sentrum og fra flyplassen. Du kan bruke tog både fra Malaga og fra flyplassen.
Àlora er en hvit landsby som ligger midt mellom storbyen Malaga og klatre-eldoradoet El Chorro med den nylig restaurerte Caminito del Rey. Byen kranser seg rundt borgen, Castillo Àrabe de Àlora med bygningsrester helt tilbake til fønikernes tid. Vår leilighet ligger midt mellom det gamle og nye torget i den historiske bykjernen og har en stor, flott terrasse med utsikt mot borgen og deler av byens boliger som klatrer oppover i skråningene. Huset er nybygd med heis og innpasset i den gamle bystrukturen.
Du er i en ekte spansk landsby, full av barer, butikker og spisesteder og med beskjedent antall turister. Språket er vesentlig spansk. Borgen er under restaurering og åpen for besøk. Det er også et lite lokalmuesum ved torget og den store kirken.
Ragnhild was very helpful with train schedules, baby gear and generally making us feel welcome. Her friend, Grethe, who met us at the apartment was also very nice and accommodated us with the train delays. The apartment itself is very clean and well equipped, comfortable bed, but the focal point of the whole place is the magnificent and huge terrace with incredible views of the surrounding town and mountains. A pleasant few days in a very non touristy little town.
Lucy
2016-03-30T00:00:00Z
A great apartment with a much greater terrace than is shown on the pictures. The apartment is very comfortable! Grethe welcomed us and informed us about the apartment an Álora. Álora is a nice place to be but the Caminito del Rey is one thing you definately need to do!
Lisette
2016-08-14T00:00:00Z
Great place to spend a few nights while climbing. Was met by a very nice friend as Ragnhild was not in town. Wifi was not working on arrival and Ragnhild dealt with this right away and her friend checked in to make sure it was working. Very cute place with great views from the terrace (which is much larger than the photo shows!).
Kim
2016-01-05T00:00:00Z
Really good apartment with all the ameneties you need. Fantastic terrase with incredible views. Everything is very confortable. Malaga, Marbella, Antequera, Ronda are very close by! I highly recommend this appartement!
Catherine
2016-10-08T00:00:00Z
Leiligheten var ren, rydding og pent møblert med alt man trenger. Det var også en stor og flott balkong med nydelig utsikt utover Alora. Beliggenheten var også meget sentral til torget. Vi koste oss veldig og kan absolutt anbefale denne leiligheten.
Beate
2016-05-09T00:00:00Z
Nous avons passé un très agréable séjour dans l'appartement de Ragnhild. Cet appartement est parfait pour un couple, très confortable grâce à la climatisation et très bien équipé, il y a tout ce dont on peut avoir besoin, y compris une très bonne connexion WIFI. L'appartement est très bien situé, proche du centre du village, la terrasse est grande et donne sur une vue magnifique. Le village d'Alora est lieu de séjour très agréable et idéal pour visiter l'Andalousie. Le voisinage est un peu bruyant, mais c'est la "Spanish way of life". Je vous recommande cet endroit.
Philippe
2016-08-03T00:00:00Z
Het appartement ligt midden in Alora en is geweldig! Een heerlijk groot dakterras met meer dan voldoende stoelen en een grote eettafel. Het uitzicht vanaf het dakterras is grandioos. De voorzieningen in het appartement zijn uitstekend. Alles wat je nodig hebt, is aanwezig. En als het heel warm is, laat je de airco lekker de kamer en slaapkamer afkoelen. Wij kunnen geen minpuntjes bedenken!
Nies
2016-06-19T00:00:00Z
Ik vond het een heel prettig app. met een mooi terras. Helaas liet het weer het niet toe om er te gaan zitten, je had er een prachtig uitzicht op de omgeving. Ik zou zo weer terug komen.
Annette
2016-05-14T00:00:00Z
Room Type
Entire home/flat
---
Property Type
Apartment
---
Accommodates
4
---
Bedrooms
Álora, Andalucía, Spain

Lovely self contained studio, open plan with large sliding doors, seperate shower room etc., kitchen, window overlooking your own private garden with table chairs . Tea, coffee etc plus toiletries.Linen, towels . Wi Fi, DVD. Pool,Jacuzzi outside fridge/freezer , t.tennis, darts Easy access + parking. supermarkets 8km, Restaurant 500m Venta Gallardo. Coin, Guaro, Alozaina and Tolox all 8kms by main road, Dirt road to Guaro for great walking or 4 wheel 2kms, Alozaina and Tolox approx 8kms.
The open plan kitchen has a gas hob, fridge with ice box and sink. It´s equipped with kettle, toaster, small electric oven and all the kitchen basics like pots, pans, cutlery, plates etc. Towels and bed linen provided. Lovely large gardens with shaded areas and sun, loungers, table and chairs.
The location of the Finca is perfect for exploring either on foot or car. and for the more energetic cycles (not provided). I´m just off the scenic route from Coin to Ronda in the national Park. Wonderful walking and being by the Rio Grande, lots of varieties of birds and wild life. There are two typical Spanish Ventas (bars/restaurants) within walking distance, good food at good prices.
Lina and Frank are really helpful and friendly hosts who go out of their way to make you welcome and your stay comfortable. The Studio was as described, in a tranquil setting with lovely gardens. Convenient for accessing the main road yet not disturbed by traffic noise. It is well equipped for a short stay and a perfect base to explore the beautiful surrounding countryside.
Lynne
2015-10-22T00:00:00Z
It was a really nice new room with everything you need including privat bath and a litle kitchen. You feel like home. The area is beautiful. If you like to walk or hike is this the pefect place. They were really nice and give us a lot of usfull advice. We can absolutely recomend this accommodation.
Lorena
2016-05-09T00:00:00Z
Very nice welcome. The studio is very comfortable and the location in the country is gorgeous. To be recommended
Benoit
2016-08-20T00:00:00Z
The studio is well equiped, close to the old road to Ronda, with little traffic, no noise effects. Were not very lucky with the weather, so made interesting cartrips in the surroundings, beautiful mountains. Lina had the flew, so very little contact with her. Real nature is a little further up. The finca is beautiful and the hospitality is great. Mateo
Mateo
2016-03-25T00:00:00Z
Lina is an excellent host and can't do enough to help for anything you need, love the location and surroundings and everything is well maintained and the gardens are beautiful, very peaceful ....
Lee
2016-06-24T00:00:00Z
A Beautiful and tranquil property with a charming host.
Roy
2015-10-12T00:00:00Z
The place is small but confortable, and everything you need is in it. Its a really enjoyable place, we had no difficulties, we totally recommend it.
Naji
2016-08-01T00:00:00Z
Perfect place ! Wonderful house / finca ;) Lina is really kind and cool.. If you are looking for a place to relax in nature and at the same time just 20mn from the coast, this is the perfect location !
Badr
2016-09-15T00:00:00Z
Room Type
Private room
---
Property Type
Apartment
---
Accommodates
2
---
Bedrooms
Coin, , Malaga, Spain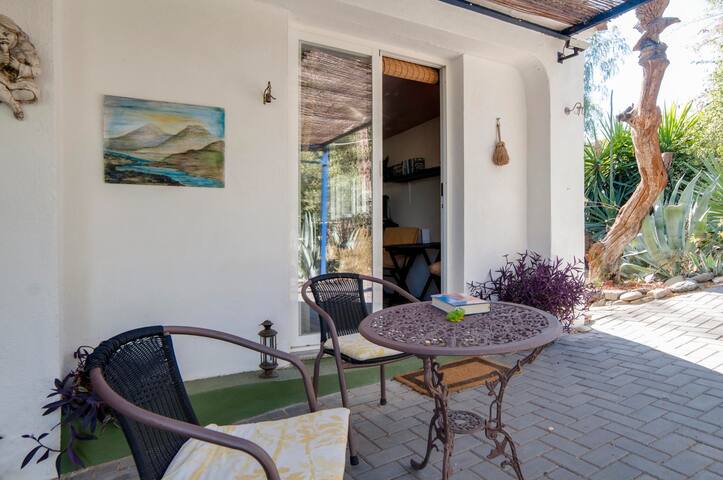 Lugares de interés: Pueblo andaluz con casas blancas y calles pendientes, estrechas y sinuosas de trazado árabe. A 30 min. de la Costa del Sol y del Caminito del Rey.. Te va a encantar mi lugar debido a que es un alojamiento acogedor, tranquilo y silencioso. Mi alojamiento es bueno para parejas. Se encuentra situado en uno de los pueblos de la comarca de la Sierra de las Nieves, Reserva Mundial de la Biosfera.
Apartamento seminuevo con dormitorio abuhardillado con vistas hacia la Plaza de Casarabonela y la Iglesia de Santiago y también al valle del Guadalhorce y Málaga
Enclavado en el centro del pueblo, tiene en la misma calle cajero automático, farmacia, supermercado, estanco, bares y restaurantes.
Mon hôte a été à mon écoute tout au long de nos échanges et a répondu très justement à toutes mes questions. Le descriptif de son logement était à la hauteur de la réalité voir en dessous. Tout au long de mon séjour il s'est montré très disponible dans une discrétion pleine de respect. Il a tout fait pour me mettre à l'aise et m'a même préparé une liste des choses à voir dans le village, des meilleurs restaurants et des festivités du moment dans les alentours. J'y reviendrai probablement et ce sera avec grand plaisir. Quant au village, il est à la fois calme et agréable. Les gens sont très avenants et la vue à partir de l'appartement était tout simplement magique.
(EMAIL HIDDEN)
2016-08-22T00:00:00Z
Room Type
Entire home/flat
---
Property Type
Apartment
---
Accommodates
2
---
Bedrooms
Casarabonela, Andalucía, Spain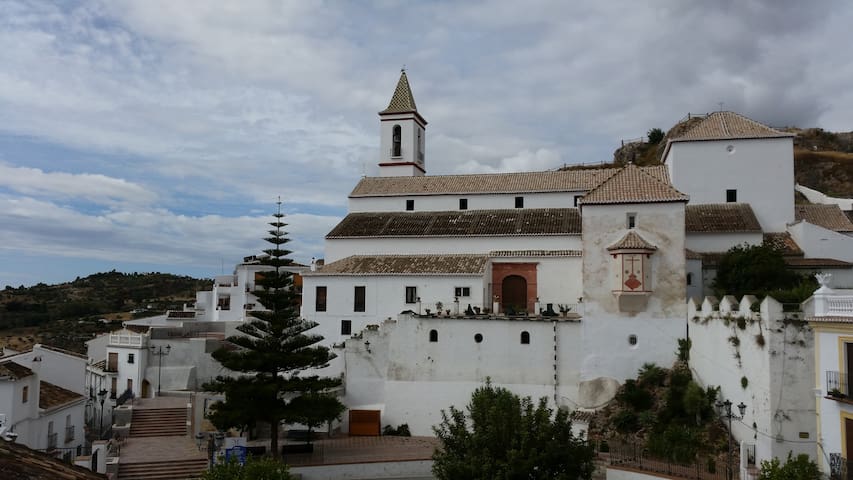 Sierra de las Nieves - Airbnb
:
Average

4.56

out of

5

stars from

151

guest reviews
1

–

18

of

81 Flat Rentals
Enter dates to see full pricing. Additional fees apply. Taxes may be added.