A quaint and homey feeling bed and breakfast in the heart of SE Portland . Just blocks away from Woodstock area and bus line. Beneath the property is Mehris bakery and cafe serving made from scratch desserts, breakfast and lunch just a few feet away
1 bedroom apartment with a shower and bathroom . Living room area with flatscreen television . A pull out couch/bed is also in the living room sleeping an addition 2 adults . It Has wireless internet throughout . Fresh coffee and fixings . Downstairs is a local Portland breakfast favorite "mehris" bakery and cafe . When you stay at our bed and breakfast a $10 food credit is included in the $80 price ($85 weekend ).Whether you decide on a smoked salmon hash with homemade bread and homemade jam selections or our caramel pecan French toast ; you will love mehris !
Brentwood darling ton neighborhood has a lot to do. Walk to new seasons for fresh produce. Come down to mehris and try of our her amazing brunch options , like a smoked salmon scramble with homemade bread and preserves . Everything is made in house and we promise you will love it after one bite . Within walking distance to REED College and many other famous SE pdx landmarks .
Best in town!
Brian
2016-08-18T00:00:00Z
Second time staying at Mehri's. We now refer friends to stay there as well. The apt is neat, cozy and comfortable and has a spacious kitchen. In a quiet neighborhood within walking distance of shops and restaurants and on a convenient bus line to get to other neighborhoods and downtown. Just like the café downstairs, where you get credit for delicious food everyday, it's a warm, welcoming space with charm. Mehri and her staff are great, too.
Emily
2016-11-08T00:00:00Z
This little apartment was exactly what we needed for our 3 night stay in SE Portland, and Mehri/family/staff at the Café were beyond cheerful and helpful! The bed was comfy, the linens were soft and clean, the parking was easy, the location is close to several groceries and restaurants, the living space was sizeable and well-furnished, the food in the Café was divine, so really, it was a wonderful stay. I will say one tiny thing about the bathroom, though. I'm a bigger gal, and while I didn't mind the cramped porcelain-throne quarters, others with larger frames may find the bathroom is a little bit of a tight squeeze! It didn't detract from our visit in the least, though, as it was well stocked and very, very clean.
Hannah
2016-07-06T00:00:00Z
Mehri was very welcoming and friendly. The apt was clean and offered everything we needed. The food at the cafe was amazing, so the daily vouchers were a great bonus, not to mention the convenience of being able to simple walk downstairs for breakfast. Highly recommended and we will definitely return.
Clif
2016-10-31T00:00:00Z
Mehri met us at the B&B even though we arrived a little late . The place is a full apartment with a real kitchen which would be a benefit for those who might be staying awhile. There was some road noise do to proximity to the street. We of course found the food in the bakery and restaurant to be wonderful. Our stay was just one night and it was adequate for the two us plus our dog.
Ross
2016-03-23T00:00:00Z
Staying at Mehri's was a great experience. The food was delicious to our senses, both taste and visual. The apartment was in a good location and in a quiet neighborhood.
cheryl
2016-06-04T00:00:00Z
Mehri is so sweet, I couldn't help but hug her upon arrival. She is a warm and inviting host. The apartment was comfortable and clean. We were there during a record breaking heat wave. The place became an oasis to cool down and rest in. Mehri's breakfast was delicious. She went out if her norm to meet my food restrictions, and her food is delicious! We will call upon her hospitality again when traveling to Portland. On a side note: for those who are noise sensitive, the traffic is noticeable. We had all the fans(a/c) on and that helps. Mehri provides a box fan that can be used as white noise during cooler weather. We are not effected by noise so this was not a problem. Thank you, Mehri!
Teddi
2016-06-08T00:00:00Z
What a pleasure to sleep upstairs and walk downstairs for breakfast at Mehri's cafe, with its outside seating; good, hearty food; and geniality. You're not smothered in muffins here--it's real food, lots of choice. Definitely sample those creamy, smooth potatoes. Wish I'd had more time to hang out--she's open in the evenings. Upstairs: a simple, uncluttered space with lots of room for hanging out, sleeping, eating. Location--S.E. was perfect for me and the parking was a big help.
Lee
2016-04-20T00:00:00Z
Room Type
Entire home/flat
---
Property Type
Bed & Breakfast
---
Accommodates
4
---
Bedrooms
Portland, OR, United States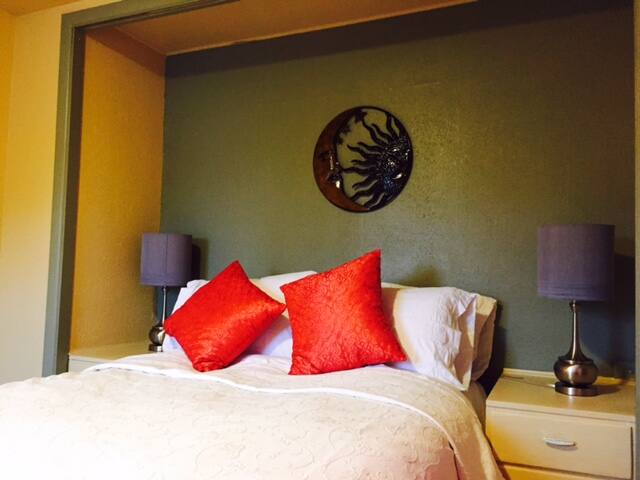 The Woodland Room is furnished in the colors of the forest: greens, golds, and browns. It is a peaceful, north-facing room with views of the trees. The curtained-off bathroom is grotto-inspired, with granite, marble, and pebbles.
Bellaterra is a licensed bed and breakfast in a creatively restored Victorian in Lair Hill, a historic neighborhood in close-in Southwest Portland. Rooms are inspired by nature and culture, each with a unique theme. The guest rooms are decorated with antiques, and each has its own glass or stone-tiled bathroom. Some rooms have views of the Willamette River, SE Portland, and Mount Hood.
Lair Hill is an early Portland neighborhood which offers a quiet, leafy place to relax or take a walk while providing easy access to downtown (approximately one mile). OHSU, Doernbecker Children's hospital, Casey Eye Institute and the VA hospital are all within about 1/2 mile. Also close to the vibrant South Waterfront neighborhood and the Marquam walking trail.
Cozy house, cozy ved.
Daniel
2016-10-28T00:00:00Z
Charming B&B! The place is cozy and I was thankful for being able to go and come as please. Tiffany was also very communicative and accommodating for my delayed arrival. Highly recommend!
Angelica
2017-01-11T00:00:00Z
Very cozy and comfortable Victorian style home in a safe and quiet neighborhood. I will Stay there again!
Theresa
2017-01-03T00:00:00Z
We got to Bellaterra after dark and left early in the morning so I really can't speak to the neighborhood. But it is close to OHSU which is what we were looking for. It is a charming Victorian, nicely redone and updated. Tiffany was very helpful and responsive. Would stay there again.
Nanci
2017-03-27T00:00:00Z
Beautiful century home. Easy access to town with public transportation. Amazing breakfast
Jennifer
2017-03-22T00:00:00Z
Good price, good location and clean, comfortable room.
Ben
2016-09-08T00:00:00Z
Tiffany was the perfect host. It was my first time at a real B&B, and I found it absolutely lovely. The bed was comfy, the pillows were perfect for me, and everything was very clean. The room felt instantly like home for me, and the art and decorations were just my style. My stay was unfortunately short, but I would definitely come back and stay for longer next time.
Heaven-Leigh (Michelle)
2016-12-04T00:00:00Z
Host was available but unobtrusive. Continental breakfast was quite good. All in all a good experience. I would stay there again.
Jeff
2016-10-07T00:00:00Z
Room Type
Private room
---
Property Type
Bed & Breakfast
---
Accommodates
2
---
Bedrooms
Portland, OR, United States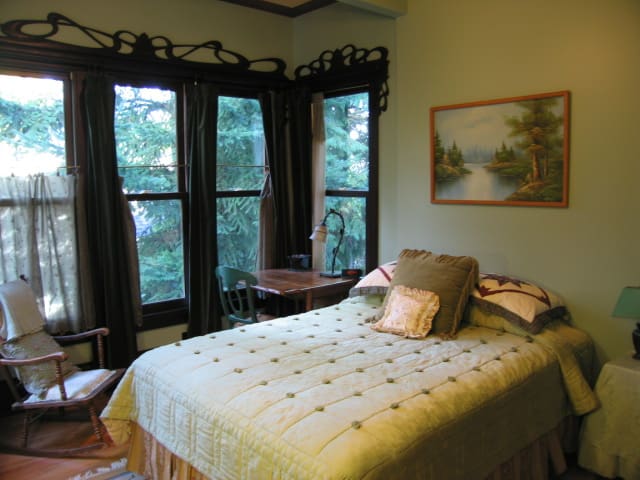 Welcome to the Hutch: a historic 130 year old home and full service bed and breakfast. Located in inner Southeast Portland, guests can enjoy a private balcony directly off of your bedroom, take a stroll through our berry, herb and vegetable gardens, or walk to any of the great bars, shops, and restaurants nearby. We serve a full breakfast daily, including local and international ingredients and dishes. See some of the posted breakfast photos for ideas on what's in store.
Welcome to our home. Come relax in your own Portland retreat in the inner Southeast corner of the city, just a short walk from great restaurants, cafes, and bars. This 130 year old house is the oldest in the surrounding area, beautifully maintained and ready for you to come enjoy its historic charm. Your retreat is the master bedroom, with a new mattress locally made of eco-friendly materials, high thread count cotton sheets, and its own private balcony overlooking the city. Your room is air conditioned, although the rest of the house is not. You will have your own bathroom, freshly renovated, and access to our living space. We have a beautiful garden with fruits, vegetables, herbs, and flowers. Please feel free to pick your own berries, pears, and grapes when in season, or just relax on the back deck. Please no pets, as we only have capacity for our friendly English Angora rabbit, Remy. While he's visiting for the summers, he loves new guests, and is kept out of the upstairs and most of the living space. Out of season, we keep the place clean and free of any pet-related allergens. A full breakfast is included, keeping both B's in AirBnB. We are both seasoned home cooks, and source local ingredients and even a few treats from Portland staples like Pine State Biscuits and Blue Star Donuts (both walking distance). We try to feature seasonal ingredients and dishes suited to the temperature, so the autumn will bring more squash dishes and things out of the oven, and this winter we are perfecting masala chai mixes and adding fresh warm baked goods to help heat the house for a good cause. We have two vintage bicycles available to borrow if you need them, and many amenities for the weary business or vacation traveler in need of a home away from home, a quiet work space, or a romantic retreat. So come enjoy a relaxing stay in a quiet and convenient getaway that's truly a part of Portland history.
Creston-Kenilworth is a great area in inner Southeast Portland, just a short walk from some great restaurants like Pok Pok, Salt & Straw, Blue Star Donuts, numerous cider houses, distilleries and breweries, and tons of great vintage shops. It's a quiet spot in between the Division St. corridor and the Reed College area, close to everything but still quietly tucked away on a residential street. It's very easy to hop over to the Saturday Portland Farmer's Market and Portland Saturday Market, both just across the river in Southwest. There are great local coffee shops nearby, and a variety of bars and nightlife. Division Street's exciting restaurant and bar scene is a ten minute stroll up the street. The Portland Farmer's Market is 3 miles from our house, and is a great way to spend a Saturday morning. We are happy to provide you with recommendations for places to go, things to see, and routes to take.
We had a wonderful stay. The house is lovely and in a safe neighborhood. It is close to restaurants and shopping. We had a rental car and got a parking space always right in front of the house. Our room was very quiet and the bed was very comfortable. Justin made us an amazing breakfast that was super delicious (he even was able to accommodate our food restrictions). Justin is super nice and he gave us very valuable tips on what to do in and around Portland. We highly recommend the place.
Petra
2017-03-26T00:00:00Z
What's so good about staying here? Justin's hospitality and friendliness. Wonderful breakfast provided everyday. A folder in your room that gives you tons of info about places to see, getting around, even a history of Portland itself. The house itself is absolutely charming and fascinating. Simply one of the best experiences I've had through AirBnb! Location is super convenient for going to the very interesting streets of Division and Hawthorne in SE Portland. I just took an Uber everyday, to save time (10 mins tops). You can take the bus obviously, albeit with a bit more waiting. Portland public transport is a revelation - you can use your smartphone, with all-day ticket across bus/train/tram. Would recommend Portland more in the summer, definitely. Winter rains on 80% of your stay are not as fun.
Ellecer
2017-03-20T00:00:00Z
Justin made our stay very pleasant. He even drove us to downtown Portland one day which was very helpful. The location is very close to the public transportation which is very convenient. The breakfast was amazing and the room was comfy and had everything that was needed. Thank you Justin for making our stay a great one!
Dmitriy
2016-09-10T00:00:00Z
My girlfriend and I were looking for the perfect place to stay in Portland while visiting for a few days. Justin's home was just that. The accommodations were excellent, including a comfortable bed, large bedroom, and private bathroom. Justin and his wife are both very talented chefs; every morning they spoiled us by preparing a unique breakfast with fresh ingredients (Breakfast burritos, pancakes, homemade yogurt and granola, and fresh berries from the yard). Justin and Jennifer were very enjoyable to chat with over breakfast, and were extremely helpful in their recommendations for restaurants, breweries, and attractions to see around Portland. We would definitely stay with them again.
Armen
2016-08-10T00:00:00Z
We had a lively stay in Portland. All was accurately described. Jen met and oriented us graciously. Our room was very nice and the house and neighborhood were fine. We enjoyed walking the surrounding neighborhood, nearby dining, and evening entertainment. Breakfast was delicious and getting to Jen a bit was a pleasure.
Leigh
2016-07-22T00:00:00Z
The location is great. As mentioned by Justin, the walk to SE Division and Clinton is about 10 minutes, through tree-lined streets. It was a very pleasant walk for me. If you decide not to walk to SE Division, just up two blocks to Gladstone Street, you will find a small cluster of fine eateries. I had dinner/drinks at one of the local favorite called C-Star, very reasonable price and friendly services. I also had dinner at the sushi place, fresh and creative food. The #9 bus on Powell Street will get you to downtown, Pearl District, and the Farmer's Market at PSU in about 25 minutes. Justin and Jen's place is charming and comfortable. The room is upstairs with a private patio, overlooking their front garden, has a lot of natural light which I love. The weather was hot during the week I was there (I got lucky, no rain) so it could get a bit hot in the room but with the patio door opened, you get a gentle breeze flowing in. Or you can use the fan as provided by Justin. The bathroom is cleaned and well kept. I love the marble counter top. The only things I would like to have is hand/body lotion and Q-tips in the bathroom as my lotions didn't make it through TSA security. The best part of my staying at Justin's is the breakfasts. Justin is a very talented cook. Every morning I woke up with a delicious breakfast prepared by Justin with local ingredients from the farmer markets and from his garden. Not only that the food was delicious, it was global too. One morning it was Turkish inspired, and the others were home-made yogurt with fresh berries, pancakes with bacons, breakfast burritos and more. Breakfasts were served with freshly brewed coffee (or tea if you preferred). I was well-fed. I am not doing a great job describing the food. I wish Airbrd allows photo upload so that you can see Justin's cooking is not only delicious but the presentation is beautiful to the eyes. The other part of breakfast I enjoyed also was our conversations, my interactions with Justin (host). We covered a lot of topics, ranging from drones, driving cars to travel. He is a great conversationalist with a lot interesting hobbies. He was very generous in sharing with me on places to visit and things to do while Portland. I had to work a few hours a day while I was there and he allowed the space and privacy for me to do so. I thoroughly appreciated and enjoyed our interactions. I understand that Jen and Justin have great plans to further develop the house. I can't wait to see it when I return in the near future. Thank you for an enjoyable stay.
Jennifer
2016-07-02T00:00:00Z
Neighborhood was close to lots of amenities. Very safe! Will stay there again the next trip to Portland.
Tom
2016-08-28T00:00:00Z
This was my first time using Airbnb and I couldn't have been happier. My girlfriend and I were on a roadtrip and wanted a good base from which to explore Portland. Justin was quick to respond and helpful before we arrived, and once we arrived he was gracious, hospitable, and his house was a seriously wonderful place to land. Justin has created an Airbnb with a real Bnb vibe, from the spacious and comfortable guest room and bathroom, the delicious breakfast (and other tasty home made and home grown snacks), visitors guide, and lovely conversation. And, the house is in a great neighborhood, not far from lots of food, fun shopping, and downtown Portland. Mi donut will stay again if we're ever in Portland (if the place isn't already booked up!)
Noam
2016-08-17T00:00:00Z
Room Type
Private room
---
Property Type
Bed & Breakfast
---
Accommodates
2
---
Bedrooms
Portland, OR, United States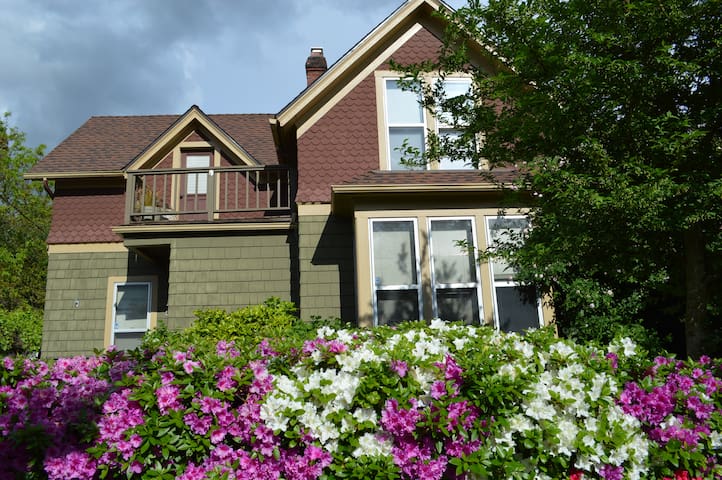 This private 1,300 sq.ft. flat-on-stilts is tucked onto a wooded hillside in a quiet neighborhood surrounded by green space, a creek, & forest views. The 1st Floor private flat features your own separate entrance, luxurious bathroom w/ oversize shower & dual shower heads, a great room with gas fireplace, pool & ping pong table, dart board and high end Home Theater Room with Tiki Bar kitchenette. Both guest rooms open to a spacious deck featuring an LA Spas Oasis hot tub & Jenn Air BBQ!
Centrally located in the Portland metro area, The TreeHouse Too is located in West Linn, a lovely, prosperous community bordering the Willamette River and Willamette Falls* (see below) features a quaint "Old Town" to walk and explore with many dining opportunities. Portland proper is just 15 minutes away and Mt. Hood skiing and the Columbia River Gorge is less than an hour, the scenic Clackamas and Willamette Rivers (with wide sandy beaches for swimming and sun bathing) are just minutes away and the Willamette Valley wine country a mere stone's throw. This spacious, rustic tri-level stilt dwelling climbs into the surrounding forest and features a lovely view of the wooded hillside and creek below and is loaded with amenities all for your exclusive use. The Tiki Dry-Bar Kitchenette (NOT a full kitchen and no sink, but no worries - we do the dishes for you :-) is equipped with a small fridge, ice cooler, coffee maker, toaster, microwave, dishes/glasses, silverware and food prep items (cutlery, cutting boards/mixing/serving bowls, spatulas, etc) and a couple of growlers to fill up at the local pub. There is NO COOK TOP OR OVEN, but on the deck you'll find a Jenn Air Gas Grill BBQ/Oven w/ Sideburner & Rotisserie and built in temperature gauge if you wish to grill, barbecue, bake or boil. Also, for special occasions or holidays we can loan you our Hamilton Beach 22 Quart (28 Lb Turkey) Electric Roaster Oven. One of the highlights of the space is The Blue Room (aka The Kane Cave) a combination Home Theater Room / Polynesian Lounge w/ a Tiki Bar, leather sectional sofa / recliner, 70" Sony XBR HDTV and Marantz A/V Receiver with 7.1 THX Certified Surround Sound. With 7 reference quality Triad monitor & in wall surround speakers plus a 20" enclosed sub woofer, the system rivals the local Cineplex and doubles as a high end audio system as well. You can log into your Netflix, Amazon Prime, HBO Go, or Spotify accounts using the PlayStation 3. You'll find a number of Super Audio CD's (SACD's) below the TV for your listening pleasure as well as blu ray movies and games. The system as a whole, whether it's music or movies, is a dream come true for any video or audiophile. A continental breakfast is provided in the fridge, i.e. cereal, bagels, waffles, spreads, toast, juice, coffee/tea, etc. While central heating is provided, there is also a natural gas, log fireplace with 65,000 Btu's at your disposal (see picture of great room). There are also extra blankets, quilts or comforters in the guest room closets as well as a space heater for use in the bedroom. In conclusion, our space is homey with character and a comfortable, lived in feel. If you are expecting a pristine, perfect, Hyatt-like experience, you would be better served finding other accommodations :-) Likewise, while events are welcome, this is NOT a party house with noise restrictions after midnight. So, if you want to "party all night", you would be better served finding a stand alone unit. *The Willamette Falls is a natural waterfall on the Willamette River between Oregon City and West Linn, Oregon, in the United States. It is the largest waterfall in the American Pacific Northwest by volume, and the seventeenth widest in the world. Horseshoe in shape, it is 1,500 feet (460 m) wide and 40 feet (12 m) high with a flow of 30,849 cu ft/s (874 m³/s).
In this upscale, quiet, residential neighborhood, you'll get the feeling of being "away from it all", yet only 20 minutes from downtown Portland and 3 minutes from a Walmart Neighborhood Grocery, Safeway and Starbucks. An award winning winery is less than 3 minutes away and Mary S. Young State Park no more than 5, and the lovely Tryon Creek State Park less than 15 min. Please check out our Guidebook for more tips and suggestions for nearby food and fun.
Had an amazing stay with john and jereza, both very accommodating and their guest area is extremely comfortable, loved the ping pong! Would highly recommend to staying with them to anyone!
Chris
2014-12-28T00:00:00Z
The hosts were gracious and the space was amazing.
Andrew
2016-04-08T00:00:00Z
We had a wonderful time at the TreeHouse! The view of the trees was gorgeous and so relaxing. The hot tub was a much needed bonus. This place really has everything to keep you entertained. Perfect couples weekend getaway. This was our first experience with air bnb and John was friendly, easygoing, and gracious. The only hiccup we had at all was that we booked like 6 months in advance and the price listed was not accurate. It seems hosts are only able to set prices 6 months out, so if you are booking far in advance I might suggest checking in with the host about pricing before booking. It wasn't a huge deal for us, because even the higher price was still very reasonable, just something for travelers to be aware of. We would definitely stay here again! Thanks John!
Katrina
2016-09-06T00:00:00Z
It was nice and very scenic. Fun.
Samantha
2016-10-09T00:00:00Z
The space was great, but the host was not. First, we received a message from John at 5:51 pm the day of our arrival stating there is "a sewer back up that will prevent you from staying the night. So turn around and come back tomorrow." We then asked John what kind of a discount he could provide us for this inconvenience because we were going to have to find a hotel for the night and they don't come cheap in Portland. John responded with "Why do you have to be in Portland tonight. By the time you get here it will practically be morning." Not only did we feel like John was being snippy with us, we were very disappointed he did not follow Airbnb guidelines and recommend other accommodations for us in this unfortunate situation. We told him we would not be changing our plans and would still be coming into town and would have to make do with a hotel. MIRACULOUSLY the situation changed and John said they would be able to clean it up in time so we could come for the night as planned. After this sour start, we tried to put it behind us and were determined to still enjoy ourselves, but unfortunately still had a couple more issues. There was only one full toilet paper roll left for FOUR women for 3 nights. When we ran out of toilet paper and messaged John, we did not hear back from him for 4 hours and by this time we had left the TreeHouse to find other facilities to use. Our disappointment continued that morning when we found our dishes we had left on the tray the day before at 11 a.m. were not cleaned. We did not have a clean coffee pot or coffee mugs to enjoy coffee, so we ended up at the Starbucks down the street. Instead of John being apologetic for these inconveniences, he gave us excuse after excuse and told us we didn't need a clean coffee pot, we could have just rinsed and reused. Whether I could rinse it and reuse it is not the point-his guidelines state they will wash your dishes everyday and have it back to you and this was not the case. Luckily, my friends and I did not spend much time at the TreeHouse because we were off enjoying Portland, but the lackluster hosting was really disappointing to us. Like I said above, the space is great but the host was not. Disappointing to say the least.
Alexis
2016-07-18T00:00:00Z
Great place. Everything we needed. John was very helpful. We recommend it!
Ed
2017-03-04T00:00:00Z
Excellent host will stay again
Jamie
2017-04-13T00:00:00Z
Beautiful setting in the trees- it was very peaceful relaxing on the deck every morning with coffee. Plus, there was a perfect man-cave den with a big screen TV and surround sound. Unfortunately I thought the cleaning was part of the deal so we sort of blew it there and didn't clean prior to leaving- sorry John! And, I wish the beds were a bit bigger because our daughters are very tall BB players so it was impossible to share the beds with them- but other than that, it was a great time and great place. Thank you John and Jereza!
Karen
2015-07-10T00:00:00Z
Room Type
Entire home/flat
---
Property Type
Bed & Breakfast
---
Accommodates
8
---
Bedrooms
West Linn, OR, United States
The Scheherazade Room is inspired by faraway lands and tales of adventure and romance. It features a queen bed and clawfoot tub with shower, furnished in deep red, gold, and rust tones.
Bellaterra is a licensed bed and breakfast in a creatively restored Victorian in Lair Hill, a historic neighborhood in close-in Southwest Portland. Rooms are inspired by nature and culture, each with a unique theme. The guest rooms are decorated with antiques, and each has its own glass or stone-tiled bathroom. Some rooms have views of the Willamette River, SE Portland, and Mount Hood.
Beautiful room, very friendly and accommodating!!
Ryan
2015-12-18T00:00:00Z
Fantastic stay and highly recommended! Full bath in the room, comfortable, and very, very nice people there! Will definitely stay again!!
Thomas
2017-03-31T00:00:00Z
Tiffany was prompt and precise in her communication. Two big highlights of the visit were getting a free upgrade and a parking permit for unlimited parking. Tiny details as these meant a lot and Tiffany made sure I was comfortable throughout my stay.
Elsa
2016-12-27T00:00:00Z
Room Type
Private room
---
Property Type
Bed & Breakfast
---
Accommodates
2
---
Bedrooms
Portland, OR, United States
1

–

5

of

5 Bed & Breakfasts
Enter dates to see full pricing. Additional fees apply. Taxes may be added.