Romantic escape for 2 lovers.......
What guests are saying:
"Great accommodation & great hosts. I arrived late - due to some road closures - at Giuseppe. The hostess in all but no matter cared that I let him wait, but only inquired, whether I am well! The meeting place is chosen by Guiseppe to be as simple as possible without any complications. After arriving at the property together, Giuseppe will show you every detail of the accommodation and already has some gifts on site (fresh fruit, typical pastries and sparkling wine). At my request, Giuseppe took me directly to the nearby town and showed me a restaurant, shops and culture. I was wrong about the weather in November, so after two nights I decided to spend the rest of my vacation in the city of Palermo. This was immediately accepted by Giuseppe and immediately offered by his side to refund all booked but unused days! So overall it can be said that it is a great place to stay and Giuseppe is a host as you wish. During the summer months I will certainly visit Giuseppe again to enjoy the unique accommodation in the sun of Sicily. I can highly recommend Giuseppe's accommodation!"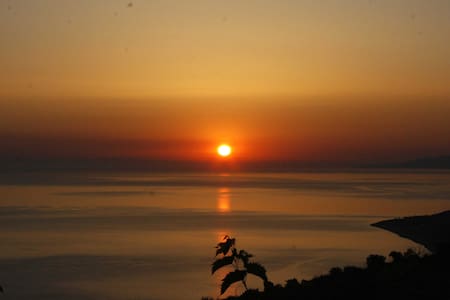 SUPERHOST
Tiny house · 5 guests · 4 beds · 1 bathroom
TRY A DIFFERENT WAY OF LIVING: self-sufficient !
VERY BRIGHT ECOBUNGALOW with sea views of the Aeolian Islands at only 5 km from the beach of Castel di Tusa. We are immersed in an olive grove situated on a hill 300 m s.l.m between Nebrodi Park and Madonie full path of the Fiumara D'arte, just 500 meters from the Pyramid of the 38th parallel and at 3km from the nearest beach BREAKFAST INCLUDED On request we offer meals with our organic menu vegetarian, meat or fish (drinks included) READ ALL THE INFORMATION BEFORE BOOKING!
What guests are saying:
"With brothers and sisters, we share everything, we offer the best of ourselves, we show our attachment with a lot of attentions, we count neither his time nor his energy, and we cry when we leave them for a long time. This is so between us and Manuela and Antonio, every year for 4 years. As for the natural environment (and preserved) just magical, the bungalow where we feel too good, multiple walks and discoveries nearby, everything helps to eliminate the anxiety accumulated in our daily lives, and quickly find the serenity and joy to exist. Manuela and Antonio are incredibly generous and genuine. .. a stay at home is essential!"
The house is located in the Madonie Park, with a stunning view of the Cefalù coast. It is located 6km from the coast and 15km from Cefalù. The house has a bedroom with private bathroom with shower and a large kitchen-dining fully equipped. In the month of AUGUST, when the owners are at home, the guest room is rented as B&B. A sicilian breakfast is offered and the use of the kitchen is possible.
What guests are saying:
"Casa Rango di Rossella and Daniel is a corner of paradise, waiting to be discovered. Day by day. We highly recommend it to those who want a holiday in full contact with nature, in serenity and silence. The love that Rossella and Daniel have dedicated to create this nest with a sea view is palpable, it will wrap you up and make you feel immediately at home. Getting to the house is a little adventure. Do not be discouraged by the dirt road, rather keep your eyes wide open, you can have magical encounters: we were lucky enough to see a porcupine :)) Also follow the recommendations of the proposed restaurants, they are all excellent. The location of the house is very convenient for exploring the beautiful surroundings that are worthy of day trips. Even if the temptation to just sit still and admire the view from the terrace of Casa Rango is really great! Casa Rango by Rossella and Daniel is a corner of paradise, all to be discovered. Day after day. We strongly recommend it to those who want a holiday in full contact with nature, in serenity and silence. The love that Rossella and Daniel are dedicated to create this nest with sea view. Reaching the house is a small adventure. Do not be discouraged by the 'dirt' road, indeed keep your eyes open, you can have magical encounters: we were lucky enough to see a porcupine :))) They are all excellent. The location of the house is very convenient to explore the surroundings, beautiful and deserving of daily trips. Rango is really great!"