Serene, modern, luxury view, 2 bdr, villa with large infinity pool, full maid service and cook. Close to great beaches, resorts, shopping, restaurants and night life. The villa is a wonderful mix of Balinese exterior with chic modern interior.
What guests are saying:
"Villa Popo was wonderfully tucked away from the hustle-bustle tourism of Bali. It is in a beautiful area close to many local warungs and shops. I loved driving my scooter along to back road that lead to the beach as there were so many hidden gems in the area if you take the time to explore. Emmy, the gardener, and driver picked us up on time and when we arrived, Rosa and Emmy, the chef and housekeeper were at the home to welcome us with a beautiful fruit basket and thoughtful thank you gift of little Balinese statues. The home was very nicely equipped and we loved having a pool table and giant bar for entertaining a few friends. Everything was thoughtfully placed within the home and I especially loved having the yoga mats they supplied for working out. The main room's sliding wooden framed glass doors open to the Infiniti pool and ocean and I have to say, waking up, meditating, working out, taking a dip in the pool, and having an outdoor shower made me never want to leave Bali. Charlie's photographs of Bali are framed and thoughtfully placed throughout the home and added beautiful touches - what a talented photographer! You can feel the history and love permeating withing the walls of the home. I would definitely suggest utilizing Emmy's delicious cooking! Our first night she made a red snapper served with fried rice and sauteed vegetables with ginger, garlic, and lemongrass sauce that was to die for. Another night I was having a few friends over and she helped me prepare some prawns for a shrimp cocktail. Villa Popo is a wonderful place to stay while experiencing the beauty that Bali has to offer!"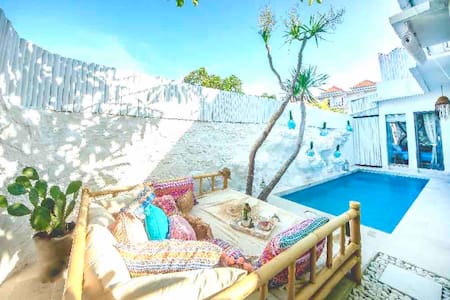 SUPERHOST
Entire house · 3 guests · 2 beds · 2 bathrooms
Small 2 bedrooms Villa super cute in Uluwatu Bukit
A super cute bohemian chic style 2 bedrooms villa invaded by the sun and light .The villa is perfectly equiped and was totally renovated in January 2020 !So the pictures you can see reflet exactly the realty !
What guests are saying:
"This is one of the best airbnb's I have ever stayed in. Beautifully designed with loads of little details, all carefully selected by Made and handcrafted in Bali. It has everything you need! Extremely clean and neat. Meriana, the housekeeper is a lovely lady and is very thorough. Felt very at home and looked after. This place truly deserves all of the 5 stars! Thank you!"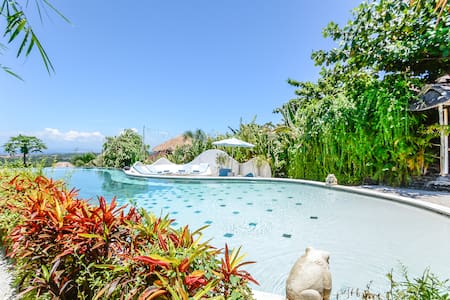 SUPERHOST
Entire villa · 2 guests · 1 bed · 1 bathroom
Air-conditioned Bamboo Bungalow @ Le Bamboo Bali
Receive 460.000 IDR Discount: https://www.airbnb.com/c/arnierics Le Bamboo Bali offers a relaxed and peaceful atmosphere, allowing you to experience and enjoy your stay in a unique part of Padang Padang. The pool is ready to use. There are 8 bungalows in total , yoga shalla, vegan restaurant, and infinity pool.
What guests are saying:
"Great stay at Le Bamboo! Easy check in and friendly staff. We would pay the money just for the pool area alone! The view is amazing and the little touches of landscaping and the beautiful thatched huts really do add to the tranquility. We did have a slight issue with the hot water on the first night but they helped us move to an even more beautiful room so was no hardship. The staff are just so helpful. Gave us so many beach towels because we kept leaving them back at our place. They did bike rental which was really helpful and booked us taxis multiple times on request. Only slight negative would be the hotel restaurant menu which was slightly limited but your in close proximity to many great restaurants. Very memorable stay!"