Enter your check in date in the format dd-mm-yyyy
Enter your check out date in the format dd-mm-yyyy
Listings you can book without waiting for host approval.
Enter dates to see full pricing. Additional fees apply. Taxes may be added.
This July and August, you can try one of these 100 highly-rated homes, at all price points, and experience a local's view of Sonoma. 24-hour check-in, Instant Book, and local wine and snacks let you just sit back and enjoy your trip.
Loft in alter Schule
We enjoyed our stay at the 'Alte Schule' very much, and would recommend anyone to stay there, especially people who love hiking/the outdoors. From the apartment you can walk right into the woods. The loft is very spacious and well furnished, while the wood burner gives it a very cosy atmosphere. Would stay there again!
Linda
October 2016
We had a wonderful time. Rainer welcomed us with a fire in the fireplace as it was a little chilly when we arrived. Rainer and Gigi were very helpful with advice, and escorted us on an astonishing architectural trip.
Ruurd
June 2016
I had such a wonderful stay in Gigis house. I stayed there with two friends and we had the most nice experience. The appartement is spacious, very clean, and charming. The fire place is great, the area is great for hiking and running. Gigi and Rainer were the most friendly and nice hosts. A real recommendation.
Marijke
October 2016
We had a wonderful stay at the loft of Gigi. She welcomed us with a small appetizer and cold beers which made us feel at home after a couple of hours driving. She was a great host. Friendly, very helpful and warm. The appartment is great. Spacious, nice design and cozy. Everything you need is there and we could also make use of the beautifull garden. Schleiden is a good starting point to explore the Eiffel for instance by bike. In summary: we highly recommend staying at this loft!
Marjolein
August 2016
It was a very warm welcome. After a long drive, Gigi made sure that the fireplace was burning and welcomed us, as their first guests, with a bottle of wine. The apartment is exactly as on the pictures. It's very spacious and decorated with fun stuff Gigi found at flea markets. Additional benefits: the national park which is very nearby and a good hike. Gigi's apartment and the Eifel area were both a great discovery for us, so we would definitely recommend this trip. Next time we'll go mountain biking.
Dore
April 2016
We had a great time at this appartment! It was clean, there were flyers on what to do in the area (we cycled a lot in/around the National Park Eifel) and there was even good coffee which was a very nice suprise in the morning! We could use water to clean our bikes. Also loved the style of the appartment, we even took pictures of the furniture in A LOT OF SPACE. We felt very welcome by the host and can truelly recommend to stay here.
Sjoerd
May 2016
very hospitable couple made us feel welcome. a lot of space in a calm neighbourhood
Thomas
August 2016
The loft of Gigi is very cosy! You have everything you need! The contact with Gigi was quick and clear! We will come back!
Rosalie
October 2016
Room type
Entire home/flat
---
Property type
---
Accommodates
4
---
Bedrooms
2
Schleiden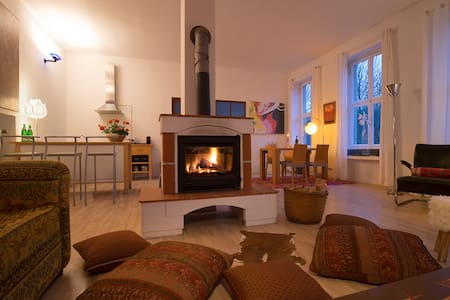 Chambre avec un lit double à louer très calme au 2e étage dans le coeur historique de Stavelot dans un bâtiment restauré. Petit salon et cuisine à partager.WC privé.Petit déjeuner sur demande. Parking aisé. 6 km du circuit de Spa Francorchamps!
Petite maison rénovée, quartier très calme, parking gratuit Les pièces de vie (salle de bain, cuisine, salon) sont à partager avec l'hôte. Les voyageurs ont accès au petit salon avec tv et à la cuisine qu'ils peuvent utiliser comme ils le souhaitent. Possibilité d'aider les voyageurs pour leur visite de la région avec de la documentation. Connaissances en allemand et neerlandais
Proximité de Coo avec sa cascade et son parc Plopsa Coo Malmedy et Trois-Ponts à 5 km Proche des Hautes Fagnes
Stefy's home is amazing. It is a very old home compared to what I am accustomed to in America. But It is immaculately clean and has clearly had a very well done and modern renovation on the interior. She left a bottle of the local Spa water and chocolates by the bed. As well as offering beer in the refrigerator and coffee for the morning. While renting just the room, you really have the home to yourself as she does not typically stay there. I will also be suggesting Stavelot to my friends back home and Stefy's place specifically.
Anthony
August 2015
We really loved Stefy's appartment. It's nicely decorated, tidy and cozy. You can easily park the car in front of the building, and even if it's located in the center of the village, the place is very calm at night. I really recommend it.
Josebe
August 2014
Our second time at Stephanie's place already! Very homey and comfortable, like the first time. If you ever go to Stavelot or the greater area, and you should do that, Stephanie's house is the place to be!
David
April 2014
Stefy really made everything so we could feel immediately at home. We were hiking and in the next morning she was so kind to drop us back on the trail. The room was very comfortable, clean, with lots of privacy (a separate floor) and well located - everything was just perfect. Stavelot is a very atmospheric town and Stefy also recommended us on an excellent place for dinner. In another review they said it was the best airbnb they've been to, and I just have to agree on that.
anat
June 2015
It was the best experience we had from Airbnb until now. Stefy welcome us with some cheese and sausages, had Nespresso capsules to have a coffee wherever we want and in general she was a very good host! The house is perfect. It was clean, warm and it located very close to the core city of Stavelot! We are definitely going to stay there again in the future!
Dimitris
November 2014
We really enjoyed our Stavelot in the room of Stefy. Her flexibility considering arriving time and access to other rooms in the house was so great. Perfect spot for a late breakfast with a view right at the abbey or to start your sportive day from the centre of Stavelot which is close to more or less every beautiful place in the Ardennes
Maikel
August 2014
Neat and comfortable apartment at a convenient and quiet location in Stavelot.
Bart
January 2017
Stefy has what you would call a townhome in the US. My wife and I both think it was a great Airbnb experience. It's a cool place, and Stefy was a cool host.
Lazaro
December 2016
Room type
Private room
---
Property type
---
Accommodates
2
---
Bedrooms
1
Stavelot
Situated at the edge of nature in the hills of Bad Münstereifel about 50 km southwest of Köln or west of Bonn. Beautiful medieval town with all you need during a calm country side vacation and still with a fashion outlet downtown Bad Münstereifel.
Quiet solarhome at the edge of nature in a very friendly and loving family as well as neighborhood - village 50 kilometres from Köln / Bonn as well as 80 kilometres from The Netherlands, Belgium, Luxemburg and France ! Our guests have their own fully equipped space with kitchen and bathroom and two bedrooms, wifi and all modern equippment Our guests define the level, frequency and intensity of interaction with us - we are flexible and welcoming
Friendly and caring neighbors in an 100% safe and quite environment next to fields, hills and forest. In our village you find the best German-French bakery east of Paris (!), yes that is true as people from 50 kilometres away show up to buy their baguettes and croissants and much more there..... Train to Köln and Bonn about 4 kilometres away, autobahn/highway the same Our house produces more energy than it consumes, it is a high-tec plus-energy home.
The apartment was very clean, spacious and comfortable. The communication went very well as did the key transfer. We had a great time. I'd very much recommend this place!
Bas
May 2015
Solarhome was the perfect base for our visit to many nearby ancestral and tourist locations in the Eifel. The space was roomy, bright, spotless and comfortable. The village location is idyllic. Norbert and Ursula were delightful hosts. Our only regret----we were so busy that we had minimal opportunity for interactions with them. We would happily stay again should our travels take us to the area.
Cheryl
September 2015
Room type
Entire home/flat
---
Property type
---
Accommodates
2
---
Bedrooms
2
Bad Münstereifel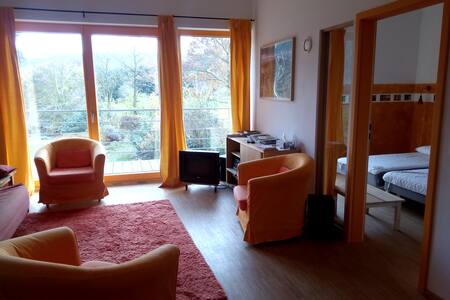 If you are looking for a place right next to the race track, Alexandre's place is the place to be. Just 200m to the la source curve - to get nearer, you have to sleep in the paddock:-). The apartment is nice and spacey and looked new. Everything was as described. There were some cold drinks in the fridge and we got a really good breakfast. Alexandre is a friendly and helpful guy with a fantastic Porsche shop. That means you are surrounded by fantastic Porsches of every age and Alexandre even provided us with a bunch of international Porsche magazines. The only maybe negative point is the price, witch is quit high.
Thomas
May 2016
Room type
Entire home/flat
---
Property type
---
Accommodates
2
---
Bedrooms
1
Malmedy