Enjoy the luxurious condo living and the stunning city & lake view in the heart of Toronto with FREE PARKING. Right next to CN Tower, Rogers Center, TIFF, and ACC. 55" TV with cable and Netflix, Gym, hot yoga, squash, hot tub, 25M lap pool, steam rooms, spa, BBQ and outdoor lounge.
A luxurious, new one-bedroom, in the heart of the city! All the stores you will need for food and drink are within a minutes walk. Banks, restaurants, and bars are within walking distance as well. There is a street car line within blocks to take you as far as you need to go. - Large, open-concept kitchen with high end appliances and tons of counter space - Living room with comfy seating that turns into a double size pull out bed - Free WiFi - Bedroom with a comfortable queen size bed - Bathroom fully equipped with everything you need - In-suite one unit washer and dryer
A lively, entertaining area where there's always something going on. - Located around some of the city's best restaurants, bars and attractions - Steps to a ton of amenities (groceries, drugstore, coffee shops, convenience store, movie theatres, parks, etc)
The condo was great! It was in mint conditions upon arrival, the view was amazing and it was only a 5min uber to king and spadina which was very convenient for the night life. I had a great stay! :)
Brunela
2017-01-21T00:00:00Z
The condo was beautiful, great location, easy access to the entertainment district. Alper was very accommodating as well. I would definitely stay here again in the future.
Alyssa
2016-10-11T00:00:00Z
This place is fantastic - Stay here over any hotel in the city, especially for the price. Communication with Alper was incredible. I've stayed in AirBNB's all over the world and this was one of the most well kept places I've been to. Everything you need and it's right in the core. Book it!
Patrick
2017-01-23T00:00:00Z
Had a great stay at this place. It was closeby to the ACC, CN tower and Ripley's. Condo was very clean and comfortable. Our host was very responsive, friendly and quite helpful.
Krystle
2016-11-25T00:00:00Z
We stayed at this gorgeous apartment in October 2016 ! Perfect location within walking distance to the centre and has an excellent upmarket supermarket attached to the complex just around the corner of the block. My boyfriend made use of the gym facilities which he said were really good and we made use of the parking which was very handy. Alper is a great host he could not have been more helpful if he'd of tried ! Brilliant place would recommend to all we had a very enjoyable first stay in Toronto !
Stephanie
2016-11-04T00:00:00Z
This is an excellent choice for your stay in Toronto whether it is for business or pleasure. Alper is an outstanding host. Honestly, we would have loved to be able to sit down and have dinner with him! He couldn't have been more responsive to our every need. The availability of a parking space is extremely helpful. The condo is so beautifully decorated. Everything has clearly been well thought out. Do remember that you are in the city, and that you will have some noise that rises from the street. But, it wasn't enough to cause a problem. It has outstanding access to public transit; and the local market, Sobey's is a very short walk around the corner. We went almost every day. We had breakfast one morning on the balcony with beautiful views of the lake. The condo has a full kitchen with refrigerator and freezer, which is very helpful, as well. We definitely recommend Alper's place!
Joanne
2016-10-04T00:00:00Z
Alper was very helpful and accommodating. The location was perfect, very clean and exactly like the picture. I would definitely recommend!
Jade
2016-08-22T00:00:00Z
Realy nice place , just near the CN tower, the place was clean
Quentin
2016-10-26T00:00:00Z
Room Type
Entire home/apt
---
Property Type
Condominium
---
Accommodates
4
---
Bedrooms
Toronto, ON, Canada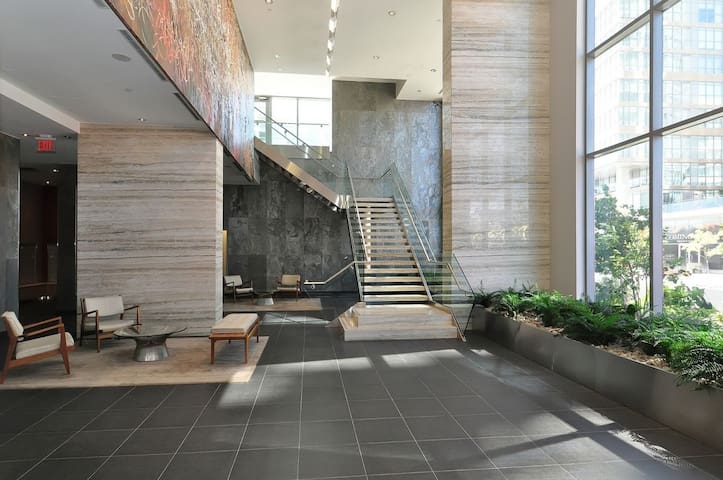 This beautiful Poolside Studio Flat is separate from our main house and is adjacent to our pool and covered patio. The Studio Flat is cozy, private and is a perfect place to relax and enjoy some peace and quiet on your own or with your significant other. The Flat has an efficiency kitchen with a microwave oven, small fridge, coffee maker, toaster, kettle, dishes, and utensils. Please note there is no stove. The Flat also has a 3 piece washroom and a very comfortable double sized Murphy Bed.
The Studio Flat is ideal for 1 or 2 adults looking for a 2 or more night stay. The Studio Flat is limited to adults only and is not suitable for children.
Our home is located in a mature, quiet, and safe neighborhood. For those who are nature lovers, you can hike the Doris McCarthy Trail down the Scarborough Bluffs to the shoreline of Lake Ontario. The trail is a five minute walk from our house. Within a few minutes drive is Bluffers Park complete with marinas, sand beaches, barbecue areas, and spectacular views of the Scarborough Bluffs.
Extremely clean and well kept. Great for 2 people looking to explore the city. Public transit is a 2 minute drive away and it'll take you to the heart of Toronto. Lina and Paul are very quick responders when you have a question. Great people and a lovely place.
Mitch
2016-12-30T00:00:00Z
Had a wonderful stay. Provided us with a book to give us ideas on where to go and what to see! The room was clean & comfortable. Very nice, quiet neighborhood! Public transport VERY close by. This was our first time staying in a Airbnb & we were very satisfied! :)
Michael
2017-02-12T00:00:00Z
This was the perfect place to stay for a weekend getaway. You can't help but be impressed with all the options at your fingertips. Very warm in the cold winter weather and lots of food options nearby. 10 out of 10!
Marcos
2016-12-18T00:00:00Z
Lovely bachelor apartment. Clean and cozy. Lina and Paul are great hosts!
Martina
2016-12-31T00:00:00Z
Can't go wrong with this place for privacy, coziness, and price. Perfect for two people.
Harry
2016-12-12T00:00:00Z
Excellent spot for the price!
Ryan
2017-02-10T00:00:00Z
Wonderful experience! Better than any hotel I could have gotten. We were greeted with warmth and shown how everything worked, and were told to feel free to contact the hosts any time we needed something. The space itself is just perfect- great size, all the amenities, just perfect set up. It was a safe neighborhood and convenient to many things. I would definitely stay there again!
Raven
2015-10-27T00:00:00Z
LINA and PAUL were great hosts, friendly and accommodating, we love them and we'd love to come back in the future! Thank you!
Alan
2017-04-02T00:00:00Z
Room Type
Entire home/apt
---
Property Type
Guesthouse
---
Accommodates
2
---
Bedrooms
Toronto, ON, Canada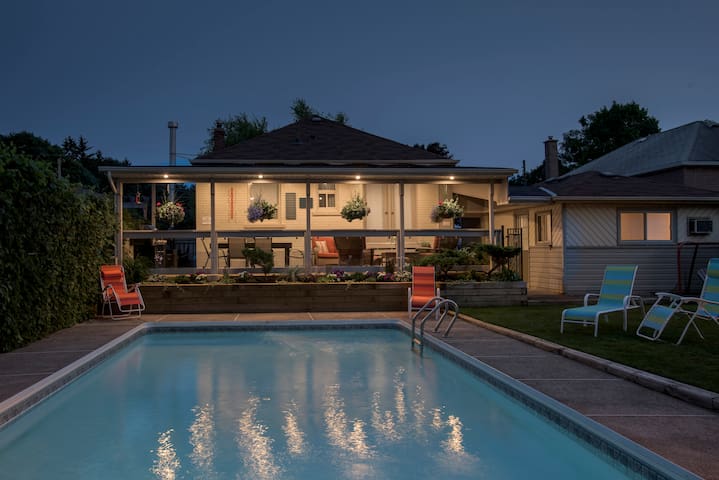 Surrender to comfort and luxury in this beautiful and modern home in the very heart of downtown's exciting Entertainment District. Located just steps away from CN tower, Rogers Centre, Air Canada Centre, TIFF, Ed Mirvish Theatres and all the sights and sounds of King West. Update: *Proudly in the AirDNA Top 10 Listings for Toronto!*
This beautiful condo boasts a spacious and modern layout with laminate floors throughout, illuminating floor to ceiling windows, open balcony with sensational views, european inspired contemporary kitchen, with built in appliances, Quartz countertops & ensuite front-load washer and dryer.
The Toronto Entertainment District is an area in Downtown Toronto, Ontario, Canada. It is concentrated around King Street West between University Avenue and Spadina Avenue. It is home to theatres and performing arts centres, Toronto's four major-league sports teams, and an array of cultural and family attractions. The area is also home to most of the nightclubs in Toronto. The officially designated district does not include Yonge Street, where the Elgin/Wintergarden Theatres, Ed Mirvish Theatre, Panasonic Theatre and Massey Hall are located, nor does it include the St. Lawrence Centre or the Sony Centre.
Adam was a fantastic host with a beautiful space. Everything was as advertised, and was more than suitable for what I was looking for during my stay. Price-wise too, the apartment is a steal, especially when considering how the location is close to a number of great attractions (Ripley's Aquarium and the CN tower to name a few). I'd definitely recommend staying here to anyone looking for a great place in the city. Will also stay here again if I'm ever looking for somewhere to stay in Toronto!
Lauren
2015-01-05T00:00:00Z
Adam's apartment was ideal - clean, tidy, modern and with a fantastic location. We were made to feel very welcome and Adam was accommodating to our earlier than planned arrival. We would definitely use the apartment again when next in Toronto.
Chris
2016-03-18T00:00:00Z
Adam was a good host! Everything was as expected! Check in was a breeze because he left very detailed directions. The best part about our stay was the location! Right across the street from Rogers center and the aquarium with other points of interest nearby, which made it easy to see the city! Thanks for a great stay!
Sadie
2016-04-04T00:00:00Z
Staying at Adam's Place was an amazing experience! The entire area was cozy, clean, and very beautiful. Adam had a wide array of snacks in the kitchen and the bathroom was fully equipped with everything you need in case you forgot something at home. Will definitely love to stay at his place again in the future. Thanks Adam!
Jack
2016-05-17T00:00:00Z
Great condo in a fabulous location. Modern and cozy. Adam is a very professional host and will ensure you have everything you need to enjoy your stay.
Tamara
2016-10-25T00:00:00Z
Wonderful location! We would absolutely stay again.
Joelle
2016-09-12T00:00:00Z
Adam was a fantastic host. Was able to accommodate an early check in, and was in contact during our stay to ensure all was well. The condo was in a perfect location, could not have asked for more. Whenever I travel to Toronto I'll be sure to use Adams place again.
Garrett
2015-11-27T00:00:00Z
We had an excellent stay at Adam's condo! He was a fantastic host and was always available if we had any questions or concerns. Amazing location!!! Comfy bed and very clean space. He made us feel right at home. Check in and parking was seemless. Would stay here again in a heartbeat. And his recommendations were spot on!!! THE BEST pad Thai we've ever had! Thank you Adam :)
Alexis
2016-02-21T00:00:00Z
Room Type
Entire home/apt
---
Property Type
Condominium
---
Accommodates
2
---
Bedrooms
Toronto, ON, Canada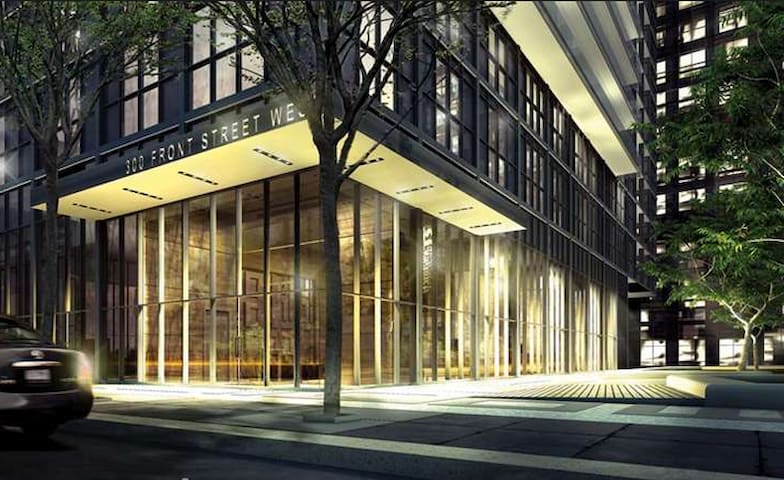 Hello :) we do not host/accommodate Parties of any kind DIRECT ACCESS TO UNION TRAIN STATION (LOCAL AND NATIONAL TRANSIT) STEPS AWAY FROM THE CN TOWER ... https://www.airbnb.com/rooms/12301555?s=12&user_id=4232814&ref_device_id=9f3f48aad90c5a57
Hello! We offer a one bedroom condo in the downtown core, 24hr. CONCIERGE SECURITY 1 Bedroom- (Double-Sleeps two) Furnished open concept Living room with Sofa bed (for two) All bedding is provided Modern, Contemporary Kitchen with dishes, pots, pans, cutlery and ice trays Washer & Dryer in Unit with detergent and bounce sheets Balcony with spectacular views (please never ever throw anything off the balcony) Free WI-FI Internet Cable & DVD Player 52" Flat Screen TV HDMI, parallel port cables provided to connect your laptop to the tv. Full bathroom with shower and tub. Hairdryer and towels are provided. Very Clean and well maintained unit, in a nice and upscale building. **Smoking permitted outside on balcony ONLY**
Ricki and Oscar are excellent hosts - very accommodating with great communication. The place is fantastic and is incredibly well located. Both host and suite are highly recommended!
Stephen
2014-01-09T00:00:00Z
Oscar was super! He responded to all my questions. Checking in was super easy and flexible. The apartment is perfect and the view and location is incredible. I would go back for shure :)
Rani-Gabrielle
2014-07-13T00:00:00Z
Okay first off everything was as it appeared on the photo and exactly like they said. It was a wonderful time. The neighbourhood is great and it's like a minute from Union station! The condo was great, and their was a ton of extra sheets and pillows. Oscar and Ricki were so nice and maintained contact with me to answer all of my questions. I wish I could have stayed longer. If I ever need to be downtown again this will be the first place I look for. Very comfortable and clean and cozy. Great place to stay, great people to rent from and most of all great condo.
Shantol
2014-12-21T00:00:00Z
Ricki and Oscar went out of their way in order to have the condo ready for our arrival as we asked if it could be ready earlier in the day. The condo was super clean and everything was laid out for our use. The best part about the condo was the location we couldn't have found a better spot to accommodate our needs! The balcony looked right onto the ACC and Union station and on the left was the aquarium, steam whistle brewery and the Rogers Centre! Definitely the perfect spot for doing sightseeing, catching a concert or game would recommend this condo to anyone going into the city!
Nicholas
2015-08-02T00:00:00Z
Ricki & Oscar have an amazing apartment in a great location - literally in front of Union Station and a stones throw from the CN Tower. They were easy to get in touch with when needed and very accommodating. Clean, private and reasonably priced, I would definitely stay there again and recommend their place to anyone looking.
Adam
2016-10-31T00:00:00Z
We stayed at Ricki and Oscar's apartment for 3 nights. The location was amazing couldn't ask for anything more (the grocery store at the bottom of the building is wonderful!). They made check in super easy for us as we arrived later in the afternoon off our flight and allowed us to leave our bags in the room after check out for a later flight which was super handy. The apartment was clean and had all the amenities you would need and was comfortable for 2 adults. The view was super nice as well. Any questions we had were answered and was a great stay for our first time using air bnb. Thanks guys!
Lauren
2016-09-02T00:00:00Z
A great experience!
Jerry
2016-03-10T00:00:00Z
Ricki and Oscar are excellent hosts - very accommodating with great communication. The place is fantastic and is incredibly well located. Both host and suite are highly recommended! The suite was very clean and organized, and it was liked that Oscar came to meet and show us around. Oscar was really nice us and gave the feeling of being at home. Extra points for having an HDMI cord and a washer and dryer. It was also nice to have the grocery store in the building.
Stephen
2014-01-10T00:00:00Z
Room Type
Entire home/apt
---
Property Type
Apartment
---
Accommodates
4
---
Bedrooms
Toronto, ON, Canada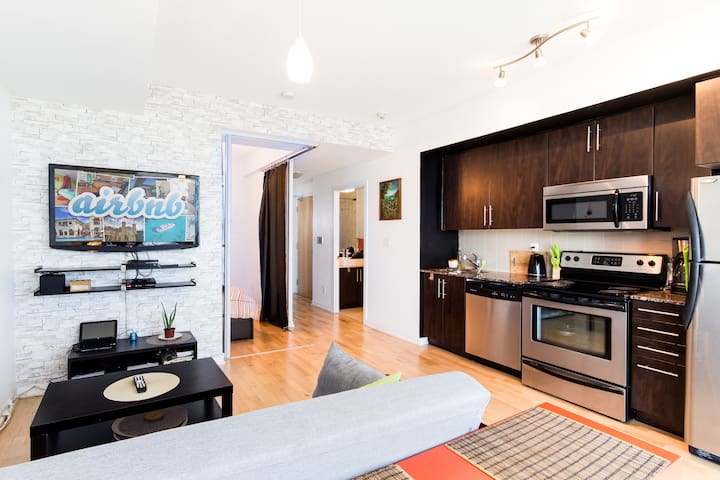 A clean and inviting one-bedroom escape located in Toronto's east end. Close to parks, bike trails, and the beaches with easy access to downtown attractions by car or the subway.
A bright and airy basement-walkout with plenty of windows and private outdoor space, perfect for relaxing at the end of a long day. Radiant in-floor heating, portable air conditioner, and wifi available throughout the space. Full-sized laundry ensuite. Please ask about parking. Bedroom: Very comfortable queen-sized bed with high quality linens, lots of storage for longer stays, and a convenient writing desk. Kitchen: Fully equipped kitchen that is perfect for nights when you feel like staying in. Includes an oven, refrigerator, freezer, dishwasher, microwave, toaster, food processor, blender, and all dishes and utensils necessary. Washroom: Beautifully renovated three-piece washroom with large enclosed shower. Towels and washcloths are included. Living Room: The apartment offers plenty of entertainment. Curl up on the couch and watch a 32" smart TV with Netflix subscription or check out our board game library. Full-sized digital piano is available to those interested in playing. Outdoors/Patio: Relax in a private, fenced, backyard garden at a patio table that seats four people. Feel free to do some grilling on the full-sized propane barbecue.
East York is a safe and friendly residential area with a more relaxed feeling than downtown. It has a working-class background, but is now a hybrid community of young working professionals and new immigrants to Canada due to its unique position at the crossroads of the subway, streetcars, and GO Train. Our neighbourhood has stayed largely faithful to its working-class roots. Within several minutes walk from our apartment, you can find a number of mom-and-pop restaurants and shops where there is simple, classic food at great prices. There are also two farmer's markets available throughout the week within walking distance, which offer fresh produce from the surrounding area. If you're looking for something more upscale, we are a 15 minute bus ride from the beaches, where you'll find trendy shops and restaurants as well as a boardwalk along the water. Alternatively, take a five minute subway ride to Greektown and explore Toronto's nightlife.
Corinna and her husband are really accommodating. We were stuck in Toronto traffic for an hour and a half, and they just waited for us in the apt. The apt is just like the picture, plus some really useful information about our stay, surrounding areas, travel information, and pretty much everything you need. The apartment is in the basement, that's somewhat unexpected for us, but still its great. Highly recommended.
Jui-Hsien
2015-04-04T00:00:00Z
Stayed here for the second time. Such a great space. Would stay here anytime.
Kyle
2014-11-26T00:00:00Z
Corinna was very friendly and helpful - instructions were clear and concise. Very accommodating about arrival time. The space was clean and tidy. The location worked wonderfully for my parents. A warm spot on a cold night!
MYRNA WYATT
2015-02-18T00:00:00Z
Connie's home was cozy and inviting and I loved how she paid attention to the small details like providing shampoo/conditioner and milk for hot the coffee. I really enjoyed my stay and will definitely return again.
Melissa
2015-09-25T00:00:00Z
This was an amazing space. Corinna has thought of everything a guest might need and then some. The kitchen is fully stocked for cooking - just add food! Corinna supplied coffee, tea, milk, herbs and spices, to name a few. There's a lovely patio area where you can sit to eat or drink coffee and admire the garden. The bed is very comfortable and Corinna supplies extra bedding and pillows. There were books to read and games to play (we loved the Scrabble board!). Very tastefully decorated. Oh, and a fabulous shower. We know the neighbourhood well, having lived there before, but other visitors may not be aware how well situated it is for getting around and sightseeing. Corinna has prepared an excellent guide for her guests that describes places to see and things to do, and also how to get there by car/using public transit/on foot. Just a fantastic place to stay.
Indrani
2016-07-04T00:00:00Z
We love this well maintained and well furnished apartment. Corinna was a great host, and provided excellent resources for exploring the local area as well as downtown.
David
2015-07-28T00:00:00Z
We had a lovely time in this beautiful flat, it was cosy, clean and has everything you could possibly need. We spent a day on the boardwalks down at the Beaches, which was glorious. Travelling to downtown Toronto was easy, you are about 5 minutes walk from major transport link. Corinna was brilliant at responding to emails and was generous with offers of information and support. Abe met us on the first night to let us know where everything was and how it all worked ( not that anything was difficult!). I loved having breakfast in the garden, not what I'd expected in March. We have nothing but good things to say about the flat and the whole experience. We'd love to come back.
Sally
2015-04-03T00:00:00Z
Corinna's place is wonderful! She is an excellent, helpful host. The place is clean and comfortable. Definitely spacious enough for 2 people. Highly recommend to anyone planning on staying in the Toronto area!
Lauren
2016-11-12T00:00:00Z
Room Type
Entire home/apt
---
Property Type
Apartment
---
Accommodates
2
---
Bedrooms
Toronto, ON, Canada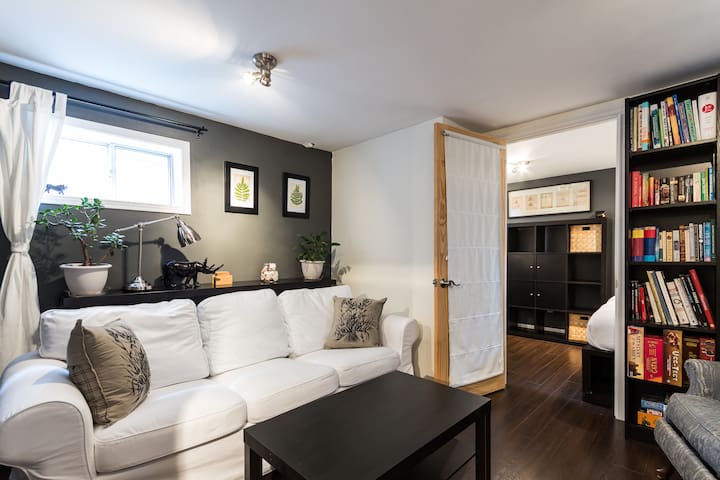 A great room in a great neighborhood. There is a lot to do in the area. Square one is a 5 minute drive, and theres dozens of local places to eat, from the Pizza Pizza on the corner to the Chinese Noodle place on Bloor. Theres something for everyone to enjoy. Very close to Hwy 403 and QEW.
Nice and big house
Geoffrey
2017-03-20T00:00:00Z
Room Type
Private room
---
Property Type
House
---
Accommodates
2
---
Bedrooms
Mississauga, ON, Canada
Enjoy the whole apartment at city center with breathtaking lakeview. Only 7min walk to Union Station, CN Tower, Convention Center ,Fairmont Hotel. With Gym/swimming pool/sauna/steam. Starbucks coffee, supermarket, street car just down stairs.
My lovely condo unit is welcoming you to enjoy the best living in the heart of downtown Toronto (Harbour Front Neighbourhood). You can enjoy both world at the same time....... When across the street you will be on the lake board walk to enjoy the tranquil lakeview, and it's only 7min walk to Union Station, Financial District, Entertaining District, The Westin Harbor Castle, Toronto Convention Center, CN Tower and Air Canada Center and Fairmont Royal York Hotel. It's great for first time visitors or conference attendees. The unit is a very clean modern suite in a luxury condominium which has indoor/outdoor swimming pool, gym, steam room, sauna room, pool table on the 2nd floor (It's private for only residents of the building, open from 5am to 12 midnight). The unit can be very comfortable to accommodate 4 people (2 people in the bedroom and other 2 people in the living room queen size air mattress which will be set up when inquired). It comes with everything you need weather you are planning a short stay or a longer personal or business trip. Just bring your personal belongings and enjoy the comfortable stay. The whole apartment is yours. - All linens, sheets, pillows, duvet, blankets and towels, toiletries are provided - unlimited high speed WIFI - En Suite Washer and Dryer - Fully equipped kitchen - Spectacular views of Toronto city, park and beautiful lake view - Air conditioning/heater - Building features business room, state-of-the-art fitness center, indoor/outdoor swimming pool, steam room and sauna room. - Centralized air conditioning/heater - 24 hour front desk security
You can find at downstairs of the building: -Starbucks coffee shop -Sobey's Supermarket -City Bike Rental -Street car 509 and 510 stop -Pharmacy -Walk in clinic, Dentist -Fast foods, Restaurants, hair salons, ice cream, post office... 5 to 10 minute (or less) walk takes you to: - Union Station and The PATH - Go bus/Go Train/VIA Rail Terminal - All Financial District Towers - Harbour Front Boardwalk & Toronto Island Ferry dock - St. Lawrence Market area - Sony Centre for the Performing Arts - CN Tower and Ripley's Aquarium - Metro Convention Centre & Rogers Centre - Grocery stores, Liquor stores and drug marts 15 minute walk (or less) takes you to: - Entertainment district (tons of bars, restaurants and clubs) - Fashion District/Queen St (awesome shopping) - Eaton Centre , Roy Thompson Hall, TIFF Bell Lighthouse and other theaters 25 minute walk takes you pretty much anywhere: - Chinatown - University of Toronto - Distillery District - AGO (Art Gallery of Ontario) - Kensington Market - Porter airport - Toronto City Airport (better option is to walk 10 min to the Fairmont Hotel and catch the free frequent airport shuttle bus)
Had a fantastic stay at Katy's place. Wonderful views and really convenient location. I will definitely stay here again!
Greydon
2016-05-27T00:00:00Z
The location was fantastic - very central and close to CN tower, railway station and harbour. The building was very safe & secure and view was fantastic from 26th floor. Even though our arrival time was delayed by a couple of hours, Kate had made arrangements with the key to be available from front desk staff. The only minor negative was dirty crockery had been put away in the kitchen cupboards so a little off putting and microwave was very dirty inside. Bed was very comfortable and bathroom very clean. Thanks Kate for a great stay in your unit. We would recommend it to our friends.
Bruce
2014-04-19T00:00:00Z
Kate was a great host and although we arrived about 1am, she met us and showed us all things relevant to our stay. Kate had ealier organised transport from the airport to the apartment. Very helpful. The apartment was ideal for our 3 1/2 week stay. It had everything we required with a great view in a very safe area. Kate responded very promptly to help us out with any day trip advise we needed. We walked a lot while in Toronto and the apartment was situated very well with the CN Tower, Rogers Centre, Aqarium and Lawrence St Market all 10mins or so away. All as Kate describes in her listing. We highly recommend people to stay at Kates apartment. The only small down side was qfter walking 4-5 hours we would sometimes like to sit down and watch some TV, but the choice was very poor. Overall excellent !!!! Cheers Tony & Anne.
Anne-Anthony
2014-09-08T00:00:00Z
The apartment was as described, comfortable and suitably equipped. Amazing view! Even though the unit feels very lived in, the view totally makes this a place you want to stay. Katy was easy to communicate with and check-in/check-out was smooth. Great location and overall great stay in Toronto!
Rashmee
2016-04-15T00:00:00Z
Great 26th floor condo with a $1m view. Well appointed unit with great building amenities that are open till midnight. Lots of security on site with pass key locks gives you a sense of safety during your stay. Parking is right behind the building. Starbucks, Pizza Pizza and a shawarma shop on the first floor make snacks easy to get. Best location for the harbourfront attractions and there is a TTC stop close by. We will stay there again.
sean
2014-10-19T00:00:00Z
Love the unit
mits
2014-12-22T00:00:00Z
I had a pleasant stay. The apartment was comfortable and its location was excellent. Katy was very helpful. Overall a pleasant experience.
Annie
2015-12-08T00:00:00Z
Excellent host, terrific accommodations. -In short: Literally the perfect space for a couple coming to toronto. Best location, terrific building with great amenities. Kate is a terrific host -Will probably be my "go to" place to stay when visiting Toronto. Beats ANY hotel, hands down.
Gage
2014-04-13T00:00:00Z
Room Type
Entire home/apt
---
Property Type
Apartment
---
Accommodates
4
---
Bedrooms
Toronto, ON, Canada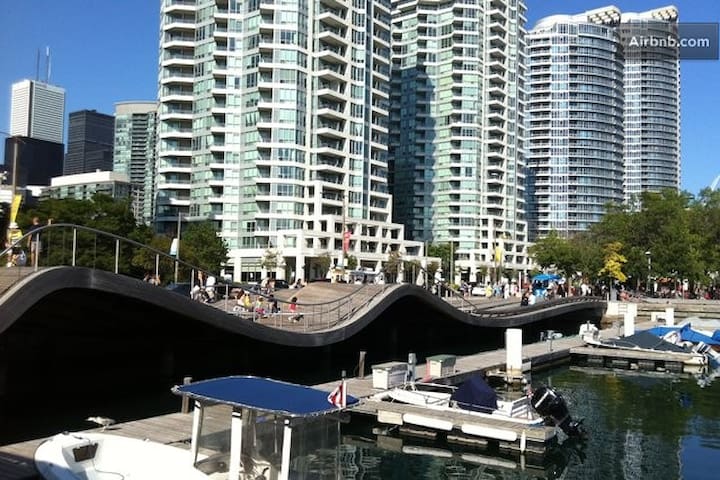 Bachelor suite in heart of Toronto. With 1 double bed and 1 pull out bed. Ground floor with patio/ pool/ gym/wifi/cable/full kitchen. Parking included
Full space. Parking available
Room Type
Entire home/apt
---
Property Type
Apartment
---
Accommodates
3
---
Bedrooms
Toronto, ON, Canada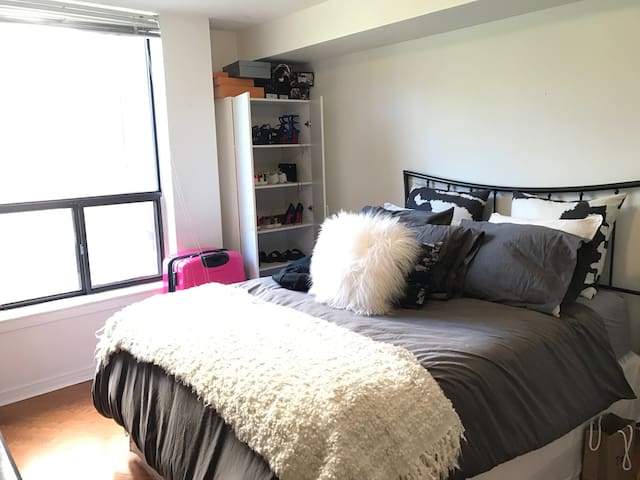 Great waterfront location! Stay next to the CN Tower, Rogers Centre, Air Canada Centre (ACC), Union Station, Aquarium, Union Station (TTC Subway, Airport Express, GO train, VIA rail), financial district, great bars & restaurants! . You'll love my place because of Incredible views of Toronto! Amazing downtown location, Street car and subway accessible. In the heart of the city! Queen bed, full bathroom and kitchen. Free Wi-Fi.
This place was perfect for my husband and me. It's a studio apartment with a view of the CN tower. Beautiful light show every night. We never met the host because she was traveling, but she had it well set up, we had no trouble getting the key or finding anything in the kitchen. It was easy get to from Billy Bishop Airport. The free airport shuttle takes you to Union Station and this apartment is just a couple of blocks south of the station. The view is sensational and proximity to the harbor can't be beat. There's a huge grocery store just across the street making it handy for cooking ingredients and plenty of restaurants in walking distance or a quick Uber ride away. I would stay here again and highly recommend it to anyone wanting a great Toronto experience that even includes access to a pool, sauna, gym, billiards room and outdoor community deck in a security building. Who could ask for more. Thank you Nadine.
Madeline
2017-03-28T00:00:00Z
Great place! Great location! Amazing view! Thank you! We will definitely come back!
Ana
2017-04-02T00:00:00Z
Room Type
Entire home/apt
---
Property Type
Condominium
---
Accommodates
2
---
Bedrooms
Toronto, ON, Canada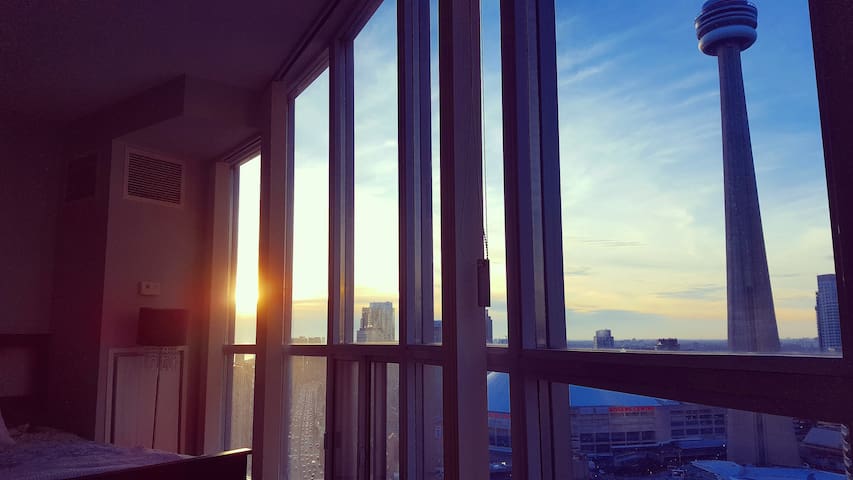 Amazing location, 2 bedroom, 2 washroom (with shower), kitchen and living room with working fireplace. *Note that both me and my roommate will be out of the country for the summer (which is why we're offering the space) and some storage (ex. closets) will not be available for use. Also, key exchange and questions will be handled not by me, but by a friend. Her contact information will be given to you after booking.
Kitchen: Fridge + Freezer - will be empty when guests arrive, and will be emptied when guests leave; We will provide glasses, plates, bowls and eating utensils for guests; Working electric stove and pans will be provided, as well as: Toaster, Coffee maker, Rice cooker, Blender, Oven. Living Room: 2 Sofas that "technically" are large enough for someone to sleep on, however we will be providing an air mattress. 2 tables - one between the sofas and one for dining (with 6 seats available); Working fireplace is available to guests; While there is no cable TV, we will provide an HDMI wire that allows guests to connect their computers to the TV if wanted. Master Bedroom: Clothes rack (as the closet is not available, a clothes rack will be provided for guests); Floor-to-ceiling window with a view of Eaton Centre and down Queens Street W.; Bathroom with shower (however no bath); Provided: Hairdryer, towels, toothpaste. Queen sized bed. Bedroom #2: Queen sized bed; Clothes rack (as the closet is not available, a clothes rack will be provided for guests); Floor-to-ceiling window with a view of Eaton Centre and down Queens Street W.; Bathroom #2: Full-sized bathtub + shower; Provided: Hairdryer, towels, toothpaste, iron. Others: Washing machine and dryer - however clothes must be washed at guests' own risk. We will not be held responsible for shrinking/ruined clothes (shouldn't be a problem if done properly); Shoe-rack; Umbrella; Guests should message me if they require anything specific.
I'll split this into distance: 5-minute walk: 1. Right downstairs! Fran's Diner is actually connected to the building and is a 24-hour diner that serves amazing food from burgers to omelettes to pasta; 2. Eaton Centre is not even a 5-minute walk from our location and has hundreds of stores including a very underrated food court in the basement. 3. 3 Brewers on Yonge Street is one of our favourite breweries/sports bars. In my opinion, they have one of the best poutines in Toronto, however, if you go, the Blonde beer on tap is a must-try. 4. Dundas Square is home to all sorts of performances, events and comes alive with lights at night. Make sure to check out the view and enjoy the crowd! Check out the movie theatre right across the street! 5. Nathan Philips Square - A skating rink in the winter, a pond in the summer, however the iconic TORONTO sign stays the same, with the New City Hall in the background. Want the best photos? Get up to the second floor! 6. The Kitchen Table (Groceries) and LCBO (alcohol) are both located in the Atrium, diagonally across from Dundas Square. 10-15 Minute walk: 1. True True Pizza - 169 King St E - Some pretty cool pizza that doesn't come in the iconic round shape. Make sure to check it out if you're in the area, they also have very interesting beer on tap. 2. FUGO Desserts - 205 Dundas st W - Close to our location, after a meal at one of the many amazing restaurants on Dundas W, stop by FUGO desserts for some of their special themed ice-cream! 3. Rolltation - 207 Dundas St W - Sushi Burritos! 4. Sansotei Ramen - 179 Dundas St W - Pretty much always a lineup because it's one of the best noodles in Toronto. Very much worth the wait. 5. Gooderham Building - 49 Wellington St E - The Canada-version of the flatiron building, if guests are interested, it can be found on the way St Lawrence Market and True True Pizza. 6. Enjoy art? Art Gallery of Ontario and OCAD university are both only a 15 minute walk away! 20-25 Minute walk: 1. Yorkville Avenue - Looking for something more high-end? Yorkville offers very high-end stores such as Chanel, Tiffany, Hugo Boss and much more. It's located north of University of Toronto and spans a few blocks. 2. Graffiti Alley - Richmond St W and Queen St W - An entire 2 blocks filled with graffiti? Why not? Go for the instagram photos! 3. University of Toronto & Queens Park - The centre of University of Toronto, Queens Park is one of the larger parks in downtown Toronto. Make sure to stop by if you want to check out the campus! 4. Sugar Beach - located on waterfront, pink umbrellas with beach chairs in the sand? Sounds pretty great. 5. Simcoe WaveDeck - Queen's Quay W - Great view of waterfront from here, with a very iconic wave deck 6. Kensington Market - mainly located on Augusta Street and Spadina - Kensington is one of the most interesting areas of Toronto, with some very great food and some very interesting shops. There is a giant metal sign on the parking lot. Don't try to climb up. Please. Around the area, there is a gluten-free bakery for our celiac guests called Bunnery and also a Chicken and Waffle place called Dirty Birds. Both worth trying out. 7. The Fifth Social Club - 225 Richmond St W - If guests are in the mood for some dancing, this is one of my personal favourite nightclubs. Within walking distance from our location (approx. 20-25 minute walk) and early bird specials on drinks (3.50 shots) and cover ($15 instead of 30$) before 11:30. Great music and environment. 8. Cold Tea - 60 Kensington Ave - VERY difficult to find but VERY rewarding. A hidden bar we stumbled into a while back, very quiet and friendly and a great place for some drinks. 9. Sweet Jesus - 106 John St - Best ice cream i've ever had. Period. 10. NomNomNom Poutine & Crepe - 707 Dundas St W - Apparently they serve the best poutine in Toronto (i've read). I've never gotten to try, but please find out for me!
Room Type
Entire home/apt
---
Property Type
Apartment
---
Accommodates
5
---
Bedrooms
Toronto, ON, Canada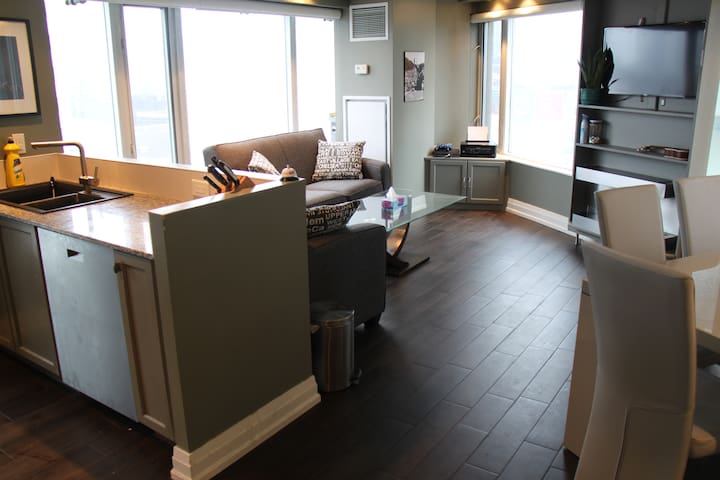 The place is close to Rogers Centre, CN Tower, Ripley's Aquarium of Canada, Steam Whistle Brewing, and Thompson Diner. You'll love it because of the views, the location, the outdoors space and the ambiance.
Spectacular view of CN Tower and Roger Centre!
I can recommend this place. Supereasy to find from Union Station.
Sandra
2017-03-15T00:00:00Z
Great location and great view
Mirabelle
2016-12-28T00:00:00Z
Lovely place, the apartment is clean and tidy ! I also need to mention the amazing view and welcoming host.
Boury
2017-02-27T00:00:00Z
Everything at this place was greater than I expected. Generous and beautiful host will nurture your heart definitely. The view from this place was astonishingly beautiful. You should be better to ready your vocabulary to express your emotion!
Moe
2017-02-23T00:00:00Z
Perfect location! Right by the Air Canada Centre and within walking distance of everything :) great views and a lovely host. Highly recommend a stay here and I would definitely go back.
Marianne
2017-02-16T00:00:00Z
Perfect!
Vanessa
2017-02-11T00:00:00Z
Fantastic location, excellent host !
Melissa
2017-03-17T00:00:00Z
A little gem of a condo, with glass walls along one side. I loved doing yoga on the 33rd floor, right next to the CN Tower. Just minutes from Union Station and the Metro Convention Centre. You can shop at Longos across the street. Walk a few blocks north to find some more restaurant options. For some reason, I didn't realize it was a shared space, but we got along well.
Melissa
2017-02-04T00:00:00Z
Room Type
Private room
---
Property Type
Apartment
---
Accommodates
1
---
Bedrooms
Toronto, ON, Canada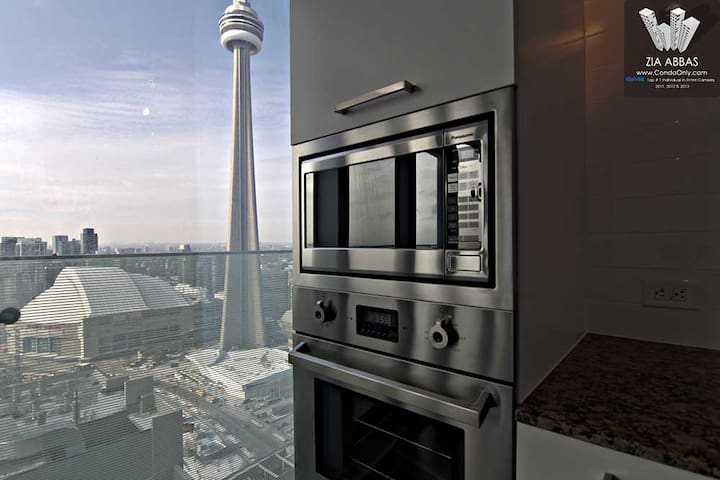 Downtown, brand new building. Be in the center of entertainment, shopping, tourism, business and more...
Room Type
Entire home/apt
---
Property Type
Condominium
---
Accommodates
4
---
Bedrooms
Toronto, ON, Canada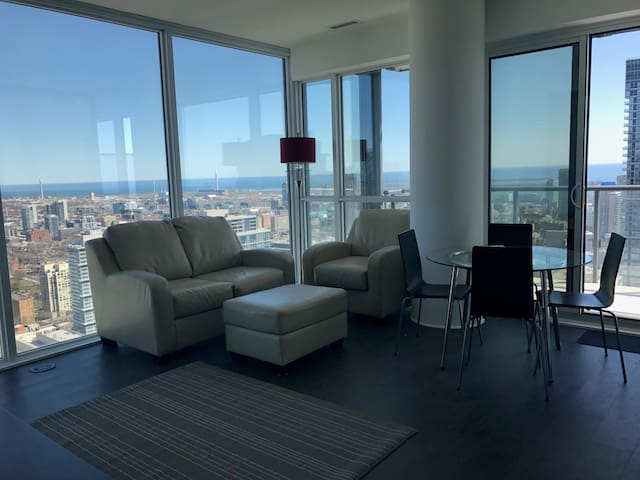 This beautiful 2 bedroom + 1.5 bathroom condo located right in the entertainment district is just steps away from the CN Tower, Rogers Center, ACC. Ripley's Aquarium, Union Station, Longo's ( grocery store). During your stay at the unit, you will have access to high speed internet/WiFi, TV, washer/dryer as well as the snacks and food that is found in the kitchen. Pots and pans can also be found in the kitchen for those looking to cook a quick meal. Check in: 3 PM- 8PM Checkout: 12 PM ( noon)
This 770 sq ft corner unit is perfect for those looking to stay close to the entertainment district and still have the privacy that they are looking for. This 2 bedroom + den +1.5 bathroom suite is located just minutes away from big attractions such as the CN Tower, ACC,Rogers Centre, Metro Convention Centre, Ripley's Aquarium, Union Station, Longo's (grocery store), Banks, Bar and Restaurants.
This Condo unit is located in the heart of downtown, which is also known as The Entertainment District.
Room Type
Entire home/apt
---
Property Type
Condominium
---
Accommodates
4
---
Bedrooms
Toronto, ON, Canada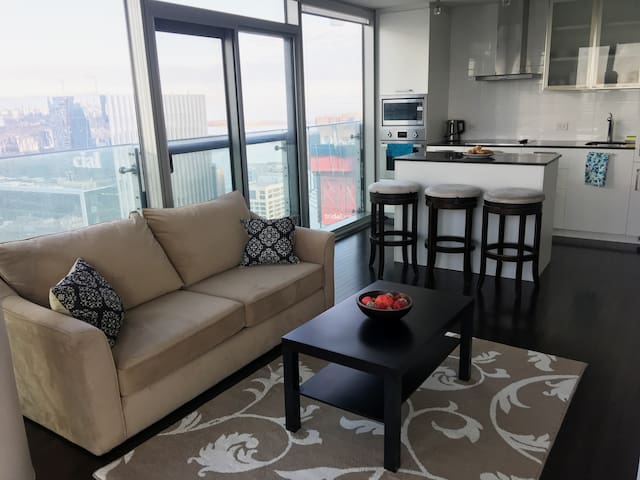 + Comfortable condo right downtown with a spectacular high-rise view, close to many attractions and businesses i.e. great for whether you are visiting Toronto for pleasure or work. + Discounted rates for longer stays. Please message.
+ Super bright house on a higher floor with a spectacular and unobstructed view of the city. + Please note the furniture layout in the house is now different from that in the pictures, and more spacious as a result of the change. There are also more plants in the house. + Ideal for a couple or a family with 1-2 kids. Max two adults and two children. + One queen-sized bed in the bedroom. + One couch in the living room. + Linens provided. + Free Visitors Parking is possible BUT only if spots are available during your visit. + Central heat & A/C. + Full bath with bathtub. + Stove, Microwave, Dishwasher, Washer & Dryer. + Access to gym, full-length swimming pool, hot tub.
+ The condo is located right downtown and within a young and vibrant community. + Easy access to many things and places. + 5 min walk from major grocery store. + Parks with play spaces for children right around the corner from the house.
Thank you Vish for hosting my boyfriend and I for a night in the city. The space is perfect for a couple or solo traveler and has such a wonderful view and a lovely feel for the whole space. I wish I chose to stay longer! I will definitely book this space the next time I need it, especially because the cost is very reasonable. I highly recommend Vish as a host because he was great at communicating with prompt responses and I highly recommend his space to anyone looking to spend some time in the city. This was my first time using Airbnb and it was a great experience.
Desiree
2017-04-01T00:00:00Z
Great place
John
2017-03-25T00:00:00Z
Great place! Awesome location right downtown Toronto.
Jenna
2017-04-02T00:00:00Z
Free secure parking, great high up city view and walking distance to King/Spadina business corridor was awesome...I walked to clients in 10 minutes....Really. Vish very helpful and great communication.
Gary
2017-03-27T00:00:00Z
vish was a gracious host who went out of his way to make our stay comfortable. I would recommend his condo for anyone looking for a place to stay that is close to the city center
Nathan
2017-03-26T00:00:00Z
This location was a perfect spot to explore the area. We walked over to Ripleys Aquarium which was a 10min walk. Vish is also very hospitable and accommodating. The view is great, but not for those scared of heights! Lol
Sophia
2017-03-30T00:00:00Z
Room Type
Entire home/apt
---
Property Type
Condominium
---
Accommodates
4
---
Bedrooms
Toronto, ON, Canada
The space is located in the most sought about and desirable neighborhood in Toronto. You are steps away from the best restaurants, bars, nightlife and shows. Thompson residence is a newly built development featuring all the bells and whistles for a perfect stay.
The space is perfect for a couple, single traveler or business guest. The unit is bright and welcoming and all of the finishing's are modern and contemporary. It is equipped with a TV and wireless Internet. We provide all the towels and sheets as well as all the necessary toiletries to make your stay pleasant. The building provides gym and a fantastic roof top summer pool.
King west area. Full of vibrant poeple and activities to do.
Room Type
Entire home/apt
---
Property Type
Condominium
---
Accommodates
4
---
Bedrooms
Toronto, ON, Canada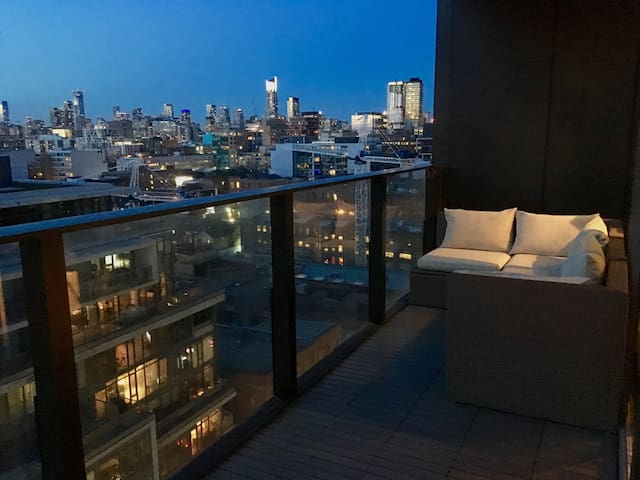 Spectacular 270 degree of city and lake view for day and night. Warm cozy place for up to 6 persons located at perfect location in the heart of downtown. Overview New Toronto Cityhall and Eaton center from living room with 3 min walk way distance to the subway. Attraction at DT like queen street CN tower are all mins away. Various restaurants and club nearby will give you a 'wow' trip. Two comfort beds and one sofa bed can meet your travel goal. This place is extremely suitable visitor event.
It is nice to have a calm, cozy home to rest after a day in downtown Toronto. Brand new condo offer everything you can think of. Splendid high floor city and lake view from all living room and 2 bedrooms. Extremely convenience location for public traffic. 3 mins walk from subway station cityhall and eaton center. Chinatown Queen street CN towers within blocks away.
Heart of Toronto offers all things you can think of. Attractions, traffic, restaurants, movie theatre, shopping mall, drug mart, supermarket, just name a place then you will able to get there. It is where magic happens
Cherry's home was very nice and comfortable. My friends and I had just gotten back from the CN tower and we all agreed that the view from her place was much nicer. She was very helpful and responded right away. We will definitely come back.
Farzana
2017-03-19T00:00:00Z
This Apartment was awesome! The view is fantastic! Everything was perfect! Very easy communication with the host. Absolutely recommended
Oliver
2017-03-16T00:00:00Z
It was a wonderful stay!! Cherry and her husband were great, they came to our problem as soon as they could.
Carmen
2017-02-25T00:00:00Z
This condo was absolutely beautiful! Cherry was so kind and friendly! I would definitely recommend staying here
shaunte
2017-03-26T00:00:00Z
Place was really great. Cherry is very easy to get a hold of and is very accommodating. Location was amazing and I would certainly be back to rent here again!
Christopher
2017-02-24T00:00:00Z
This is an amazing house for four people. I will order it again next time!
Yilei
2017-01-28T00:00:00Z
Cherry is a great host. This is an excellent location with a spectacular view. Close to everything. We had an excellent stay.
Gary
2017-02-19T00:00:00Z
Million dollar view, great location. Cherry and her husband were very easy to reach out to and responded quickly! Overall great experience and would recommend to all.
Jerrin
2017-01-22T00:00:00Z
Room Type
Entire home/apt
---
Property Type
Apartment
---
Accommodates
6
---
Bedrooms
Toronto, ON, Canada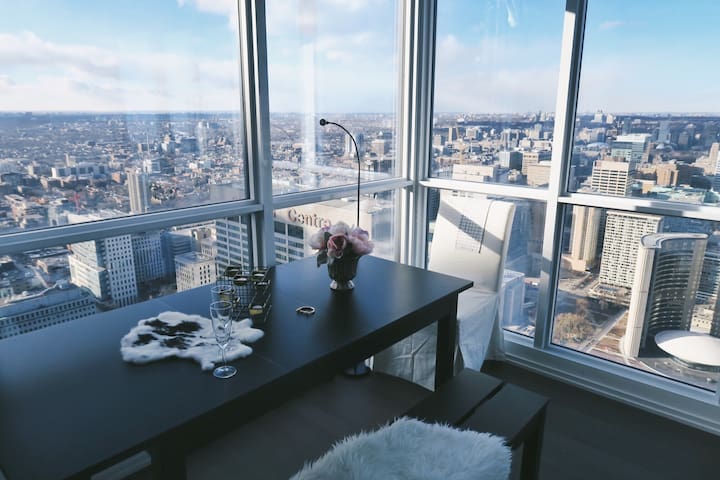 You'll love my place because of very central and convenient. It is very near Eaton Centre and downtown financial district. Good location for leisures and business travellers. My place is good for couples, solo adventurers, business travellers, and furry friends (pets).
The apartment is on the 30th floor, therefore, you will get a nice view of downtown buildings and lots of natural night.
My neighborhood has many shops and restaurants.
Van's place is ideally located, very central, its very comfortable and well equipped!
Stephanie
2017-02-22T00:00:00Z
Great stay, very nice and accommodating host. The place was cozy in a convenient location.
Janet
2017-01-25T00:00:00Z
Great place!
Matthew
2017-01-15T00:00:00Z
Location was amazing!
Amy
2017-02-26T00:00:00Z
Location was ideal, within walking distance of all major sights and an abundance of restaurants and bars. The apartment was lovely, cozy and clean. Commanding views from the 30th floor and it's proximity to Yonge cannot be overestimated. Thanks Van for an enjoyable and memorable stay!
Hannah B
2017-03-13T00:00:00Z
It is a nice apt in a nice place!
Renata
2016-11-12T00:00:00Z
This was a great apartment to stay! My boyfriend and I came to Toronto for 5 days and we were very happy with the accommodations. Everything on the listing was accurate. It was a great location and very easy to walk around and get to the subway. Van was very easy to reach when we were checking in and prior to our trip. If you're looking for a nice place that's easy to see the whole city, I definitely recommend Van's place!
Jessica
2017-03-08T00:00:00Z
The best ! The place is located in a very good area , close to everything , good communication Van's apartment is a good option for future travelers.
KLAUS
2016-12-17T00:00:00Z
Room Type
Entire home/apt
---
Property Type
Apartment
---
Accommodates
3
---
Bedrooms
Toronto, ON, Canada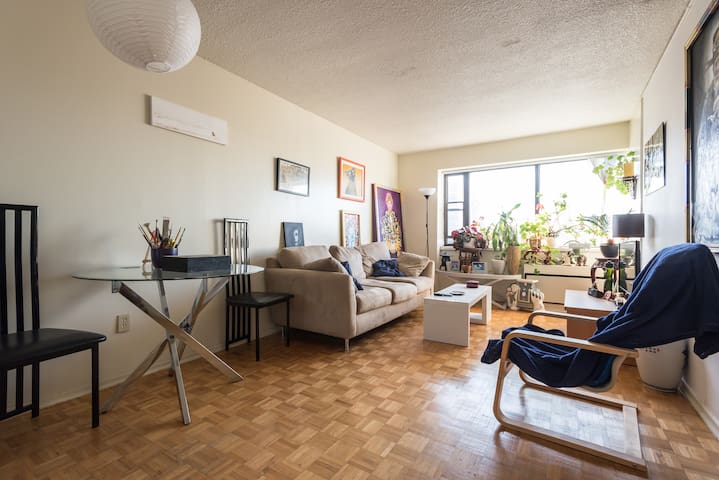 A newly renovated apartment in a historic 100+ triplex, next to the iconic Kensington Market (on Bathurst between College and Dundas), is the perfect place to stay when visiting Toronto. Steps to world-class coffee, restaurants & nightlife on College. Plenty of shopping nearby at Kensington market. Streetcar located on Bathurst, Dundas and College streets. Five minute ride to the Bathurst subway stop, Queen West and a walking distance to Uni of T, Toronto Western Hospital and Little Italy.
Our gorgeous, centrally located & recently renovated apartment is the perfect place to stay in Toronto, for the business or leisure traveler. Contemporary, comfortable & cosy, the apartment is within walking distance of the Kensington Market, the AGO, U of T, Toronto Western Hospital, the ROM, Little Italy, Chinatown, and other Toronto landmarks. The living room opens into the gourmet kitchen and dining area, where you can enjoy a quiet dinner at home picked up or delivered from numerous neighbourhood restaurants. Or you can join the locals and head over to Kensington Market to pick up fresh produce at the local market and cook a meal in the fully-equipped kitchen. Everything you need to cook with from making pancakes, soups, salads, pasta sauces to warming a meal is here, with room to spread out on countertops and a dining table that can seat 4. At night, fall into a restful sleep on the luxurious queen bed in the quiet bedroom. Two additional guests can enjoy the full sized pullout sofa bed.
The Location: Whether your stay is for business or pleasure, you will hopefully feel right at home in this private apartment tucked away in one Toronto's oldest neighbourhoods. Walk to the iconic Kensington Market, one of Toronto's most vibrant and diverse neighbourhoods to enjoy a coffee, gelato, a meal or some shopping. Or you can walk a few blocks south east to explore the old Chinatown, one of the largest in North America. El Mocambo, a popular for venue for live music and entertainment - best known for the 1977 surprise show by The Rolling Stones - is located on the northern tip at Spadina and College. Or you can walk west on College to enjoy a taste of Little Italy, a quaint neighbourhood with excellent bars and restaurants. After a busy day in the city, take a shower or soak in the tub. Or enjoy the nightlife that Toronto has to offer. Watch a play the Royal Alexandria Theatre or the iconic Ed Mirvish Theatre, a few minutes drive from the apartment. Watch a Jays game at the Sky Dome, or climb the CN Tower to see the view of this beautiful city. Soak in the arts, culture and entertainment at the historic Distillery District.
Room Type
Entire home/apt
---
Property Type
Apartment
---
Accommodates
4
---
Bedrooms
Toronto, ON, Canada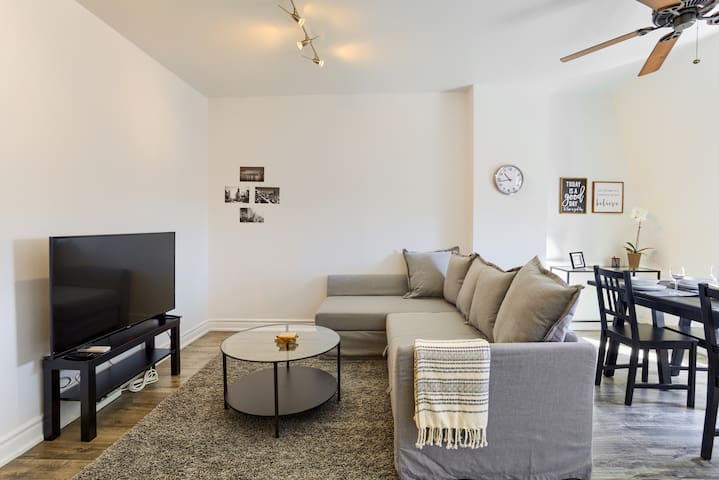 Toronto - Airbnb
:
Average

4.89

out of

5

stars from

1476

guest reviews